Press Release
07. June 2017
Arvato Systems & partners provide the framework for pharmacy experts to meet and share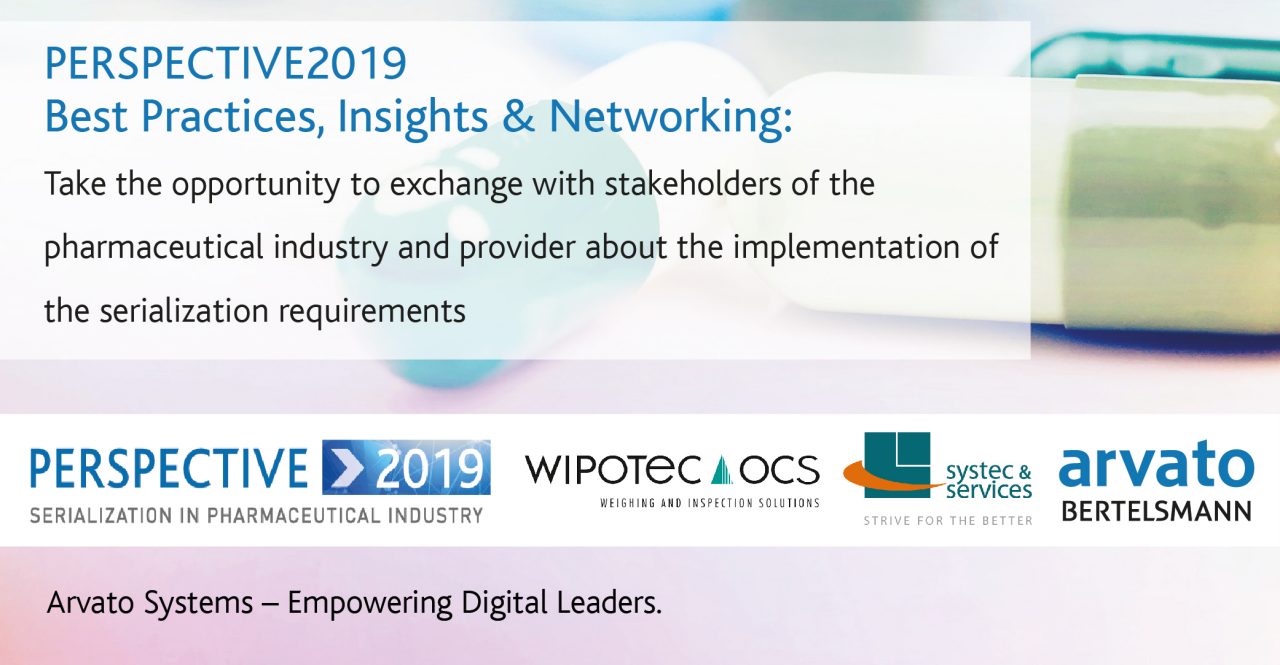 PERSPECTIVE2019 – Serialization in the pharmacy industry
Arvato Systems and partners invite the European Pharmacy industry to industry specialist events
The series of events focuses on serialization requirements providing insights, practical ideas and networking opportunities
(Arvato Systems) Gütersloh – from February 9, 2019 only prescribed medications with a verifiably unique serial number on the packaging can be included in the delivery chain in the EU. With the PERSPECTIVE2019 series of events, Arvato Systems and their partners offer ideas, practical examples and networking opportunities for European pharmaceutical companies facing implementation of the EU delegated regulations (EU) 2016/161.
The delegated regulations offer clarity in many areas for CMO (Contract Manufacturing Organizations) and MAH (Marketing Authorization Holders). However, practical implementation of the agreed regulations is highly challenging with respect to the individual situations of many pharmaceutical companies.
Each PERSPECTIVE2019 event is oriented around serialization implementation requirements in the country where it is held. Real-life examples demonstrate to pharmaceutical companies how challenges have been successfully met. Technical tips and insights are also on offer as well as a preview of the year 2019.
The first event takes place on June 22, 2017 in Abcoude in the Netherlands, with the focus on the Dutch and Belgian MAH and CMO.
The free events across Europe are provided by Arvato Systems working with Partners Systec & Services and WIPOTEC-OCS.
About Systec & Services
Systec & Services has been a major player in the Life Sciences industry since 2002. As consultant and solution provider for production-related issues, Systec & Services supports many companies – from small manufacturers to globally active concerns. A strategic partnership with Arvato Systems is in place. www.systec-services.com/
About WIPOTEC-OCS
OCS is the partner to go to for innovative, open, modular and high performant Track & Trace solutions (Traceable Quality System – TQS). A wholly-owned subsidiary of Wipotec, world market leader in weighing technology, OCS stands for quality, 'Made in Germany', flexibility and deep industry know-how: www.wipotec-ocs.com​​​​​​​
About Arvato Systems
Global IT specialist Arvato Systems supports major companies through digital transformation. More than 3,000 staff in over 25 locations epitomize in-depth technology expertise, industry knowledge and focus on customer requirements. Working as a team, we develop innovative IT solutions, transition our clients into the Cloud, integrate digital processes and take on IT systems operation and support.
In Healthcare, Arvato Systems provides its own serialization solutions covering the entire end-to-end process chain. These solutions support both individual producers and national verification systems. Arvato Systems was chosen as an official service provider by the European Medicines Verification Organization (EMVO). We rely on a dedicated team of serialization experts that has already carried out numerous international projects.
As a part of the Bertelsmann-owned Arvato network, we have the unique capability to work across the entire value chain. Our business relationships are personal; we work with our clients as partners, so that together we can achieve long-term success. arvato-systems.com​​​​​​​