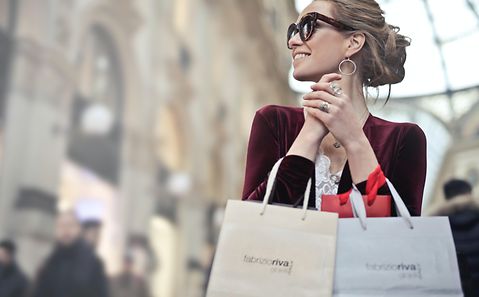 Click & Meet Made Easy
The appointment platform for the retail industry
Click & Meet - Service Offer through the Retail Trade
Depending on incidence values, the federal government is increasingly allowing retail stores to open by appointment. With "Click and Meet" - shopping by appointment - most states aim to provide additional relief for retailers.
What is "Click and Meet"?
"Click and Collect" is already in use in retail: customers order products via website or telephone and then pick them up at the supplier's store. "Click and Meet" or appointment shopping is shopping by appointment - the step that allows customers to have a real shopping experience again.
This is how "Click and Meet" works:
With "Click and Meet," customers book a fixed appointment for shopping via website, e-mail or telephone and, after confirmation by the retailer, have the opportunity to store in the store and receive advice within a specified time frame. The appointment process - which has been standard in many service sectors for years - also offers retailers additional options for action.
Advantages of Click & Meet
Shopping experience
The customer moves from "buying" to "shopping" again, can "experience" products again and specialists can advise and support customers with expertise again.
Personal support
Retailers can once again serve their customers personally and mitigate the migration to online competition.
Contact tracking
The process allows easy contact tracking in case of infection and helps make shopping safer.
Easy to use
Electronic processing helps organize appointments and prevents additional paperwork.
Added value
Click and Meet is also of interest as a permanent service offering for retailers with products that require intensive consultation, such as upscale boutiques, jewelry stores, kitchen stores, etc.
Our Appointment Platform for the Retail Industry
With our appointment platform for retail (combinable with our Order Management System aroma®), making appointments with customers and managing appointments is quick and easy.
Customers
... simply book an appointment at the store of their choice via their smartphone:
Free appointments are displayed
Appointments can also be arranged for specific assortments or articles
Master data of the customers are directly recorded and automatically transmitted
Retailer
... confirm the dates electronically and:
See which customers come when
Can easily administer the consulting capacities and opening hours
Receive customers at check-in and check master data
Increase their turnover
Possible Measures for the Safety of Your Customers
In the COVID-19 case: notification to the health department
In COVID-19 case: notification of store visitors (optional)
Expert Contact For Retailers
Are you a retailer looking for the perfect appointment platform for your business? Let's talk about it!