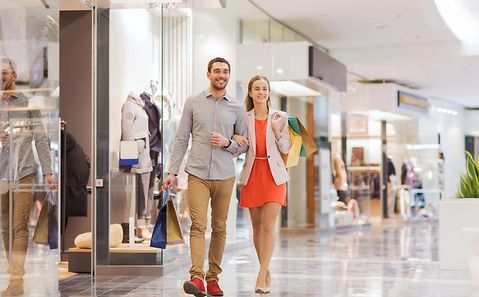 SAP S/4HANA Retail for Merchandise Management
Solution for all relevant retail processes
The End-To-End Industry Solution for Retail
Today, online and stationary retail combine seamlessly with one another: Retailers conduct their business in parallel across all available channels. Linking mobile components, cloud services, analyses, and social media with inventory management systems facilitates personalization across all channels, increases efficiency, and improves customer retention. This requires flexible ERP systems with a range of access options which enable quick, easy, real-time mapping of business models with increasing volumes of data.
Technology as a major key to success
The industry solution SAP S/4HANA Retail for Merchandise Management covers all processes relevant to retail and enables you to expertly deal with large, complex quantities of data.
Using SAP S/4HANA Retail for Merchandise Management can provide you with solutions to the following challenges, among others:
How do we solve performance problems (e.g., during the nightly job chain or in the EDM environment)?
How does our system development strategy look?
How do we implement a strategy for personalized customer communication (e.g., from mass segmentation to individual communication in an omni-channel environment; capture and analysis of customer-specific transactional data)?
How do we manage the real-time processing of massive volumes of future customer data?
Self Prolonging Contracts
Pricing (SSPOaaS, Zilliant, Promotion)
Our Services for Your Success
Preparation
Implementation
Comprehensive Approach
Analysis
In addition to csAnalytics, we offer you comprehensive BI consulting and system optimization. Our experts are there to help you with any questions about SAP HANA, whether you are implementing SAP NetWeaver BW with or without SAP HANA or migrating to an SAP HANA database. We train and coach your employees to ensure a sustainable transfer of knowledge. Analyze your production units, determine the cause of downtimes, and deploy your internal and external maintenance teams in advance to prevent expensive downtime from occurring. SAP HANA serves as an excellent basis for these tasks.
Optimization
Our process and IT consultants work with you to identify the most valuable applications for SAP S/4HANA in your company, for example in the analysis of customer journeys in your customer processes or for product demand planning in Supply Chain Management. Marketing and sales staff analyze (omnichannel) communication and sales, and plan campaigns that meet your customers' exact specifications. With SAP HANA, SAP platforms such as CX harmonize with the Marketing Cloud, the Commerce Cloud, the Sales & Service Cloud, and the ERP and set new standards for the digital world.
Comprehensive approach
Business consulting, technical architecture, implementation, and operations, all from a single source: We synchronize your business requirements and processes with the IT landscape based on the most cutting-edge SAP HANA technology. We work with you to design robust business cases for investment in SAP HANA. This also includes a deployment check for SAP Cloud Services, which can significantly reduce implementation and operating costs. Begin with our kickoff workshop and lay the foundation for SAP HANA.