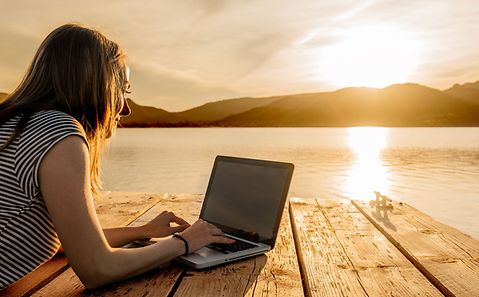 Microsoft Endpoint Management from Arvato Systems
For maximum efficient management of all devices in your company, we at Arvato Systems rely on Microsoft Endpoint Management from the Microsoft 365 package.
Flexible Management of your Devices and Applications with Microsoft 365
An IDG study from 2019 shows that 56 percent of the companies surveyed have experienced economic damage or unauthorized data access via internal endpoints. With professional endpoint management, you can detect such threats early, assign new types of attack patterns and initiate appropriate defense mechanisms. Control all devices and applications from your organization - whether desktop PC, tablet, or server. We explain the benefits of professional management of your devices for your company and the role played by the Zero Trust approach. 
 
As a traditional hosting partner, we have performed classic endpoint management for on-premises software solutions for many years. As a multi-cloud provider, we know and understand all relevant processes from modern cloud technologies. With a transformation to the cloud, the requirements for your endpoint management change. Do you lack the know-how for classic on-premises UEM or modern cloud-based UEM solutions? Then you've come to the right place at Arvato Systems. We use the intelligent Unified Endpoint Management from the Microsoft 365 package to manage your devices and applications. 
Endpoint Management is also worthwhile for your Company
Working in a dynamic working environment
For modern, digital companies with a dynamic working environment, endpoint management is particularly worthwhile because employees often also work via remote end devices. UEM software ensures the security of your company data across all devices and users.
Working from anywhere
Endpoint Management manages all applications, users, and devices from an organization's work environment - regardless of whether they are stationary or mobile endpoints. UEM software is suitable for companies that are distributed across multiple locations and whose employees work from the home office.
Working in the digital world
Professional security applications are necessary for your cloud-based IT infrastructure security, as cybercriminals attack according to ever new patterns. Endpoint Management provides data-based protection for both known and unknown forms of attack.
Your advantages of Unified Endpoint Management with Arvato Systems
Extensive expertise through many years of experience in the provision of classic and cloud-based endpoint management
Expertise in cloud technologies as a multi-cloud provider
Unified, location- and device-independent management of all endpoints in your enterprise
Integration with related topics, such as identity management and security (zero-trust concept)
Consulting and coordination in the areas of distributor and provider management 
Individual consulting approach matching your IT maturity level
A high degree of reliability, security, and customer orientation 
Frequently asked questions about Endpoint Management