Managed Microsoft Security Services
We Care About Your Cyber Security
Using Microsoft 365 Defender and Azure Defender in a Targeted Manner
Data is and remains the new gold of companies. It is therefore very important to protect the IT infrastructure, systems, data and workplaces from cyber attacks. Because companies are increasingly using applications based on Microsoft 365, storing data in the Azure Cloud and also operating servers there, they have little control over their security. According to current surveys, cyber criminals cause annual losses of more than 100 billion euros - in Germany alone. Especially since sophisticated hacker attacks often go unnoticed.
Managing Microsoft 365 Defender and Azure Defender professionally
Microsoft 365 Defender and Azure Defender offer a bundle of security services for Microsoft 365 cloud-based services. Thanks to regular reports, companies are aware of potential vulnerabilities (Incident Prevention) and can take appropriate measures (Incident Detection). In many places, this is precisely what is a major challenge. The required processes are so complex that they overwhelm many companies.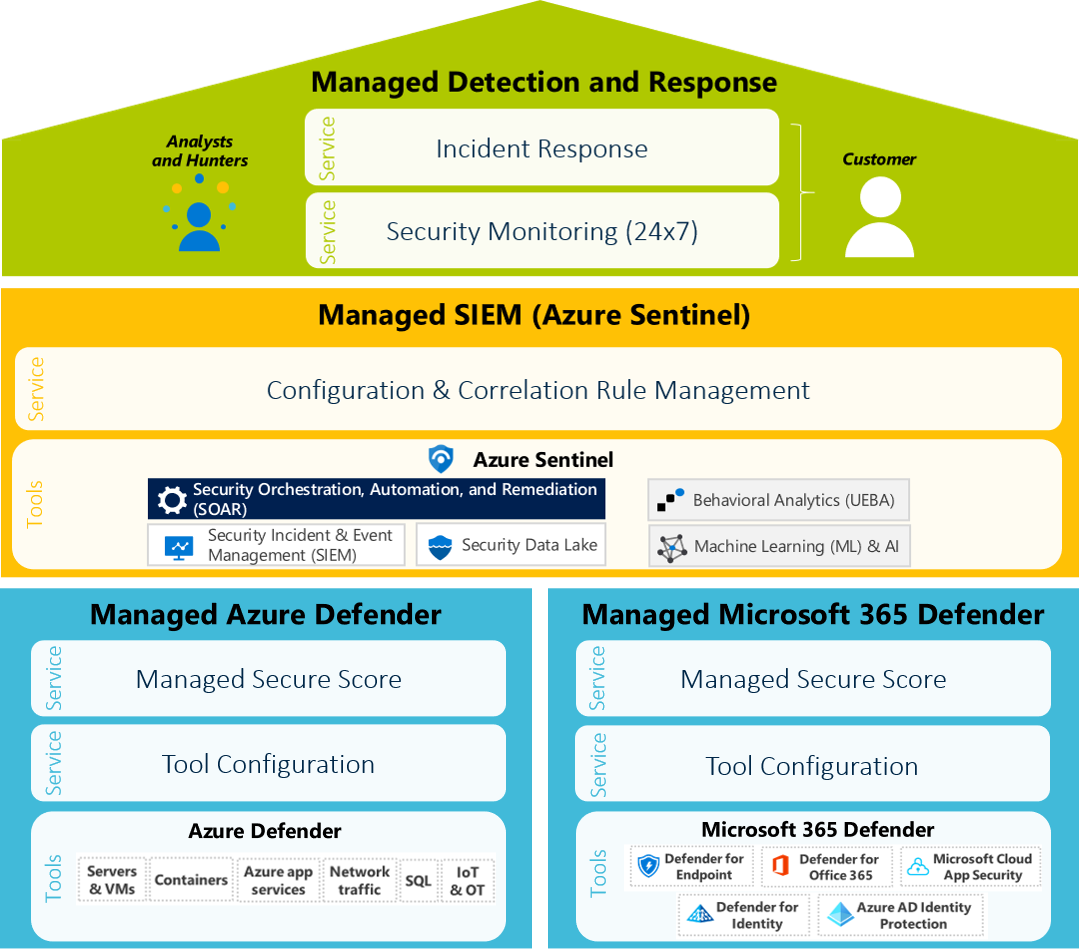 Managed Microsoft Security Services - Individual and Highly Professional
This is where our Managed Microsoft Security Services come in. While the Microsoft 365 Defender is used to protect user-related assets such as computers, user profiles, office applications and apps, the Azure Defender can be used to protect servers, infrastructure and clouds. In doing so, we implement our own solutions and services using the existing tools from Microsoft. This enables us to optimally cover individual requirements: First, we configure the security solutions integrated in Microsoft 365 Defender and Azure Defender according to proven best practices and customize them to meet the specific needs of your company. By continuously monitoring the dynamic threat situation, we keep the Secure Score in view at all times and ensure the highest level of cyber security.
As part of Managed SIEM (Security Information and Event Management), we automatically correlate the event data collected from various sources. For this purpose, our experienced specialists select and optimize the relevant rules from the large number of predefined rules. In this way, the defense against possible threats can be supported and automated in a targeted manner (Security Orchestration, Automation and Response, in short: SOAR).
If the system sounds the alarm, our Security Operations Center (SOC) becomes active. Since there are a considerable number of false positives among the approximately one million notables every day, we decide whether a critical incident is actually a critical incident as part of our Managed Detection and Response Services for Microsoft 365 Defender and Azure Defender. If this is the case, we initiate predefined measures and thus ward off the threat (incident response).
Demand-Oriented Cyber Security Services From One Source
Backup of the entire IT environment in the dynamic Cyber War
Customized, highly functional Cyber Care Suite
Identification of and response to immediate threats
Active process for closing security holes
Certified experts for all aspects of cyber security
One contact for all IT security issues
IT Security According to Plan
As a Microsoft Security Partner with Silver status and Microsoft Intelligent Security Association Partner (MISA), you can always rely on our many years of experience and the know-how of our highly qualified experts. We master the Microsoft Security Tool Stack. Therefore we are able to develop customized security solutions. In doing so, we follow an approach that has been proven many times over.
Demand analysis
Within the scope of a Cyber Security Strategy Workshop we analyze your IT infrastructure and identify possible weaknesses.
Consulting
Together with you, we define which systems are particularly worth protecting and which individual security level is appropriate.
Concept
We derive tailor-made recommendations for action from the weak points we have identified and design a solution that meets your needs.
Implementation
We cluster the required measures according to their implementation priority and implement the relevant security tools.
Configuration
We configure the multitude of security systems and Microsoft's own rules in such a way that they optimally reflect your specific needs.
Operation
Our SOC monitors your IT infrastructure, identifies any threats and plans the necessary measures to defend against an attack.