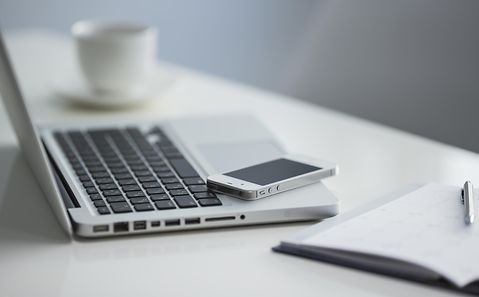 Managed Microsoft Security Services
With Arvato Systems, you protect your sensitive data permanently, comprehensively and reliably.
Highest Data Security for Your Cloud Architecture: Managed Microsoft Security Services
The results of an IDC study show that German companies often neglect cyber security: In 2018, 67 percent of registered cyber attacks were successful. In 2020, attackers were even successful in 78 percent of all attacks.  By using cloud-based services such as Microsoft 365 and Microsoft Azure, you can counteract dangerous cyber attacks and benefit from new possibilities for securing your sensitive company data. We can help you take your security to the next level with intelligent tools like Microsoft 365 Defender and Azure Defender, and our Managed Microsoft Security Services.
 
Professionally Manage Microsoft 365 Defender and Azure Defender
Microsoft 365 Defender and Azure Defender offer a bundle of services for the security of your cloud-based Modern Workplace with Microsoft 365. Numerous tools take on a wide range of tasks and offer a variety of services for your security - with the help of Arvato Systems, you can use the security services in a targeted and tailored manner for your company. We view your security model as an ongoing process and accompany you through all project steps. As a long-standing Microsoft partner and experienced cloud provider, we know all the interfaces and functionalities of the Microsoft 365 platform in order to exploit the maximum potential of your infrastructure. Thanks to our intensive consulting services and Managed Microsoft Security Services, your data is comprehensively protected against classic and modern cyber attacks.
Challenges Around Managing Your Cloud Security
The use of modern cloud technologies creates an area of tension for your IT security. Cloud services can be accessed via the Internet from anywhere and at any time - opening up space for various attack strategies. At the same time, they offer the opportunity to make the security of your data more comprehensive and effective than ever before. The challenge lies primarily in countering modern cyber attacks and recognizing new attack patterns in good time. Attackers are looking for ways to get into your corporate network and then attack from the inside. The inadequate or even lack of monitoring of your IT environment poses a major threat to the security of your sensitive data. A lack of know-how about necessary organizational measures also jeopardizes an efficient workflow.
Managed Microsoft Security Services – Individual and Highly Professional
To ensure the security of your entire IT environment, we at Arvato Systems consider security to be an integral component at all levels of your Modern Workplace. This is where our Managed Microsoft Security Services come in. Thanks to our Managed Microsoft Security Services, our specialists in the Security Operations Center (SOC) continuously monitor your entire infrastructure. In this way, we keep the secure score at a top level and enable the highest level of cyber security.
Configuration
First, we configure the security solutions, from Microsoft 365 Defender or Azure Defender. We do this according to proven best practices. For customization, we configure the services individually based on your business requirements.
Managed SIEM
As part of Security Incident and Event Management (SIEM), we automatically correlate the collected event data from various sources. Our experienced specialists select the relevant rules from predefined regulations and optimize them. In this way, we automate the defense against threats (SOAR) in a targeted manner.
SOC
Among the approximately one million notables every day, there are a considerable number of false positives. As part of our Managed Detection and Response Services, we therefore decide whether the incident is critical. In the event of a threat, we deploy predefined measures to defend against it (incident response).
Need-Based Consulting for Your Cloud Security
Do you operate an in-house SOC and are unsure which services you need for comprehensive and reliable security in your cloud infrastructure? Or are you wondering which configurations of security services make sense in your company? As a package or independently of our Microsoft Managed Security Services, we offer you the right consulting service for your efficient Advanced Security. We show you modern security risks and explain to you which functions the security tools provide in this context.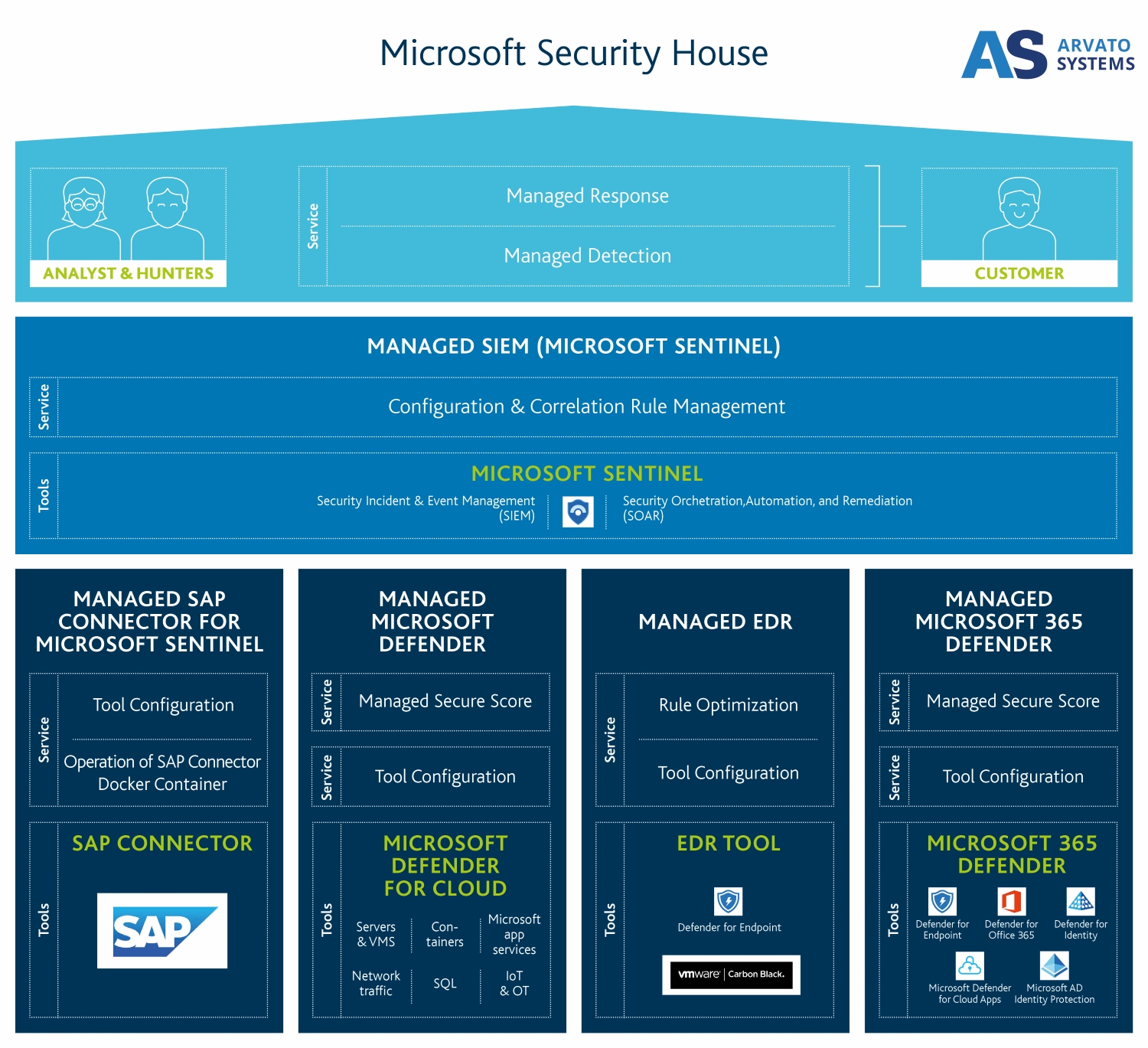 IT Security by Design
As a Microsoft Security Partner and Microsoft Intelligent Security Association Partner (MISA), you can rely on our many years of experience and the know-how of our highly qualified experts. We are masters of the Microsoft Security Tool Stack. That is why we are able to develop customized security solutions. In doing so, we follow a tried and tested approach.
Needs Analysis
Consulting
Concept
Implementation
Configuration
Operation
As part of a Cyber Strategy Workshop, we analyze your IT infrastructure and identify potential vulnerabilities.
Together with you, we define which systems need to be protected and how, and which individual security level makes sense for your company.
We derive tailored recommendations for action from the chess points we detect. From these, we design your needs-based and efficient solution.
We cluster the required measures according to their implementation priority and implement the relevant security tools.
We derive tailored recommendations for action from the chess points we detect. From these, we design your needs-based and efficient solution.
Our SOC monitors your IT infrastructure, detects any threats such as viruses, bots and other malware, and plans the necessary measures to defend against an attack.
Our Microsoft Competencies
We have been working successfully with Microsoft on digital solutions for modern, future-oriented companies for over 20 years. Today, you benefit from our extensive experience, which we demonstrate with 16 Microsoft Gold competencies, including Cloud Platform, Collaboration and Content, and Productivity. In addition, we demonstrate extensive Microsoft expertise through participation in the Microsoft Councils on Teams, Teams and Power Platform, Compliance and Security.
500+
Certified Microsoft consultants and developers
Partner Program
Mitglied im Microsoft Top-Partner Programm Fast Forward
Security Experts
Member of the  Microsoft Intelligent Security Association 
Visionaries
Member of the Microsoft AI Inner Circle
16 Advanced Specializations
Windows Server and SQL-Server Migration
Calling for Teams
and many more!
Programs
Power Apps Advanced Partner
Microsoft Catalyst Ready Partner
Demand-Driven Managed Microsoft Security Services From a Single Source
Individual and needs-based consulting, suitable for your IT environment
Securing the entire IT environment in the dynamic cyber war
Identification of and response to immediate threats
Active process for closing security gaps
Certified experts for all aspects of cyber security
Single point of contact for all IT security needs
Customized, highly functional cyber care suite
Frequently Asked Questions About Managed Microsoft Security Services