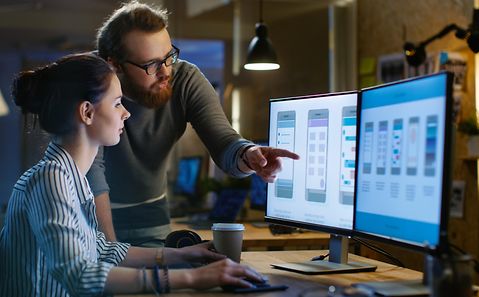 UX and UI Design for an Inspiring User Experience
Functionality and design in perfect harmony
Intuitive User Interfaces Create Strong Brands
Digital solutions must be equipped with intuitive user interfaces and thus offer users an individual and inspiring user experience - the prerequisite for brands to shine in all digital channels.
Success factors for a user interface
Digital products of all kinds are successful if they combine two aspects: they must function perfectly and be easy to operate. Both success factors are largely dependent on the UX design. Only if websites, online shops, apps, collaboration, and software interfaces are designed to optimally meet the user's needs in terms of functionality and appearance does the user feel emotionally connected to the digital application.
Methodical UX design approach
Our aim is no less than to design the perfect user experience. To this end, we follow a user-centric approach in the conception and implementation of digital products. The focus is always on the user of the product, the associated needs, and your objectives.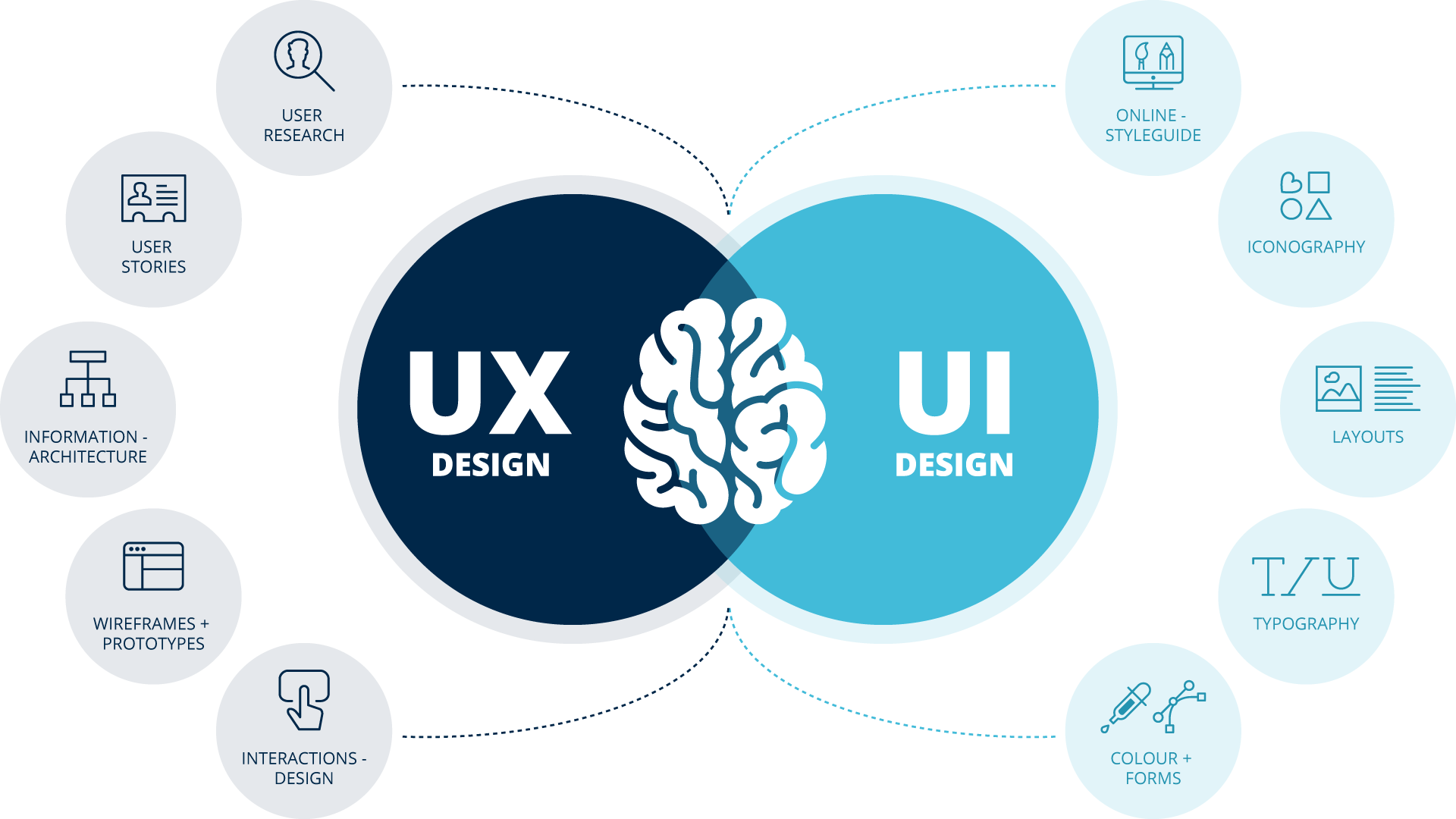 User centered
We design digital solutions that focus on relevant controls and content components.
Intuitive operation
We design self-explanatory digital solutions with easy-to-understand user interfaces.
CD-compliant
We design digital solutions in the corporate design of companies for recognition value and emotional identification.
Enterprise
We design digital solutions based on enterprise technologies that provide maximum functionality.
Modular
We design digital solutions that are not only reusable due to their modularity and, therefore very sustainable and future-proof.
Industry independent
We design digital solutions that reflect a wide variety of business models and meet the needs of users.
The UX & UI Design Process
In a general concept, we record the required functions and the benefits of the later application. It represents the planned information architecture in the form of a catalog of measures. With the help of wireframes, we illustrate the optimal user guidance and the future arrangement of individual modules - quickly, prototypically, and target-oriented. Based on a first clickable software prototype, we gather feedback from later users (user testing) and make user-oriented adjustments if necessary.
For an intuitive and understandable user interface, we define font families, styles, colors, responsive components, module-independent design elements such as headlines, texts, buttons, and containers and determine how individual modules should interact. As part of the detailed specification, we derive all application steps from the wireframes, formulate all relevant processes and merge them with the developed design.
After the prototype and design have been coordinated with the product owner, we map module descriptions, including functionalities and associated behavior of elements such as mouse-overs, in a structured manner and describe them in detail (Jira and Confluence). In a style guide, we record the style of each software application in the corporate design and document all specific design specifications. In a central and structured design library, we store, document, and store all user interface design elements - from typography to micro-animations.
UX Conception and UI Design from One Source
Tailor-made applications for successful digital brand communication
Consistent user experience along the entire user journey
Personalized real-time address across all touchpoints and channels
Integrated processes for reduced complexity of real-time marketing