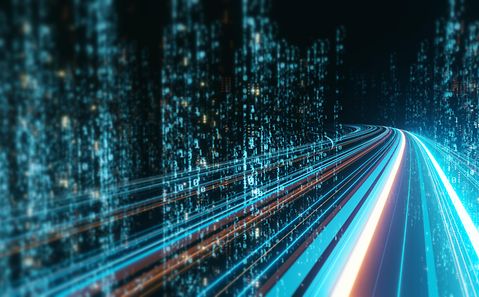 Hyperautomation
Increased efficiency through intelligent automation
The Future Is Hyperautomated: The Importance of Hyperautomation in the Digital World
Companies face numerous challenges in today's business world - from rapidly changing market conditions to an increasingly complex technology environment. This means constantly paving new ways for management to increase efficiency, reduce costs, and improve competitiveness.
This is where hyperautomation comes into play. Hyperautomation is a concept that is becoming increasingly important in today's digital world. It describes the comprehensive automation of business processes by combining various technologies such as Artificial Intelligence (AI), Robotic Process Automation (RPA), Machine Learning (ML), and Analytics. In this context, the use of Business Process Management (BPM) enables the systematic analysis, optimization, and automation of business processes in the company. This approach improves processes' effectiveness and maximizes automation technologies' benefits. This basis also serves process automation using low-code/no-code.
By applying hyperautomation, you can increase your company's efficiency and productivity, better serve your customers, and respond to rapidly changing market conditions. In this context, it is not just about automating individual tasks or processes but also the holistic optimization of business processes across the entire value chain.
Advantages at a Glance
Implementing hyperautomation offers you a variety of benefits. These include:
Efficiency improvement
By automating manual processes, you can increase company efficiency and boost productivity. In the process, RPA robots perform routine tasks, saving resources and simultaneously countering the shortage of skilled workers and demographic change.
Error reduction
Automation reduces human error and improves the accuracy and quality of data and processes.
Cost reduction
Automating manual activities can help reduce costs, for example, by shortening production cycles and thus reducing production costs.
Scalability
Hyperautomation enables you to quickly adapt to change and seamlessly scale processes to meet business needs.
Better decision making
By automating data collection and analysis, companies can make better decisions and identify opportunities faster.
Improved customer experience
Automated processes can help improve the customer experience by providing fast and accurate responses to inquiries and requests.
Which Business Processes Can Be Automated with Hyperautomation?
In principle, hyperautomation can be used to automate all types of business processes that are characterized by certain features. These include processes with recurring tasks and standardized processes that have high volumes or high error rates. Processes that require a high level of interaction with customers or suppliers can also be improved through hyperautomation. Typical examples of business processes that can be automated include:
The invoice processing
The ordering system
Data entry and processing
Customer management
Personnel management
Warehouse management
Customer service
Ultimately, however, the suitability for hyperautomation depends on the individual situation and the needs of the company. A comprehensive analysis of the business processes and their automation potential is therefore crucial in order to select the right processes for implementing hyperautomation.
Five Steps to Hyperautomation: How to Implement Hyperautomation in Your Company Automate?
Implementing hyperautomation in your company requires a structured approach and careful planning. In five steps, we support you in the introduction of hyperautomation:
Business process analysis: The first step is to analyze the existing business processes in your company. This should identify all operations and activities that can be automated. It is essential to include all departments and functions here to get a comprehensive picture of the processes in the company. 
Identification of automation technologies: The next step should be identifying the technologies best suited to automate the specified processes. For example, RPA, chatbots, analytics, or even AI can be used for this purpose.
Project Plan Development: A comprehensive hyperautomation plan should be developed once automation technologies have been identified. This should include goals, timeframes, and resources. In addition, it is essential to consider the required education and training for employees.
Implementation of the automation technologies: The next step is implementing the selected technologies. Technical requirements should be taken into account to ensure that the technologies used are compatible with the existing IT systems in the company.
Monitoring and optimization of automation: After implementation, the automation solutions should be continuously monitored and optimized. This should also include employee feedback and experience to make continuous improvements and maximize the benefits of the automation solutions.
Overall, the implementation of hyperautomation requires a structured approach and careful planning. However, if the performance is successful, you can benefit from increased efficiency, productivity, and competitiveness.
The Technical Components of Hyperautomation
Hyperautomation is an advanced automation strategy that uses technologies such as Robotic Process Automation (RPA), Artificial Intelligence (AI), Machine Learning (ML), Natural Language Processing (NLP), and Process Mining to help companies optimize and automate processes. Here are some of the technical specifications and requirements of hyperautomation:
RPA platform: Hyperautomation requires an RPA platform that enables the automation of repeatable processes and tasks by software robots. The RPA platform should be able to create robots for different tasks that can be executed in other applications.
AI and ML integration: AI and ML integrations can be used to analyze and understand unstructured data in text, image, and language formats. The integrations should be able to make predictions, recognize patterns, and make decisions based on data.
NLP integrations: Hyperautomation requires NLP integrations to perform natural language processing and text analysis. This is important for automating customer support, email responses, chatbots, and other communication processes.
Process Mining tools: Process Mining tools can visualize, monitor and optimize business processes. These tools enable companies to identify and eliminate process inefficiencies.
Integrations: Hyperautomation requires integration with various applications to enable the automation of processes. The integrations should allow the collection and processing of data and information from different applications.
Security measures: Data and processes within the company must be protected. Therefore, security measures should meet compliance rules and regulations and ensure data encryption and data protection.
Companies looking to implement hyperautomation need a powerful and flexible platform that seamlessly integrates RPA, AI, ML, NLP, and Process Mining. The platform should be able to automate processes, meet compliance and data protection requirements, and scale quickly to adapt to the growth of the business.
Our Services for Your Success
We understand that hyperautomation is a technical challenge and a strategic decision for your company. That's why we view your business processes entirely with our holistic consulting approach to develop customized solutions optimally tailored to your needs. We identify your pain points and leverage digitization and efficiency potentials to bring your business processes to the next level - always considering a smooth and secure go-live. In addition, we promote innovation and create a unified mindset by establishing a Center of Excellence.
We offer you comprehensive process identification and optimization and provide the necessary data sources across system boundaries. With strong partnerships with leading research institutions we can automate complex processes using AI and other technologies. Our process excellence and deep expertise in technologies such as BPM, process mining, RPA, and AI make us the perfect partner for hyperautomation solutions.
About Arvato Systems
Global IT specialist Arvato Systems supports major companies through Digital Transformation. About 3,300 staff in over 25 locations epitomize in-depth technology expertise, industry knowledge, and focus on customer requirements. Working as a team, we develop innovative IT solutions, transition our clients into the Cloud, integrate digital processes, and take on IT systems operation and support.  
We provide 
As a part of the Bertelsmann-owned Arvato network, we have the unique capability to work across the entire value chain. Through our strong strategic partner network with global top players such as AWS, Google, Microsoft, and SAP, we continuously strengthen our know-how and leverage the most advanced technology. 
Frequently Asked Questions about Hyperautomation