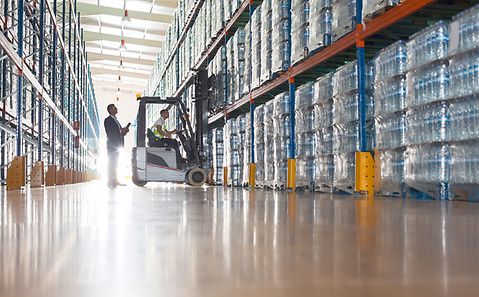 Innovative Warehouse Management Solutions (WMS)
Your Warehouse Management Combines in one Software
Constant Change
The dynamism of the 'on-demand' world has brought changes to logistics. Order quantities continue to fall while the delivery frequency is rising. Optimal warehouse utilization, efficient stock rotations, increased speed, and enhanced transparency are therefore becoming increasingly important. Today's modern, complex warehouse and distribution centers as well as warehouses held by SMEs need far more than the classic basic functions of a warehouse management system: Support for goods receipt and issue, stock management, and inventory management as well as advanced functions for controlling complex processes such as return processing or multi-customer warehouses are increasingly important.
Benefit From Our Expertise in Warehouse Management
Integration
Ensures seamless integration of upstream and downstream business processes in SAP ERP ECC 6.0 and SAP S/4HANA Enterprise Management
Project Cycles
Short roll-out times through the use of documented template processes for the core processes of goods receipt, warehouse and inventory management, and goods issue
Clarity
Tried-and-tested, standardized, and easy-to-understand working base that allows specialist departments to be directly involved
Security
Accelerated process workflows alongside minimized risks
Flexibility
Custom developments and specific process mapping adapted in keeping with your requirements
Support
Analysis, implementation, and consulting from experienced logistics consultants
SAP EWM (Extended Warehouse Management)
SAP EWM is today's proven and for the future strategic solution of SAP of a modern warehouse management system (WMS), whose performance significantly exceeds the SAP module LES (Logistics Execution System). The main components, warehouse management, and material flow control SAP MFS (Material Flow System), support you optimally in the processing of all goods movements as well as inventory management down to storage bin level.

SAP EWM offers you efficient planning of your picking processes, storage and retrieval strategies for optimal warehouse utilization, and flexible warehouse control processes, including a warehouse management monitor. A separate material flow computer is no longer necessary due to the integration of the material flow control (MFS). Additionally, the system offers you an integrated handling unit management and a forklift control system.

Through integration with SAP TM, SAP PP, or QM, EWM is the warehouse management software for your entire supply chain. The direct integration with Core of S/4 has made this integration much easier. The different architecture variants of SAP EWM allow full scaling: From the automated control of large logistics centers on-premise or to smaller warehouses from the cloud, you benefit from the standard features of SAP EWM - in addition, we have developed special modules with which we customize the system to your needs.
SAP WM (Warehouse Management) under S/4HANA
SAP Warehouse Management (WM) provides proven support for handling all internal goods movements and managing inventories in the warehouse. At the end of 2027, SAP will discontinue mainstream maintenance of this software component. Extended maintenance can be completed by 2030 at a corresponding additional cost. Nevertheless, SAP WM customers will face the decision in the medium term to either switch to the successor product SAP EWM under S/4 (embedded, decentralized or EWM from the cloud) or to continue using (a few) partial functions of WM under S/4, the so-called Stock Room Management.

We support you to evaluate your existing and future system landscape including business processes and to perform the migration to S/4. We have developed an agile, highly efficient method for this purpose. Last but not least, it provides you with a reliable calculation and planning (duration, involvement and budget) for your EWM implementation.
 
platbricks® Warehouse Management
Our own Microsoft Azure-based cloud platform platbricks® also has a warehouse management module. With the platbricks® WMS, the flow of goods within a warehouse from goods receipt to goods issue is managed, optimized, and executed with smart wearables.
platbricks® Warehouse Management System - Benefits
Mobile processes are included in the module
Usage-based billing model
Sustainable architecture for growing business
Full transparency of all processes, orders, movements, and inventories
Short implementation times
platbricks® WMS - As Basic or Pro Version
platbricks® WMS Basic
With the platbricks® WMS Basic, we have developed a simple and efficient standard solution for small and medium-sized businesses to enable them to take the step into the digital world cost-effectively and via plug & play.
Suitable for Whom? For Example For:
Micro Depots
Small Retailers
Industrial Companies with Spare Parts Warehouses
Franchise Companies
Mapping of Internal Storage Areas
Medical Practices, Nursing Services, Health Care Institutions
platbricks® WMS Pro
The WMS Pro from platbricks® is a fully comprehensive warehouse management system according to VDI standard 3601. The system covers all processes, from receipt, storage, and picking to goods issues. 
Suitable for Whom? For Example For:
Industrial Customers
Automotive (Manufacturers and Suppliers)
Hospitals
Retailers and Wholesalers
eCommerce Companies
Delivery Services
Logistics Service Providers
Medical Technology and Pharmaceutical Companies
Services On Top for Optimizing Your Logistics
Capacity Planning
Multi-order Picking
Package Optimization
Our solution for capacity planning in goods receipt provides you with an overview of expected and implemented goods receipts, among other things. The capacity information illustrated supports scheduling when planning goods receipts to optimally utilize warehouse capacities. In addition, this module provides an overview of the number of free warehouse spaces grouped according to the type of warehouse space and helps scheduling set priorities for purchase orders.
 
Your benefits:
Goods receipt
Acceleration of goods receipt processes by avoiding delays, stall fees, and out-of-stock situations
Prioritization of purchase orders according to free capacities
Assigning optimal delivery times for suppliers
Subsequent checking of goods receipts
Overview provides information on short- to long-term personnel planning in goods receipt
Warehouse
Capacity planning in the warehouse provides an overview of the number of free warehouse spaces grouped according to the type of warehouse space for several distribution centers
Prioritization of orders according to free warehouse capacities
No warehouse overfills
No delays in the goods receipt process
Multi-order Picking
The Multi-order Picking module expands your existing SAP EWM with a flexible and configurable solution to pick several delivery orders in one warehouse order. Our multi-order picking solution is based on a two-stage wave concept, consisting of a systemically mapped outline and detailed planning that supplements your SAP EWM, enabling the highest degree of flexibility in daily operations.

The multi-order picking solution from Arvato Systems includes:
Two-stage wave concept for picking
Individually configurable logic for the creation of pick handling units
Scenario-based logic to adjust the picking logic to the different load and capacity situations in the warehouse
Adjustment to every warehouse process through freely defined master data
Enables the structure of pick orders created to be adjusted to the volumes as well as to daily workflows in the warehouse
Time and calendar-based 'scheduler' to manage the automatic picking orders system in the background
Intelligent SAP Add-on for 'Real' Pick and Pack
Optimize your picking process with the Package Optimizer from Arvato Systems. We collaborated with Fraunhofer IML to develop this package optimization solution, which determines the optimal shipping container before picking starts. Thanks to optimized 'prepacking' in the SAP system, it is possible to arrange shipping objects before picking begins. This is an important prerequisite for 'real' pick and pack. Arvato's Package Optimizer 2.0 solution can be implemented as an add-on in SAP Warehouse Management (WM) or SAP Extended Warehouse Management (EWM), as well as in SAP Transport Management (TM). The Package Optimizer 2.0 from Arvato can be adjusted to a variety of client-specific parameters to take groupings, handling of hazardous materials, etc. into account.
Warehouse Management - Frequently Asked Questions