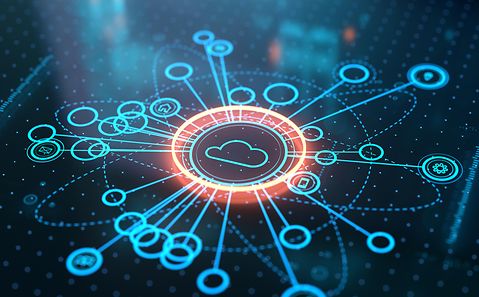 SAP Business Technology Platform (SAP BTP)
Accelerate Innovation, Realise Business Potential
SAP Business Technology Platform (SAP BTP)
The cloud-based SAP Business Technology Platform (SAP BTP) combines application development, automation, data management, analytics and planning, integration, and AI features in a unified environment optimized for SAP applications. This allows companies to respond to contemporary requirements and transform or create new business processes to achieve their digital transformation goals.
As a permanent instrument of Arvato Systems, we use SAP BTP to meet customer and market requirements in a flexible way. Established SAP BTP technologies and in-house developments are anchored in our consulting and innovation portfolio and represented by various functional areas.
SAP BTP - Our Four Pillars
Analytics & Data Management
SAP BTP provides a broad range of data management and analytics capabilities enabling organizations to integrate, store, catalog, prepare, model, and share data - inside and outside the enterprise. In addition, SAP BTP provides a coordinated data model that connects disconnected data across the business process - with powerful database, data management, data warehousing, analytics, and planning capabilities.
Automation
Automating business processes can increase business efficiency, reduce costs, and improve the quality of products or services. Automation is beneficial beyond those areas where repetitive tasks must be performed manually. With the help of Artificial Intelligence (AI) and Machine Learning (ML), companies are enabled to automate more complex tasks. For example, by analyzing large amounts of data, AI systems can identify patterns and make predictions to automate processes such as risk management.
Extension Suite
As a specialized component of the SAP Business Technology Platform for developers, the Extension Suite provides various tools and services to create extensions for SAP systems. These extensions can be seamlessly integrated into the existing IT infrastructure and include features such as integrating data from different sources, creating custom interfaces, and automating business processes. Using the Extension Suite, companies can adapt their SAP systems to their specific business requirements and make their IT infrastructure more flexible and agile.
Integration Suite
The Integration Suite provides various tools and functions for monitoring, managing, and securing integration processes, as well as automating business processes. In addition, using the Integration Suite, companies can deploy APIs to easily integrate with customers and partners. This enables companies to connect different applications, data sources and systems to ensure smooth business processes.

How We Create Added Value for You
At Arvato Systems, we offer comprehensive IT expertise, a high level of technical understanding, in-depth industry knowledge, and many years of experience with partnership in action. We are one of only three companies worldwide certified by SAP as an outsourcing partner for the operation of the SAP Business Technology Platform. This combination enables us to support our customers in implementing SAP BTP to achieve maximum business value. This award is the result of an early, innovative, and qualitative performance at the level of:
BTP Service Portfolio
Competencies & Certifications
BTP Setup & Projects
BTP Integrations, Data-2-Value Processes, Extensibility
Project Management
Quality & Competence Management
Service Management 
Learn more about our certification
SAP Business Technology Platform As a Central Catalyst for Your Business
Better Business Decisions Based on Targeted Data Analysis
Flexibility in Programming Language and Development Tools
Strategic Competitive Differentiation through Technological Edge
Reduced Project Runtimes and Cost Reduction Compared to Previous Projects
Frequently Asked Questions about SAP BTP