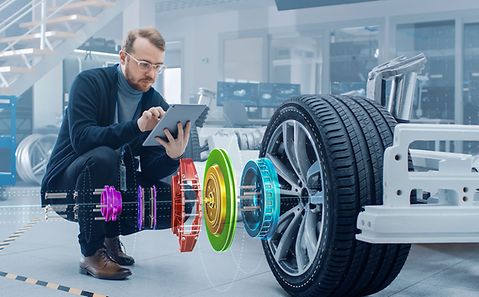 Digital Twin in Production: 10 Use Cases
Impulses from the field
Application Scenarios for Digital Twins in Manufacturing
24.10.2023
Digital Transformation
Innovation
Manufacturing
63 percent of German industrial companies are convinced that Digital Twins in production are indispensable in order to survive in international competition, according to the results of a representative survey by the digital association Bitkom. However, between knowledge of the key role of this technology and implementation in one's own company, there is a large gap between theory and practice: Many companies are still in the phase of building up understanding, there is a lack of strategies and concepts, budgets and concrete application examples. Yet the economic and ecological potential of the Digital Twin is enormous - and can be transformed into real added value more easily than most companies think. 
 
I would like to provide you with important impulses and present ten application scenarios for the Digital Twin in production - from quick wins to visionary business models.
Status Quo of the Digital Twin in Manufacturing
Digital Twins are virtual, dynamic, real-time models of physical objects and thus integrate non-digital assets into the digital world of Industrie 4.0. For the most realistic modeling possible, the Digital Twin in production networks and synchronizes heterogeneous data sources, from engineering data to sensor data from machines and environmental parameters to process and operating data from ERP, MES, and QA systems - or even data from external partners.
The concept of the Digital Twin is not new, but with the practical maturity of a data standard - the current version of the "Asset Administration Shell" - an important prerequisite for the breakthrough of Digital Twin applications in IIoT environments was created in mid-2023. Digital Twins in production based on the Digital Asset Administration Shell (AAS) can exchange data across system, department, and company boundaries thanks to a uniform standard. Standardization not only lowers the technological hurdles but also paves the way for new value creation ideas through interoperability.
10 Application Examples for Digital Twins in Production
Regardless of whether you are a corporate group or an SME, a single machine or a complete value chain, in the automotive industry or the electrical industry, in mechanical and plant engineering, or in the pharmaceutical and chemical industries: the application scenarios for Digital Twins in production are diverse. 
Typical entry-level projects use the Digital Twin for cost and time savings or quality improvements:
The next higher level of Digital Twins integrates Data from external actors:
The Digital Twin in Production is not only an efficiency booster, but also simplifies the implementation of sustainability initiatives:
The most exciting future potential of the Digital Twin in production lies in the monetization of data, i.e., in the development of new business models:
Advice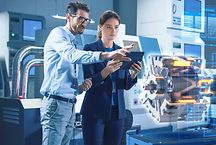 For many entry-level projects, you do not necessarily need a standardized Digital Twin like the Digital Administration Shell. To keep all options open for internal networking and further growth as you scale, it still makes sense to work with the AAS standard from the start.

The challenge is to identify suitable use cases for one's own company and integrate them into the digitization strategy. It doesn't always have to be the big one, but smaller pilot projects also offer attractive added value.
The Author
Johannes Fuhrmann is Head of Strategic Business Development at Arvato Systems. In this role, he is responsible for the portfolio and product development for the manufacturing industry. His focus is mainly on the topics of Digital Twin, Asset Administration Shell and the development of shared data ecosystems in industry. Prior to his career at Arvato Systems, Johannes Fuhrmann held various relevant positions within the manufacturing industry. For example, he was a Senior Consultant for Industry 4.0 at Deloitte Consulting and Head of Digital Operations and Business Development at VELUX. Johannes Fuhrmann graduated from the University of Warwick with a Master of Science (MSc.) in Information Systems Management. He also earned a Bachelor of Arts (B. A.) in Technical Business Administration from the Hamburg University of Applied Sciences (HAW Hamburg).