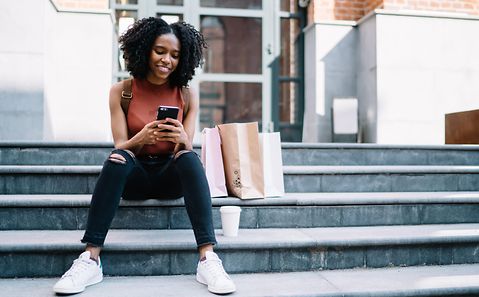 What You Should Know About Connected Retail
Connected Retail Is the Trend Topic in Retailing
28.03.2023
E-Commerce
Customer Experience
This article deals with the topic of connected retail, which is becoming increasingly important these days. Various examples of connected retail are shown, and it is explained what the topic has to do with e-business, which is also gaining in importance.
What is Connected Retail?
Connected retail is a concept that links retail with digital technologies. It enables seamless integration of online and offline channels to provide customers with a seamless shopping experience. Through connected retail, retailers can showcase their products online while offering them in their physical stores. Customers have the option to search for products online and then pick them up in-store or get advice directly on the spot. In addition, connected retail also offers personalized offers for customers using data analysis tools. This allows retailers to specifically address individual needs and thus build long-term loyalty. All in all, it can be said that connected retail has revolutionized retail and enabled companies to flexibly adapt their offerings and address new target groups more effectively.
Connected Retail Is the Trend Topic in Retailing
It is no longer sufficient to limit oneself to a simple web store. Today, customers expect a consistent customer experience across their entire customer journey across all digital and physical touchpoints.
The current trend topic in modern retail is connected retail - a combination of e-commerce and brick-and-mortar retail. One example of this is "click and collect", which became popular during the pandemic. 
The "Connected Retail 2022" study by the EHI Retail Institute showed that retailers now offer or are planning to introduce a wide range of such connected retail services.

Some examples of connected retail are:
Real-time display of stock available in stores in the online store.
Instore Order - the order is placed in the store and the items are delivered to the customer
Click and Collect with in-store payment
Click and Collect with online payment
Click and Meet - online arrangement of consultation appointments in the store
Instore Return - return of items ordered online in the store
Ship from Store - delivery of articles ordered online via the store
In addition, customer behavior is changing all the time, and constant change characterizes retailing in the digital world as well. For example, for many years, the leading payment method in e-commerce for German customers was purchase on account. According to the study "Online Payment 2022" by the EHI Retail Institute, however, this changed in 2021 - the payment service Paypal has caught up significantly. In terms of percentage share of e-commerce sales, purchase on account (28.3 percent) and payment via Paypal (28.2 percent) are now almost on a par. As recently as 2020, the ratio was 30.4 to 24.9 percent.
Connected Retail and E-Business
These services and the high potential for change place enormous demands on the efficiency and flexibility of the corresponding processes - and this applies to practically all areas of retail companies. For this reason, the term e-business is increasingly being used instead of the more narrowly defined e-commerce. 

The background: e-commerce refers primarily to external processes involving the sale of products and services via an online store. The aim is to present the items in the store as attractively as possible so that purchasing, delivery and payment can be made as easy and convenient as possible.

E-business is a comprehensive concept that affects the entire organization of a company and is closely linked to digital transformation in retail. It encompasses all digital processes relevant to both online and stationary retail, such as supplier and order management, logistics, payment management, and IT support. In contrast, e-commerce is merely a subsection of e-business.

When setting up a new e-business organization or reorienting one, Arvato Systems' e-business process model helps to structure and categorize the many different topics during the orientation phase.