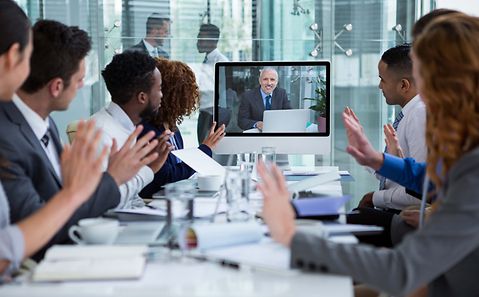 Best Practices for Hybrid Meetings
New Work: Hybrid work models are here to stay
The Basics of Hybrid Meetings
26.04.2022
Cloud
Digital Transformation
Microsoft 365
Digital Workplace
We feel the same as many: After two years of contact restrictions and predominantly home offices, most of us are happy to be able to go back to the office finally. We are just as representative when it comes to the new working model. According to the latest Bitkom study, 88% of the employees surveyed would like a mix of home office and office days.
Temporarily going back to the office is easy, or so we thought. This is also true for regular desk work and virtual team meetings. However, what has turned out to be a challenge are hybrid meetings - meetings in which some participants sit on-site in a meeting room, and others are connected via Microsoft Teams.
Accordingly, we stumbled into our first hybrid meetings a few weeks ago. We simply hadn't thought about this when booking the room: How does it work with virtual participants? Our meeting rooms are well equipped for face-to-face meetings with a projector and conference phone, but not for hybrid video conferences - which we rarely had before the pandemic.
You can probably imagine it vividly: You come into the meeting room happily motivated, and suddenly the new normal collides with the status quo of March 2020. Quite honestly, our first mixed meetings were not necessarily professional.
Over the past few weeks, we've converted a good portion of our meeting rooms to hybrid meetings. We also took care of our meeting culture and revised some rules. We've put together a little primer for you to make sure you don't fall into the same traps we did.
You'll see: Even with small means, hybrid meetings can be integrated into your new daily routine in a relaxed way.
What Do Hybrid Meeting Rooms Need?
The basis: A good Internet connection
Technically speaking, the brave new New Work World thrives on the Internet. As soon as we moved into the home office, we noticed that daily work with Microsoft 365 and Teams, including telephony, only works with a stable Internet connection.
We also noticed in the first hybrid meetings: Simply connecting the laptop directly to the beamer is not a good idea. Just as little are the integrated on-board devices such as camera and microphone suitable for meeting rooms.
What makes on-site preparations for a hybrid meeting much easier is a USB-C docking station: It bundles all connections from the laptop to screens, speakers, and microphones. And a network cable can also be connected in case of emergency. At the start of the meeting, all that's left to do is connect the laptop you brought along via USB, and you're ready to go.
Good connection for mobile participants
We already know it from conference call times: It could get exhausting if participants were there via the mobile network. What definitely ensures much better quality in Microsoft Teams meetings: Use the Microsoft Teams app on the move via the mobile data connection. As long as you have secure wifi available on the road, e.g., via EAP SIM, this can also be used! This way, you stay in IP telephony and have no disruptions due to the transition to the old circuit-switched telephony. In addition, you now have almost all the functions of Microsoft Teams on the phone via the app that you are used to from the laptop.
In virtual space, image and sound set the pace
Over the past two years, even skeptics have been convinced that virtual appointments work just as well as face-to-face meetings. On one condition: the picture and sound have to fit. To remind you again: Why were we fans of face-to-face meetings for a long time? Precisely because there is no substitute for facial expressions, gestures, and behavior, as well as speech.
We have set ourselves up professionally in the home office with a webcam and headset, but our conference rooms have now had to follow suit. In a nutshell, you could sit five people in front of a laptop or everyone sits in front of their own screen - which is what we actually did in the beginning when we were in need. But let's be honest: Can you imagine such a successful hybrid meeting?
The good news in advance: In the meantime, the image and sound offerings for conference rooms have become very diverse. Many manufacturers such as Poly or Logitech offer out-of-the-box systems as well as optimized solutions for teams, zoom, etc.. In the meantime, entertainment specialists such as Sennheiser also have business solutions in their range. Shure has also developed an entire business line with Stem , where everything from ceiling microphones to loudspeakers can be optimally combined. Those who are now afraid of horrendous investments can calmly read on: In the mid-price segment, there are already very good solutions that quickly pay for themselves through savings on travel costs.
 
Webcams and large screens for the live experience
Another companion from the old days will leave us: The beamer. For hybrid meetings, today's affordable screens are far better suited than the beamer wall. The latest Surface Hubs from Microsoft are particularly elegant: they are not just a screen, but an all-in-one solution for any form of meeting.
For this, the webcam is now conquering meeting rooms. If you position the camera cleverly, a lens with a wide angle is even enough for large rooms. Here, too, there are now ready-made systems from various manufacturers, such as Jabra , which are quite easy to install.
Just in case: The analog meeting room manual
What is tremendously helpful for a relaxed start of a meeting: A conference room guide - especially if not all rooms are identically equipped. Often a one-pager with instructions on how to get started plus important tips, tricks and contact persons is enough. In addition to the digital original, the banal analog form can also save the day in an emergency: Simply print it out and lay it out nicely foiled in the middle of the meeting table or stick it on the wall.
The Perfect Team: New Work and Our German Virtues
Actually, we Germans should be world champions in New Work, because: The new normality with New Work also requires a lot of discipline and punctuality. In spite of all the imponderables, we've settled in well in the home office, but we still need to practice a bit when it comes to hybrid meetings. What helps is structure and roles, i.e. an agenda and a meeting leader.
 
Set the agenda in advance
With the agenda, we don't just set the content framework. More attention is also paid in advance to ensuring that the program items are scheduled appropriately. That way, things are less likely to get out of hand and break times can be better adhered to. Because even if it's still so nice: The chat in the coffee break has to be interrupted for the start of the next agenda item. The same applies to telephone calls and e-mails.
 
More responsibility for meeting leaders
The larger the group, the more important good leadership becomes throughout the meeting. And whoever wears the hat must have their eyes and ears everywhere. The most important thing: Everyone must be on board, especially the virtual participants must not be left behind. In other words, requests to speak from the table must be coordinated with those from the virtual room. With a larger number of participants, the buddy principle can provide support: Each virtual participant has a physical partner on site. In addition, the management must ensure that the media used are clearly visible and accessible to everyone. Ideally, analog meeting elements will migrate to the digital workplace, and the whiteboard in teams will replace flipcharts and moderation cards wonderfully.
 
Mindfulness and attentiveness are what make the New Together work
What was already irritating in pure face-to-face meetings: The short chat with the person sitting next to us, checking messages on the smartphone, taking calls or working through mails. Even if we are reluctant to admit it: Only computers can do true multitasking. That's why we've established a few new rules for meetings, including that the commitment also obligates 100% attention. Apart from the positive effects on our New Together, our meetings have also become even more productive.
Tips for the "I Was There Feeling"
Our conclusion: Successful hybrid meetings need technology and a changed understanding of rules and roles for a sustainable NewTogether. Last but not least, we have picked up a few tips from our colleagues, which we use to loosen things up and make longer meetings more enjoyable. We particularly like the small surveys, but read for yourself:
Hybrid events: Livestream becomes "I was there" conference