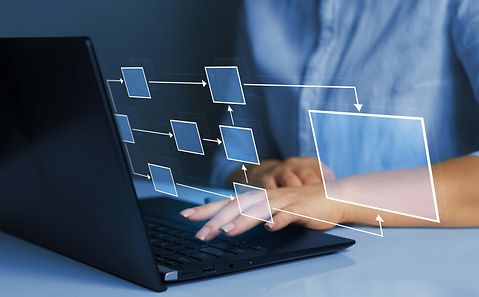 Process Modeling in Modern E-business
How to efficiently consolidate your support processes
The 7 Support Centers in E-business
20.04.2023
Customer Experience
E-Commerce
In today's digital world, the e-business model is critical for many companies. An e-business model refers to how a company uses digital technologies to run and grow its business. This model allows companies to sell services and products online, reach customers worldwide, and automate processes to increase efficiency and profitability.

The Order to Cash process, or O2C, encompasses the entire buying process - from product information, through ordering and order fulfillment, to invoicing and payment receipt.
The merging of online and offline commerce makes the order-to-cash process (O2C) considerably more demanding than a pure e-commerce approach. To meet this challenge, we at Arvato Systems have developed an innovative "E-Business Process Model." This model not only represents all central processes but also all supporting processes and brings them into a meaningful relationship. This way, a practical solution was created for the complex dovetailing of online and stationary retail.
Keep Track of the Process Steps in the Support Centers
The model begins by listing the essential central process steps in e-business. All efforts are considered, from the initial contact with the customer, through ordering and shipping, to billing. These include research and information, search and navigation, the checkout process, payment, order confirmation, order processing, shipping and delivery, and receipt of payment. The individual steps can take place at different touchpoints.

These core processes are supported by several support centers covering all disciplines of modern e-business. The interaction of these support centers ensures that the value-adding core process runs smoothly and with the highest possible efficiency. If you want to learn more about this, we recommend our whitepaper. In this blog post, you will find an excerpt of the core processes.

Content Management
The term content management is often equated exclusively with web CMS, i.e., website content management. However, its meaning is much broader. In the area of e-business, content management includes not only all online activities but also the creation of printed media for POS in stationary retail.
Only the use and maintenance of PIM and DAM systems can ensure that the offers in the web store are correctly described and presented. Legal aspects can also be met in this way - for example, compliance with image rights or national differences in product specifications in international webshops.
Another crucial success factor is the management of translations. Translation management systems (TMS) can provide support here. They reduce translation costs by ensuring that individual phrases and technical terms only have to be translated once and used again in subsequent texts. This also optimizes linguistic consistency in your e-business.

Supplier Management
Supplier management aims to maximize the quality of relationships with individual suppliers in e-business and minimize any risks in procurement. In addition to registering suppliers, it is also essential to manage the corresponding contracts securely.
Catalogs provided by suppliers must be recorded, and care must be taken to ensure that product information flows into the PIM system. Suppliers are informed about the sales performance of their products via appropriate reporting.
Especially when the number of suppliers increases, the qualification of the product data provided by the suppliers becomes very important. Here, automatic mechanisms help to check the quality of the data. In this way, the company's quality standards for product data can be ensured, and a possible expansion of an online store into a marketplace can be promoted.

Order Management
Especially with the multitude of service forms in omnichannel commerce and the merging of physical and digital commerce, order management in e-business is paramount. The "anytime, anywhere" delivery promise can only be realized through optimal order, warehouse, and store management orchestration. In addition to supporting the various service options, this also involves handling changes to orders, cancellations, and returns. Without a unique system for order management, OMS for short, this demanding task in e-business can hardly be mastered. Such a solution is the "single point of truth" for managing all orders. Based on the data from the OMS, all related processes, such as logistics, are handled efficiently and securely.

Logistik
Die gute Datenqualität der Bestandsdaten hat einen hohen Einfluss auf die Kundenzufriedenheit und Stornoquote. Der Unmut der Kunden ist natürlich groß, wenn sie Produkte aufgrund einer schnellen Lieferbarkeit oder eines vorhandenen Bestands in der Filiale kaufen oder reservieren, diese dann aber nicht wie angekündigt bereitgestellt werden können.
With the increasing demands of customers, logistics in modern e-business is also essential for customer satisfaction and loyalty. The many different forms of service in omnichannel commerce place demands on logistics, such as the reservation of products for pickup in the store.
Another example is the display above of stock available in stores in the online store. Products that are distributed and available in different warehouses and stores make accurate inventory management in complex e-business increasingly tricky - especially with simultaneous reservations, replenishments, and a possible withdrawal by customers in the store at any time. So simply recording goods receipts and issues is no longer enough, and all information should be updated in real-time if possible.
Good data quality of inventory data has a high impact on customer satisfaction and cancellation rates. Customers are naturally disgruntled if they buy or reserve products in the store based on fast delivery or existing stock. Still, then these products cannot be provided as advertised.

Customer Management
Customer management is the central task in the connected retail approach, where digital and traditional marketing measures converge.
Of course, Customer Relation Management (CRM) is particularly important here, as are all activities and systems for the ongoing optimization of the Customer Experience (CXM) and personalization across all touchpoints. In addition to increasing customer loyalty, the customer help desk also falls into this area - not to mention ongoing search engine optimization (SEO) for reach management. Customer loyalty systems such as loyalty cards and points systems promote customer loyalty, and individual coupons provide additional purchase incentives.
To personalize the shopping experience, much customer data is collected and analyzed. The large volumes of data are processed with the help of Artificial Intelligence (AI) and thus lead to individual prices and product recommendations via segmentation into customer groups, for example. The data also helps to optimize the shopping experience continually.

Billing
Offering payment options is one of the success factors in retail and, thus, in modern e-business. If customers lack preferred payment methods, this leads to purchase cancellations. At the same time, the multitude of payment methods leads to increased effort.
Frictional losses in the invoice-to-cash process jeopardize liquidity. This makes it all the more important to optimally orchestrate all processes, from risk management and payment processing to invoice generation, including collective invoices, receivables, and cash management. It must also be possible to map the billing of loyalty points, discounts from coupon cards, and options such as cashback.

IT-Support
Often little considered in the context of commerce is the role of IT support. However, recent examples such as the repeated failure of payment terminals prove that business continuity in e-business is vitally dependent on digital systems' smooth and secure functioning. In addition to preventing or promptly resolving disruptions, IT security, IT infrastructure services, and Application Management are other fundamental tasks of IT support.
Conclusion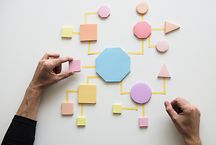 These processes are essential for successful e-business and should be addressed by companies. A well-functioning IT infrastructure is the ais for the smooth handling of business processes in online commerce. IT support plays a crucial role in e-business by ensuring that systems are always available and faults can be rectified quickly. Data security must also be guaranteed to create customer confidence and ensure the company's long-term success. Therefore, business continuity should also be taken seriously regarding digital processes, and investments should be made accordingly - because this is the only way to remain competitive as a company.
Read more about this in our white paper "E-Business Process Model."