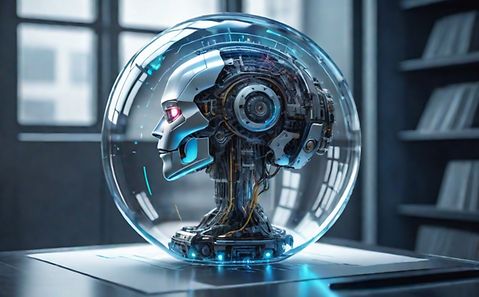 Sovereign AI
Self-determined and secure use of artificial intelligence
Generative AI opens up many opportunities to increase added value, develop new business models, and optimize processes. Technological progress in generative AI is already enabling the productive implementation of many use cases. And the rapid pace of development is creating more and more extensive possibilities. However, data security, regulation, and the need for security and greater independence require new solutions  in order to fully utilise digital potential.
This means there is an additional need for sovereign AI solutions.
What Does "Sovereign" Mean in the AI Context?
Although many use cases for generative AI can be implemented smoothly, there are still challenges to overcome. In particular, processing critical, sensitive, and competitive information requires a "sovereign" approach to AI. However, "sovereign" is often interpreted in very different ways. To enable a precise classification, we at Arvato Systems differentiate between "public AI" and "sovereign AI". These terms can be easily defined using the three gradations: externally determined, self-determined, and self-sufficient.
Public AIs: Determined by others
Universal tools
>> reuse input/data
are accessible to all

are trained with internet knowledge

use user input to constantly improve themselves
Example: ChatGPT Playground
Sovereign AIs: Self-determined
Open source offshoots & multi-tenant AIs
>> combine AI capabilities with control over the data
are multi-tenant capable with EU Data Boundary or in EU operation

are based on the public Large Language Models (LLMs)

can be fine-tuned for a specific purpose
Example: LLama2, Azure OpenAI in the EU data center
Sovereign AIs: Self-sufficient
Own AI models
>> maximize control at the expense of performance
are operated locally without dependencies on third parties

are trained on their own data

are highly specialized for one task
Example: Models created with AutoML
Independence from individual providers
Consideration of the legal regulatory framework
Compliance with data protection & transparency obligations
Consideration of the upcoming EU AI Act
Avoidance of potential copyright infringements
Self-determined selection of the models used
No unwanted use of own data for training public AI models
Our Operating Model for Your Sovereignty
At Arvato Systems, we understand that sovereignty is an essential prerequisite for many areas to use technologies such as AI. This is where we come in: We empower you to implement AI applications in a self-determined and secure way. Our operating model ensures that you know who is involved in your AI system and have control over operations and data in a legally safe environment. We support you according to your requirements, whether in our data center, with a secure EU boundary at the hyperscaler, or directly on your premises.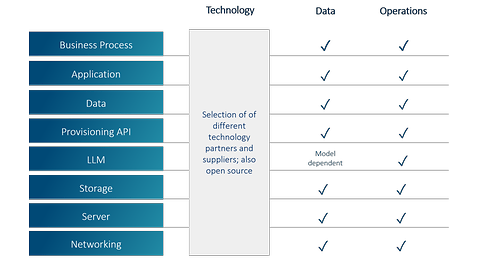 ✓ = We know who is involved and have control in a legally secure space
More Sovereignty With Our Private Cloud
With the Arvato Systems Private Cloud, you can utilise the capabilities of artificial intelligence without sacrificing your sovereignty requirements. Large Language Models (LLMs) can be set up securely in the private cloud, and context data for AI can be provided securely. Ready-made AI apps can be used, customer projects can be developed securely, and business processes can be compliantly automated end-to-end. Use AI and still retain control over your data. We are happy to support you - professionally and competently as your partner for sovereign IT.