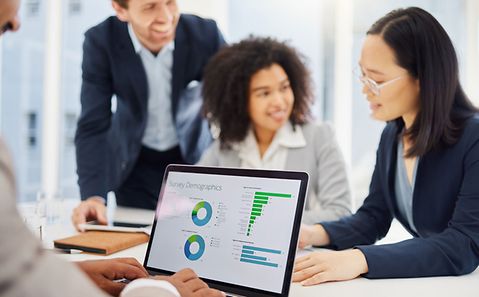 Efficient Customer Management with our industry solution for utilities
Success for all market roles with the perfect combination of expertise and technology 
​​It has never been easier for energy customers to switch electricity tariffs and thus optimize their energy costs. With the competitive metering point operator and the energy service provider (ESA), other market roles are entering the market that actively competes for customers. - at the same time, market expectations suggest a decline in earnings in conventional business areas. As an energy supplier, you need to expand your portfolio to retain or expand your market share. New service and product ideas are the first step. Still, they only work with a conscious and efficient customer management that knows how to map the specifics of the energy industry's business processes. Our mix of in-depth technical and excellent technological expertise flows into an industry solution accompanying energy supply companies (EVU) in different market roles on this path.​ 
Advantages for You as an Energy Supplier
​​Accelerated start​
​​With our industry solution, you install the important business processes that matter in one fell swoop. This significantly shortens the introduction of a CRM solution.​ 
​​Complete customer history​
​​All customer contact is documented and can be viewed, so that you have access to the information you need across all departments at any time.
​​Churn Prevention​
​​Keep an eye on your customers' financial situation to preemptively avoid the threat of termination.​ 
​​Increased master data quality​
Together with our partner Post Adress, we ensure a demonstrable reduction in mail returns through preventive address maintenance.​ 
​​Automated document creation​
​​Trigger the automatic creation of quotes and other customer letters directly from CRM and send them with just one click.​ 
​​No Code / Low Code​
​​You can adjust the processes yourself according to your wishes in CRM thanks to simple handling such as "drag & drop".​ 

​​Stadtwerke Dinslaken​

​​​​The solution for Stadtwerke Dinslaken is based on Microsoft Dynamics 365, and the features and benefits of this ecosystem are an excellent fit for the utility to gain a 360° customer view across divisions.​ 
Our Services for Your Success
​Industry solution for energy supplier

​​Put your customers at the center of your energy sales. Both mass customer business processes and your individual customers benefit from our industry solution. Serve the needs of your target group through tailored marketing and offer communication channels, individual product & tariff building blocks and downstream churn prevention mechanisms.​ 

​Industry solution for meter operators

​​The demand for value-added services is rising and also increases the frequency of customer contact for meter operators. However, standard processes such as expiring calibration periods, the recording of meter readings, or the agile rollout of metering systems are also served by our industry solution thanks to connected workforce management. At the same time, do something for the quality of your master data directly from the CRM and avoid mail returns, e.g., by researching empty installations.​ 

​Industry solution for distribution system operators

​​In the past, customer contact with distribution network operators was rather low, but the service effort is now increasing faster and faster due to decentralized generation plants, for example. Your employees can efficiently handle contract management for market partners as well as business approval processes for feed-in or grid connection processes with the help of our industry solution.​