Optimize Power Generation Plants From a to Z
Primary Energy Use, Driving, Maintenance, and Servicing - One Tool for Everything
Optimizing Energy Generation Plants: green.screen Provides Holistic Support
Whether it's a combined heat and power plant, a steam boiler, or a photovoltaic system on the roof of the company building - companies that generate their electricity and process heat want to do so as effectively and trouble-free as possible. But how to optimize energy generation plants in a technically and regulatory highly complex, and economically demanding environment? Here is the solution: green.screen, the energy and plant management tool from Arvato Systems makes primary energy consumption and use energy quantities, as well as the associated costs and emissions, transparent. Plant management is integral to green.screen, the platform system for strategic sustainability management.
By comparing generation, consumption, load profile, and process data and the targeted reconciliation of operating processes, energy costs can be controlled far more effectively than by looking at individual parameters in isolation. All operating data, error states and energy data can be stored in green.screen, processed with powerful evaluation and control modules, and visualized in a user-oriented manner. Alarms based on defined technical operating parameters and commercial monitoring are integral to the application.
Optimizing energy generation plants on a new level
Functionalities
The eco Smart Monitor energy and plant management system offers extensive functionalities for systematically analysing, recording, storing and processing energy data.
Superior fault and alarm management
Management of measured values and reference values
Manual input of counter values
Replacement value creation, plausibility check and correction of data
Management of locations and technical facilities via a matrix structure
Central version management and user administration
Arvato Systems recognized as Leader in "Sustainability and ESG Services"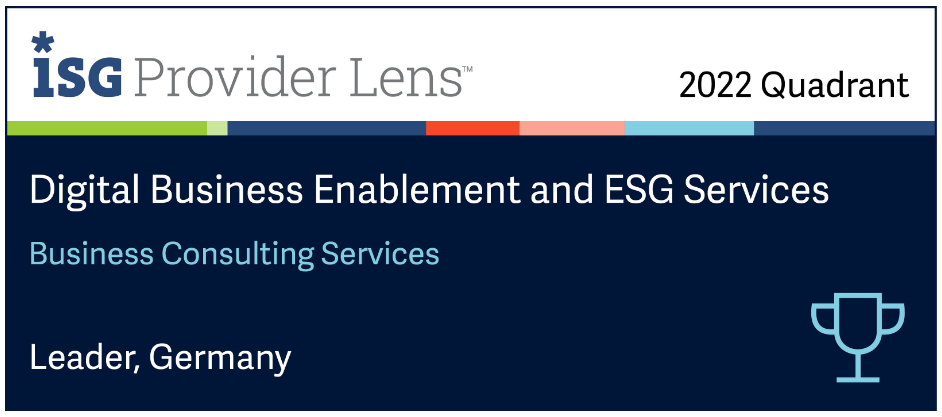 ISG, one of the leading market research and consulting companies in the IT environment, has recognized Arvato Systems and its green.screen solution as a leader in the field of "Sustainability and ESG Services". Another seal of approval for our high-quality product and service offering. Download the study free of charge via the following link!