Profitability with aroma®
Make your Omni-Channel processes more profitable
Less complexity = improved returns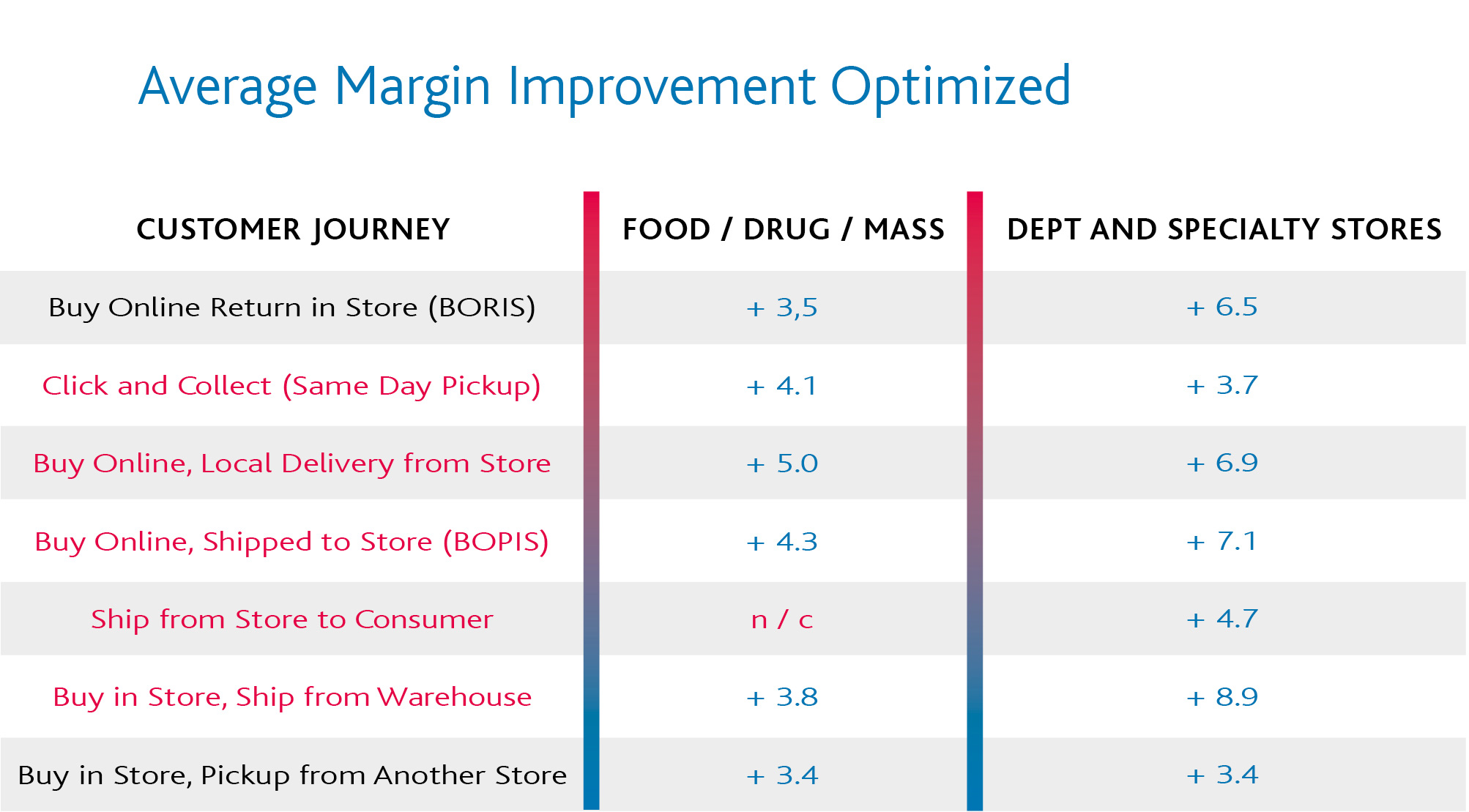 According to a recent study by IHL, significant improvements in results through the implementation of professional omni-channel processes are the norm. From Click & Collect via Ship-to-Store to BOPIS - the increases achieved are a clear recommendation for the introduction of an order management system.
aroma® enables the efficient implementation of the listed processes and is therefore a central driver of the corresponding improvements in results.
Stores in transition: reducing space, improving margins
In an international comparison, Germany has considerably more sales floor space than most European countries. However, end customers in Germany do not buy significantly more. In Germany, competition between retailers is tougher and margins are often lower. Margin pressure is increasing as e-commerce continues to grow and many retailers are rethinking their branch concepts.
An interesting option is the reduction of the store stock to the so-called show-room, where customers do not receive the articles in store but have them delivered.
The Order Management System aroma® is an important enabler for this. Supported by aroma® in-store module, store employees can easily receive orders from end customers which are then executed via the most suitable route (e.g. by shipping from a warehouse).
In future, the place where an order is generated will be less and less identical with the place where the article reaches the end customer. The place of order can be a shop, a marketplace, an e-shop or even a social network or language assistant. The place from where the item reaches the end customer can be a shop, an e-commerce warehouse, a central warehouse, a drop shipper or another trading partner. The mediation between the customer and the place of delivery is carried out by aroma® taking into account relevant parameters such as time, costs, customer status and stock.
Benefits for the retailer
Stocks in branches are reduced
Branch costs are optimised
Customers can be served efficiently and comprehensively
Sales and margins are increased
Use stores in lock-down and optimise stock
During the Corona pandemic / lockdown, many branches have built up excess stocks. At the same time, companies are often unable to sell via the e-commerce channel as desired: Order volumes exceed warehouse capacity or transport service providers are overloaded.
The result: While the e-commerce channel is overloaded, the shops are not working to capacity and tie up goods.

With aroma® retailers use their branches even during a lockdown and sell their stock comprehensively and quickly. Our Order Management System allows the implementation of the following processes within the shortest possible time: 
BOPIS - Buy Online Pick Up in Store: purchase takes place online, pick up of the goods at or in the branch
Ship-from-Store: purchase online in the e-shop and shipment of the goods from the shop to the end customer
In both cases, aroma® forwards the customer's online order to the corresponding branch and supports the staff in all further steps - including notification of the customer as soon as the article is ready for collection. Of course, the article can also be packed in a shop and sent to the final customer by courier.
Stocks in branches are reduced
Customer wishes are better fulfilled
Easy integration of outsourcing partners
Large blocks of costs in the e-commerce and omni-channel sector lie in particular in logistics, customer care services and the handling of financial processes - depending on the complexity of the transactions, countries, currencies and payment methods.
International merchants in particular also work with external outsourcing partners with regard to these processes. For cost reasons, it is important to be able to connect these partners easily and quickly, and to be able to exchange them if necessary.
An order management system is of crucial importance for this. If the OMS is provided by the logistics partner as part of a larger outsourcing deal, the partner can only be exchanged if the OMS is also exchanged. Since all processes are typically coordinated via the OMS, this involves considerable effort.
By using aroma® you make yourself independent of external logistics partners - and can thus integrate or exchange service providers in your process chain as required. This flexibility is an important leverage to manage process costs in an optimal way.
Saving IT costs
aroma® enables the simplification of the IT architecture and thus the saving of relevant IT costs. In particular, even a dedicated e-commerce shop system can become dispensable.
Decades of field experience
aroma® (arvato order management) is no ordinary order management system. It is the essence of decades of experience of Arvato - aroma® was developed for our own needs and Arvato's requirements.
Within the scope of large outsourcing transactions along the entire process chain, warehouses around the world had to be efficiently controlled and complex financial processes had to be integrated. Numerous languages and use cases in the service centre had to be managed for international and multinational e-commerce shops.
In Zusammenarbeit mit zahlreichen Händlern haben wir das System weiterentwickelt und zusätzliche wichtige Module wie das Preis und Promotion-Modul oder das In Store-Modul für Filialprozesse ergänzt. Das System ist aus der Praxis für die Praxis entwickelt und so konzipiert, dass alle anfallenden Aufgaben effizient und kostengünstig realisiert werden können.