Serialisation in Drug Production
Arvato CSDB Serialises - Securely & Legally Compliant.
Protection Against Counterfeit Drugs
According to the WHO, the trade-in of counterfeit medicines affects all countries worldwide and is increasing massively. At best, counterfeits are ineffective for end consumers - and in the worst case, they are life-threatening. The worst-case affects nearly one million people a year worldwide, where the toxic side effects of counterfeit drug products lead to death.
In order to effectively protect consumers, markets and manufacturers from counterfeits, a legally binding framework for tracing prescription-only medicines was created, for example, with the EU Falsified Medicines Directive (FMD) of 2011 and the Delegated Regulation (EU) 2016/161. Among other things, data matrix codes, database comparisons with national verification systems and solutions for detecting the integrity of product packaging (Tamper Evident sealing) are used.
Arvato CSDB - The Solution for Pharmaceutical Companies
A central element in the fight against counterfeit medicines is digitisation. The Arvato CSDB is used as a proven serialisation solution by over 80 pharmaceutical companies and ensures both a smooth serialisation process and the seamless implementation of legal requirements.
Arvato CSDB - Core Functions at a Glance
Drug serialisation is much more than a code on the package. Nationally as well as internationally, manufacturers and distributors have to meet the legal requirements regarding counterfeit protection.
The serialisation solution must integrate production lines, partners, customers & suppliers - this means comprehensive integration, adaptation of processes and high security measures. Whether at the intersections between ERP software and production and packaging machines, to the systems of external service providers or to national verification systems: The serialisation of medicines requires technical expertise, process know-how and the software solution Arvato CSDB, which reliably controls the entire serialisation process.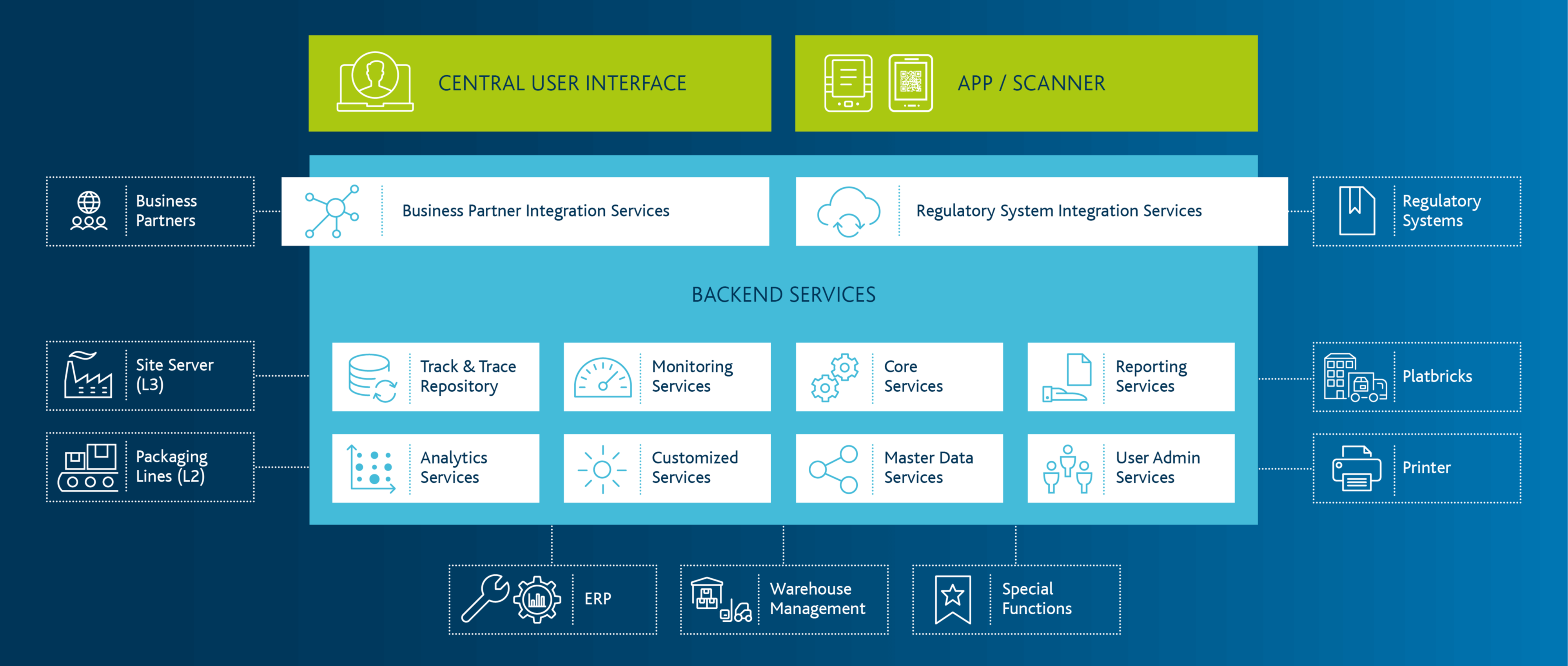 Download White Paper "Serialization In Drug Production"
Simply fill out and download for free
Solutions & Consulting Expertise for the Pharmaceutical Industry
Importance of the topic of serialisation for market participants such as pharmaceutical producers, contract manufacturers, marketing authorisation holders or wholesalers.
Marketing authorisation holder (MAH)
Contract manufacturing organization (CMO)
Pharmaceutical Wholesalers
National Verification Systems (NVS)
As a marketing authorisation holder, you must continuously be aware of and implement global regulatory developments with regard to serialisation, aggregation and tracking requirements. In particular, sometimes very extensive reporting requirements must be taken into account when implementing the respective solutions, this applies both to local production in an affected market, but also to exports to affected markets. The Arvato CSDB solution modules ensure stable mapping of the necessary processes and smooth integration with the regulatory systems.
Regardless of whether you produce yourself and/or have your products manufactured by CMOs, due to the necessary exchange of serialisation data, your challenges include in particular the integration and interaction with your CMOs and/or production or packaging lines. The request-based provision of serial numbers to and subsequent reporting from your CMOs is carried out quickly and reliably via our network. Proven connectors for the well-known hardware manufacturers are also available for the connection of the lines.
For you as a contract manufacturer, efficient and lean serialisation processes are of particular importance. Due to the necessary exchange of serialisation data, your challenges include in particular the integration and interaction with your (numerous) customers on the one hand and with production and packaging lines on the other. The request for serial numbers from and the subsequent reporting to your customers is carried out quickly and reliably via our network. Proven connectors for the well-known hardware manufacturers are also available for the connection of the lines.
According to the EU Falsified Medicines Directive (FMD), pharmaceutical wholesalers are also required to physically verify existing products and to decommission them if necessary.

Our experience in the digitalisation of business processes in the logistics sector helps licensed pharmaceutical wholesalers to implement the necessary process changes quickly and precisely. At the heart of the solution is the Arvato Smart Logistics Platform - Healthcare Suite - part of our proven platform platbricks, which ensures smooth operations in over 40 companies every day.
Our Serialisation & Anti-Counterfeiting team is an official service provider of the European Medicines Verification Organisation (EMVO).
We supply National Verification Systems for 17 countries in Europe - including securPharm in Germany, France MVO, SecurMed UK or SEVEM - and successfully connect them to the EU Hub. As an EMVO-certified supplier of national blueprint systems, we are always up to date with international regulations.
9 Good Reasons for the Arvato CSDB
The standardised ...
SECURE - reliable exchange of serialisation data with external partners.
FLEXIBLE - simple connection via standard interfaces.
SEEMLESS - fast and complete integration into existing IT landscapes.
integrative …
TRANSPARENT - reliable reporting of all serialisation events.
SIMPLE - seamless connection to existing systems (e.g. ERP & MES).
OVERARCHING - use at both site and line level.
Solution for Drug Serialisation.
COMPREHENSIVE - management of complex workflow processes.
INTERNATIONAL - perfectly tailored to national and international regulations.
CONNECTING - flexible connection to all important line manufacturers.
Why Arvato Systems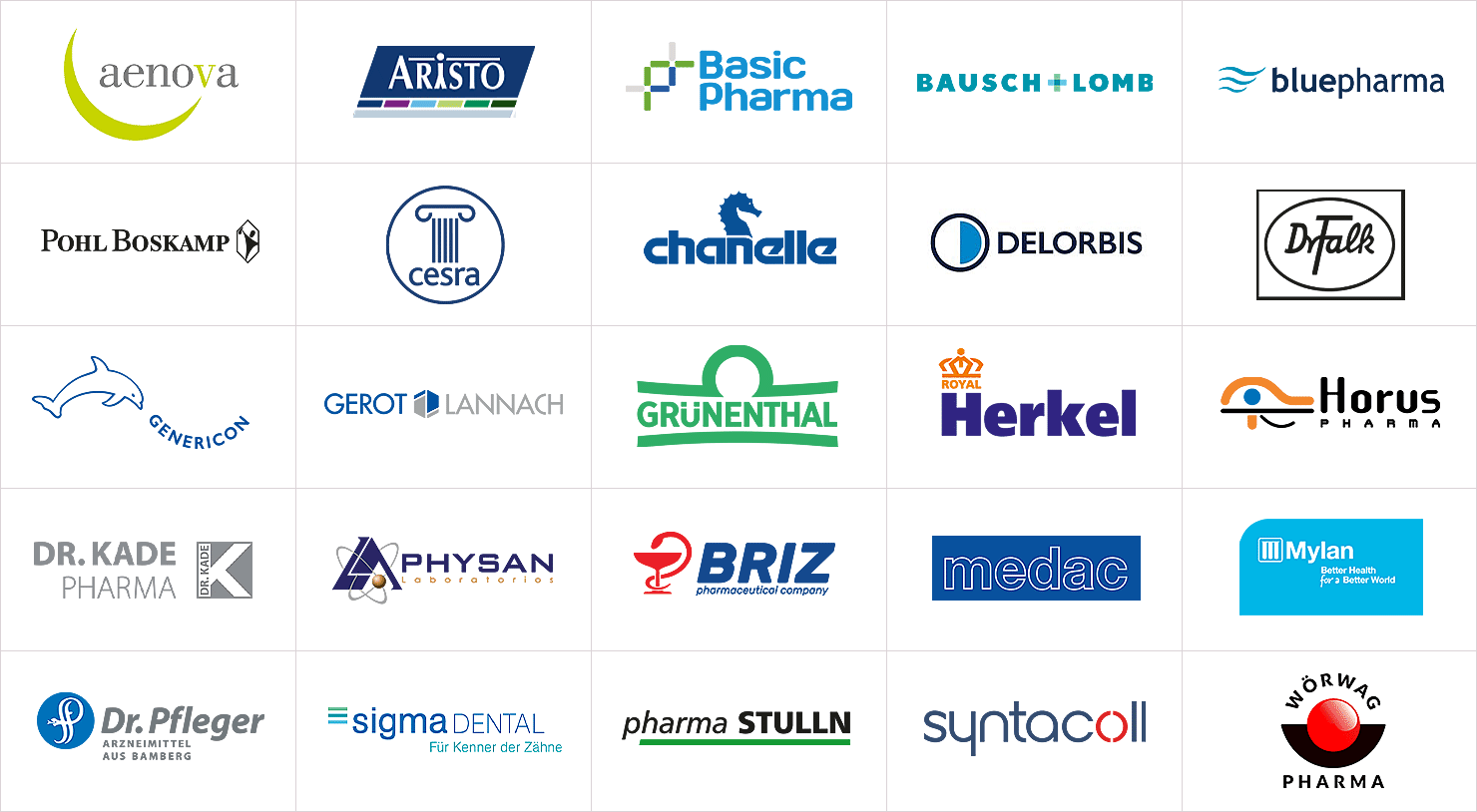 Today, our serialisation experts support pharmaceutical manufacturers and retailers worldwide in making medicines counterfeit-proof with IT consulting/process consulting and our own software solution Arvato CSDB (graphic: excerpt customer list).
Our expertise in the healthcare segment covers the entire serialisation process chain end-to-end, from the product to the end customer. Other in-house developments, such as the platbricks Healthcare Suite, offer additional opportunities to optimise processes and expand existing systems.
17 European countries have entrusted us with the operation of their National Verification Systems. The associated regulatory know-how ensures that our customers always have up-to-date processes/systems and thus investment and action security in a complex market.
System Change: Migration in Less Than 8 Weeks
Focus Reference: Horus Pharma
Together with the Horus Pharma team, our specialists successfully replaced the legacy system for drug serialization with our proven and flexible solution Arvato CSDB (Software as a Service) within a few weeks.