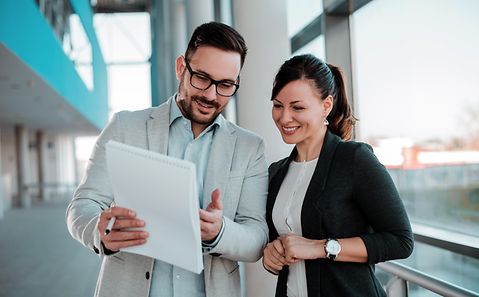 Application Management in the Cloud
We run your application throughout its entire lifecycle
What Is Application Management?
Application management is a form of application support that describes the support and development of applications along their entire lifecycle. The performance and functionality of the individual applications are always in the foreground. While support takes care of the various application errors caused by users, application management (AM for short) covers and fixes the errors in the application itself.
Main focus
The focus of our work in the management of applications lies in the areas of Microsoft Azure, Amazon Web Services, Google Cloud, and multi-cloud systems. Thanks to our interdisciplinary experts and thanks to the short communication channels at Arvato Systems, we can convince companies worldwide with our application management service. Our expertise in SAP application systems in particular is in demand in many industries.
Get a Handle on Complexity with Modern Application Management
IT environments are often complex systems with countless different applications that are connected to each other via a range of interfaces and that are managed by different providers. Increasingly, cloud solutions are becoming a part of these environments; they are sometimes implemented without the proper involvement of IT staff, increasing the complexity to be managed. Companies that want to keep pace in a rapidly changing market, on the other hand, need to be focused on their core competencies, processes, and applications. 
We manage complexity for you.
Application management from Arvato Systems offers comprehensive, professional service for complex IT environments. Traditional, hybrid, public, or private cloud solutions: We are always on top of things. In this way, companies put their applications in professional hands and can focus on their core business. 
Professional Application Management in Multi Cloud Scenarios
Multi cloud orchestration
Implementation of continuous integration
Implementation of cloud-native technologies
Consistent incident, service, and financial management 
Professional application service desk
Cost-effective solutions with near- and offshore capacities
Phases of Application Management at Arvato Systems
As part of Application Management at Arvato Systems, we perform our tasks for our customers in five phases:
The analysis of the current situation and the definition of goals
Planning the necessary measures and applications
Implementation of the applications
Operation and maintenance of the applications
Optimization and enhancement of applications
Benefit from Our Professional Application Management
Application Management vs. Support
Application services and the task of the application manager are often equated with support. But this is far too short-sighted. Support, or the help desk, is responsible for end-user queries and problems. Here, the focus is on the user, not the application itself. The application manager, on the other hand, takes care of all aspects of the software itself. This includes, among other things, ensuring functionality, maintenance, and updating of the software and its further development.
Application Management: Development and Operation
If a company wants to outsource parts of its IT competence, we first create a basic profile according to which we can select the appropriate applications. This allows us to search for or prepare the right solutions based on the company's prevailing IT landscape. Subsequently, the service providers and applications are integrated into the company's system. Here, close cooperation with the company's IT department is often sought to make the processes as harmonious and efficient as possible.
Once the integration has been completed, the responsible managers now monitor and ensure the operation of the applications. This includes various tasks, from adding bug fixes and updates to adapting to new software used in the company. The functions in this area are varied and always depend on the type of application.
Application Management According to ITIL
The Information Technology Infrastructure Library (ITIL) is a guideline for IT service management, which has established itself as an ongoing standard in many areas. Our employees are certified as "ITIL-compatible" and can fulfill the ongoing criteria according to the ITIL standard. This is important so that, within the scope of application management, procedures and processes can be carried out according to uniform standards. Among other things, this serves quality assurance and helps our customers and us to make all processes transparent and traceable. Using the application ITIL, we can design the strategies comprehensibly and logically, thus ensuring better service.
Frequently Asked Questions About Application Management