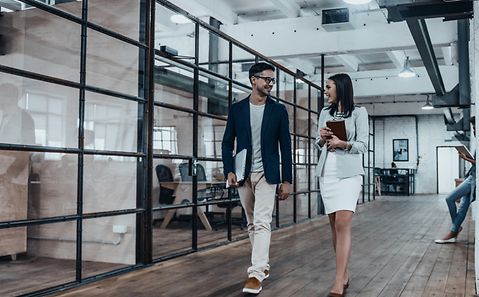 Managed Services – Up-to-date and Precisely Customized
We tailor our managed services to your specific needs
Is it important that your infrastructure is always up to date and your applications are permanently available?  Do you want all your processes and, above all, your business to run smoothly? Do your employees need access to all relevant applications from anywhere in the world, in the office or at home - and preferably as quickly as possible?

Rely on our managed services, which we offer promptly and in line with your digital and your cloud journey, but of course, also for traditional infrastructures and application environments. As a managed services provider, we understand your business requirements from an industry-specific and regional perspective and can offer you the right technical and operational solutions for your managed services.
Your Advantages with Us as a Managed Services Provider
Reduction of your economic and technical risks
More resources for your core business
Transparent and calculable billing models
Measurable quality through precisely tailored service level agreements
Know-how from many years of managed service provider history
State-of-the-art, high-performance services
Professionally operated data centers in Germany
Arvato Systems offers professional services for your IT infrastructure, from network services, applications, monitoring, and storage to security services. With professional monitoring, we keep an eye on your managed services at all times, maintain redundancies and thus ensure the highest possible level of availability for your services. Rely on us as a reliable managed services provider and concentrate on your core business.

Managed services provider for the private, public, hybrid, or multi-cloud: however your infrastructure develops, we offer integrated managed services for your specific needs. We can draw on our expertise from operating our own private cloud environment and close partnerships with Microsoft, Amazon Web Services, and Google.
All-round service from consulting to operation
Holistic considerations during implementation
Takeover of infrastructure outsourcing
Hosting of your business applications
Maintenance and expansion of your existing applications
Public Cloud Services
We manage your public cloud providers and all related tasks for secure, convenient, and flexible IT management.,
Data Center Services
We connect and integrate "the best of both worlds": Your legacy or individual systems combined with enterprise and public cloud services.
Private Cloud Services
Applications with specific requirements can be hosted in our enterprise cloud based on market-leading technologies.
Our Technologies for Managed Services
Our Managed Services - Talk to Us About
Managed Multi- and Hybrid Cloud Services: Public Clouds as well as Private Cloud and Data Centers in Germany
Enterprise Applications and Databases
DevOps
Monitoring of all IT processes, alerts, and reporting
24/7 support and IT management
Professional network management
Future-oriented backup and patch management 
Cyber security, business continuity management, and disaster recovery
ITIL & ISO certifications