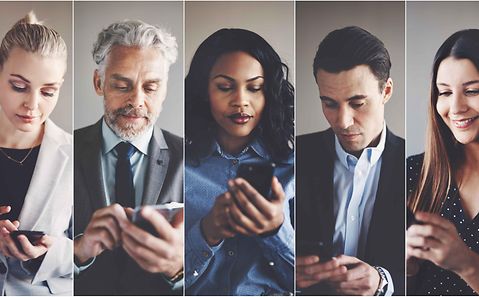 Employee app: How to make internal communication a success
Conceive, design, implement and deploy apps for employees in a user-friendly way
Employee app for internal communication
08.12.2022
Digital Transformation
Customer Experience
Application Management
Employee apps are designed to keep the workforce informed. But what information and functions should a company app provide for employees? How can a high level of user acceptance be ensured? And what needs to be considered during development and deployment?
Why an employee app? There is the intranet after all!
Keeping employees informed has always been a challenge for companies that should not be underestimated. Of course, many initially think of the good old intranet. But experience shows that even the best content is no guarantee that employees will actually read, view or listen to it. This is because it is usually the case that employees have to actively obtain the information - an additional effort for which there is often no time in the stressful daily work routine. If the content provided is of little or no relevance to the person in question, it is highly likely that he or she will visit the intranet only rarely. Keeping employees up to date at all times can only succeed if the information comes to them - and not the other way around. Incidentally, this maxim applies regardless of whether companies operate an intranet that is carefully designed and user-friendly  - which is crucial to its success - or introduce a (complementary) employee app.
Employee app for internal communication: What advantages does it offer?
An app for employees is much more in line with employees' private usage habits than the intranet. We are all always-on and always have our smartphone with us - whether in the home office, on the way to work, on a business trip or in the hotel in the evening. So it makes sense to provide information that is relevant to the workforce via the mobile channel - and not via a desktop application. It is crucial that an employee app for internal communication meets three fundamental requirements: It should be intuitive to use, support push notifications, and provide real value to users. In other words, the employee app should provide useful functions and present information that the workforce is really interested in:
Employee app: How can high user acceptance be achieved?
For the success of an employee app for internal communication, it is crucial that employees do not have to actively search for information. Got a new salary document? The employee app automatically sends a push message. There are new jobs that fit one's profile? The company app for employees automatically sends a push message. The weekly schedule for the canteen is online? The employee app automatically sends a push message. And so on. In addition, an employee app for internal communication should be configurable according to need and support individual views. This way, employees can easily compile their dashboard according to their personal preferences and requirements via an information and feature construction kit. But beware: Despite all the individuality, it should be ensured that the top news of the day is preset as a fixed, unchangeable element on the start screen.
In order to retain employees and create the desired "we" feeling within the workforce, it is imperative that the employee app for internal communication creates an inspiring user experience. This, in turn, is created through expert UX conception and professional UI design.
How does an employee app get onto users' smartphones?
There are basically two ways to make an employee app available for internal communication: Via the App Store and via Mobile Device Management (MDM).
Deploy employee app via the App Store
Since iOS is very widespread as an operating system in the enterprise app sector, it has proven useful to distribute an app for employees via Apple @ work. This is a hidden, password-protected app store
Make employee app available using MDM
Companies that choose not to make their company app available for employees to install in an app store can build a store of sorts of their own and make the app available to employees there.
Employee app: How can data be made available efficiently and securely at the same time?
Ideally, companies make relevant information available via SharePoint for the employee app as a distribution channel. This also offers the advantage that the information is not only available in the company app for employees, but also in SharePoint itself - i.e., where some of the workforce actually works. From there, it can be distributed to the intranet.
Both the security of the app itself and that of the employee data must be guaranteed at all times. On the one hand, the backend systems linked to the employee app must be adequately secured. On the other hand, it must be ensured that confidential information is available securely. You can also read about the role played by VPN connections within the app in the article on enterprise apps. 
Conclusion: Employee app, but properly!
A company app for employees enables companies to provide users with relevant information, regardless of the department in which they work. When it comes to conception, design, implementation and deployment, the biggest focus should be on usability. If employees enjoy using their employee app on a regular basis, companies have done a lot right.