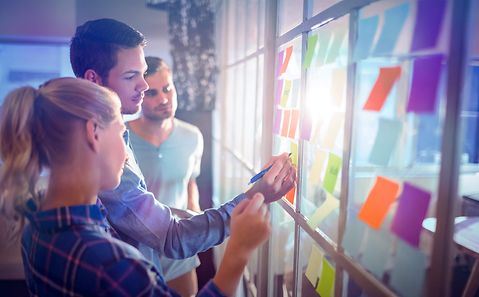 Effective Methods for Effective Process Management
With a smart mix of methods you optimize your business processes and stand out from the competition
Methods for Successful Process Management
11.11.2021
Digital Transformation
Business Process Management
The term process management has long been a present topic in companies - but its meaning and relevance have changed: While business process management (BPM) used to be mainly a tool to standardize processes, increase productivity and reduce costs, BPM is now firmly anchored as a central and ubiquitous component in the strategic planning of modern companies.
Not least, the Covid-19 pandemic has presented many companies with new challenges and tasks, for which efficient process management, in particular, is crucial. So, anyone who has written Digital Transformation on their agenda will not avoid dealing with their company processes. And then, you will very quickly and inevitably come across topics such as process mining and robotic process automation. But which process management methods are there and how do they differ?
How to Map Processes?
In process management, you have the choice between two different perspectives for mapping your processes - top-down and bottom-up. Here you can find out how the two planning approaches differ and what advantages they bring.
Mapping processes - top-down or bottom-up?
A top-down process view? Or the other way around? Rest assured, there is no clear right or wrong here because both approaches justify existence, but of course also weaknesses that you should be aware of.
 
The top-down approach in strategic process management
The corporate vision and the overarching corporate goals serve as the basis for the top-down approach in strategic business process management. The business processes required to achieve these goals and realize the vision are derived from these. Typically, companies first focus on the primary processes that serve to create value for the company. This is followed by the secondary processes, also called supporting processes.
The significant advantage here is that you can prioritize essential processes based on the strategic direction and thus increase the efficiency and effectiveness of your company. However, be aware of the possibility of encountering resistance from the workforce if established processes are suddenly changed. Transparent communication is essential here.
 
Bottom-up process management at the operational level
Compared to the top-down approach, bottom-up process management looks at processes from the opposite direction. Here, you examine the processes at the operational level and analyze the interaction of the various processes. This is followed by the derivation of the primary and secondary business processes.
Your advantage: The bottom-up approach authentically maps the processes lived in reality; they are not dictated from above.
A potential disadvantage: There is a risk of focusing too much on internal processes and losing sight of market requirements.
Nine Methods for Promising Process Management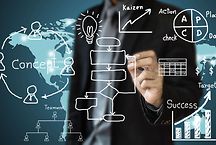 Once the decision has been made for top-down, bottom-up, or a combination of both approaches, the next step is to select the appropriate methods. You have a wide range of techniques at your disposal, which can be applied individually or in addition to each other. But which methods are suitable for your company and can be effectively implemented as part of your process management?
 
Business Process Reengineering (BPR)
Business Process Reengineering is one of the best-known methods of process management. BPR takes a fairly radical approach to transform a functional company structure into a process-oriented one. In BRP, you focus on the critical business processes, assuming that the business processes are aligned with customer requirements and that the company focuses on its core competencies.
The implementation then takes place in four phases:
The Renewing phase serves to integrate employees into the process and train them accordingly.
The second phase, Revitalizing, involves a process analysis in which the current status is ascertained, and a target status is defined.
Then, in the Reframing phase, you make attitude changes to adapt your employees' thought patterns.
The Restructuring phase ensures that the redesigned processes are implemented and concludes the BPR process.

Total Quality Management (TQM)
What is Total Quality Management? Behind it is a corporate concept that provides for continuous improvement in the quality of various business areas. The aim is to ensure the highest possible quality in all business areas to influence multiple factors such as customer satisfaction and the RMA rate (Return Material Authorization, i.e., the rate of returned goods) in the company's favor. TQM goes far beyond the usual quality control, as quality is controlled reactively and is also proactively incorporated into the product through various specifications.
For Total Quality Management to positively affect company and process development, two aspects are essential: firstly, that the application focuses on the prevailing organization in one's own company and, secondly, that the competition does not influence one's own TQM too much. In addition, there is a continuous company development behind TQM. In concrete terms, this means that you should not expect revolutionary improvements within a short time.
 
Balanced Scorecard (BSC)
The Balanced Scorecard is a straightforward and effective method for viewing and evaluating strategic corporate goals from four different perspectives.
The first perspective is the financial perspective, which highlights typical key figures such as sales and profit.
On the other hand, the customer perspective includes parameters such as customer satisfaction, return rate, or the incidence of complaints.
The third perspective is the process perspective. Process-related parameters are collected with a view of costs, quality, and time, such as throughput times or warehouse and logistics costs.
The employee perspective rounds off the four perspectives and describes, for example, employee satisfaction. It also provides information on the future developments the company is geared towards.
The BSC compares these four perspectives, so that the application of a BSC reveals the interrelationships and also conflict potentials very well. What you can draw from it? Whether you should confirm or rethink your company goals.
 
Six Sigma
Six Sigma is a process improvement method based on statistical and analytical approaches. The name is derived from the Greek letter of the same name, which in mathematics represents the standard deviation.
Six Sigma aims to make the performance of processes measurable. If the standard deviation of a process is too high (equivalent to a large scatter), Six Sigma helps to identify and eliminate the causes of errors. This method follows the DMAIC cycle (Define, Measure, Analyze, Improve, Control) to enable iterative and sustainable process analysis and improvement.
 
Process Mining
Process mining is one of the process management methods that are most in vogue against the backdrop of digitalization. Process mining dives deeper into your business processes by mapping processes in real-time from a large amount of data. This enables the analysis of individual processes down to the smallest detail. During the analysis, the process mining software looks at the process from numerous angles. You can delimit the process using different filter settings and compare the various results in a process simulation. This analysis reveals the weak points in a process, enabling you to initiate targeted measures on a fact-based foundation. A decisive advantage of this method: You automatically receive an objective and comprehensive view of the analyzed processes.
Tip: When it comes to qualified Process Mining, Arvato Systems is your competent partner. You benefit from a comprehensive service offering that starts with software implementation and accompanies you through the continuous optimization of your processes.
Change Management
A company without change? That no longer works. Highly competitive markets require companies to adapt quickly to new conditions in order to avoid being left behind by the competition. However, in order to be able to implement changes in a planned and controlled manner, change management is required. A change request is the first step before a change is made within a process. This request is then intensively examined and possible effects on the processes involved are analyzed. This analysis is the basis for whether the described change is implemented or rejected. Important at this point: Document all steps in as much detail as possible to ensure traceability.
Tip: For your professional change management, Arvato Systems supports you with a comprehensive range of services from planning to implementation to monitoring your processes.
RPA (Robotic Process Automation)
Save time by automating processes and focus on other tasks? Robotic Process Automation, or RPA for short, does just that - RPA automates structured, repetitive business processes. In doing so, a software robot acts on the user interface of your systems and mimics human interaction. Therefore, it is not necessary to change the processes.
RPA is primarily suitable for rule-based processes. The software robot receives specifications for the execution of the process in advance and - depending on the type of process - additionally acts with artificial intelligence to learn the human interactions in the best possible way. RPA is divided into partially and fully automated solutions. The fully automated RPA is often applied in the backend, as it works completely without human intervention. The partially automated solution is usually a digital assistant for the employees, which takes over rule-based subtasks of a process and thus assists the employees.
Tip: Does your company also have potential to handle structured business processes using digital software? Arvato Systems offers you a professional RPA solution and advises you on how to automate your processes.

Lean management
Lean management" coordinates processes in a targeted manner in order to avoid waste as far as possible along the entire process chain. The focus of lean management is primarily on reducing costs while at the same time increasing quality and customer satisfaction. This process management method identifies potential waste such as waiting times, rejects or other overhead factors in order to eliminate them from the processes as part of process optimization.
Lean management is based on a typical PDCA cycle, which is also known from other areas of process optimization. PDCA is an iterative process consisting of Plan, Do, Check and Act. Other approaches include Kanban (for structured agile working) and Poka-Yoke (error prevention enabled by technology).
 
Kaizen concept
The term Kaizen comes from Japanese and is composed of the words "Kai" (change) and "Zen" (for the better). In Europe, for example, this method is described as a continuous improvement process (CIP).
The basic idea behind Kaizen is not to plan, implement or control fixed deadlines for process improvements, but to continuously integrate process optimizations throughout the entire daily work. This method involves all employees in order to take into account as many different perspectives as possible and to strengthen the understanding of changes at the employee level.
Smart Methods for Better Processes
So which method is best for Business Process Management? There is no blanket answer to this question because it depends on a variety of factors. For example, the corporate structure, the philosophy, or the involvement of the employees play a decisive role in the effectiveness of the methods in process management.
However, rarely is one method considered individually sufficient to live process management effectively and efficiently in the company. In most cases, a combination of different methods leads to success. However, this does not mean that you have to use all procedures in your process management or that you cannot replace selected methods with others. The choice of methods depends primarily on individual company factors.
Take advantage of the free initial consultation with one of our specialized subject matter experts and work with us to determine which methods are suitable for your company. Arvato Systems determines the ACTUAL state and derives a TARGET state from it. We then support you in implementing the developed target processes and are at your side for the continuous monitoring and optimization of the processes.