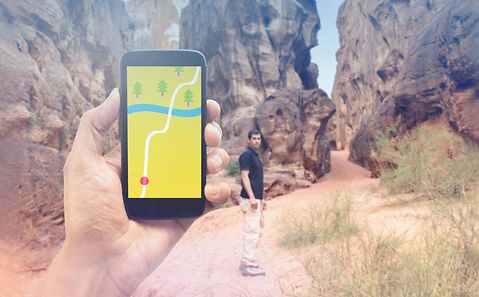 Digital Maturity Level
How new tools can support strategy development
Digital Transformation as an Ongoing Process
Cloud, smartification, artificial intelligence, and big data are buzzwords, each with their own set of unique challenges when it comes to the digital transformation process. For the IT management team, digitalization is an ongoing process in the face of ever-fast change. Companies can only keep pace if they are aware of the opportunities opened up by digitalization at their company and capitalize on them.
The "big 5" for making a digital assessment of your company
To know where you want to go, you first need to know where you stand. While this may seem simple enough, it is critical for any digitalization strategy to succeed. The accompanying road map sets the course for the step-by-step digital transformation of your company's resources, processes, and business models.
The first step in any digital strategy should be to carry out an assessment of the company's digital maturity level to find out where it stands. This should answer questions like: Where are we excelling and where is there potential for improvement? Which processes are business-critical and which ones are non-essential? The analysis must be performed systematically to ensure that all areas requiring attention at the company are taken into account. These should be the following "big 5":
Employees and productivity
Clients, partners, and external impact
Digitalization requires a team effort
It is important to survey experts from across many different departments at your company to obtain realistic, nuanced responses to these questions. It's also essential that finding these answers is seen as a team effort. For instance, the opinions expressed by the relevant line managers are critical in identifying blind spots in one's personal view or assessment.
Collaboration tools that are both digital and enhance virtual collaboration, including online questionnaires with a chat function and web-based project spaces, are recommended when carrying out a company-wide assessment. Making the initial transition to a new way of working helps foster the digitalization process and offers early insights into how work will look in the future.
With new digital tools come new opportunities
Once the digital assessment has been completed, a customized road map for the coming years can be prepared, with the aim of gradually expanding the level of digitalization. Possible measures and recommendations to achieve this are then drawn up. This includes ways to modify, adapt, or reorganize IT operations. Here, the main question should always be: Does your current IT architecture help you achieve your digitalization goals?
Every business goal – and therefore every transformation project – needs a road map that sets out the milestones and waypoints along the path to the relevant goal. This also applies to current IT upgrades to address issues like big data and artificial intelligence. The digital assessment is essential when taking steps to strategically prepare for these topics. New digital applications and methods, in particular, are the perfect IT management tools to support companies during the digital transformation process.