Press Release
28. May 2018
Arvato Systems is a winner at Hosting & Service Provider Awards 2018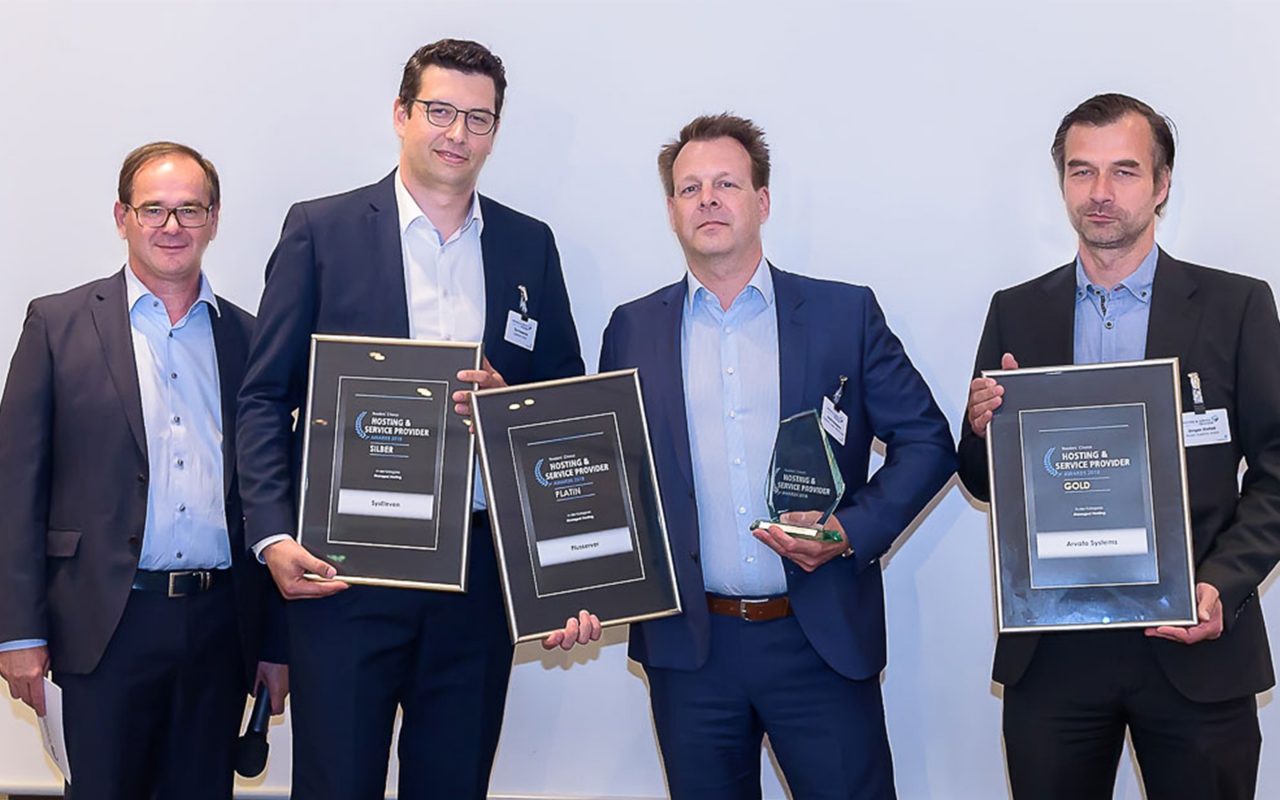 Gold for Managed Hosting
Arvato Systems again wins best Service Provider award
Awards presented on May 18 at Hosting & Service Provider Summit (HSP Summit)
(Arvato Systems) Gütersloh – Arvato Systems once again joins the prizewinners at the Hosting & Service Provider Awards. The awards were presented at the HSP Summit in Frankfurt am Main. For the third year running, best service providers in twelve categories were selected by readers of Vogel IT's new IT portal. The Gütersloh IT experts were awarded Gold in the Managed Hosting category, so continuing the success of the previous year.
The Hosting & Service Provider Summit, now in its seventh consecutive year, addresses the challenges and opportunities in the cloud and managed services sector. Issues including business transformation, cloud technologies, security, data protection, globalization and location were the focus of discussions and keynote speeches at this year's event.
The event high point was the Hosting and Service Provider Awards, covering twelve categories. Winners were chosen by a reader survey which attracted more than 6,000 votes. After 2018's Gold in the Application Hosting category, this year Arvato Systems was able to add a Gold for Managed Hosting.
Jürgen Einfalt, Product Manager Enterprise & Cloud Data Center for Arvato Systems, was in Frankfurt am Main to accept the award, and was delighted to repeat the success of last year: "The Gold award is a clear indication that our Managed Hosting portfolio continues to hit the sweet spot with our customers. The award also shows how much our customers value us. They deserve our thanks as much as our colleagues, without whose commitment this achievement would not have been possible.
For Arvato Systems, the award is both an endorsement and an incentive to continue offering customers high quality, sustainable Managed Hosting Services into the future and to strive for continuous improvement.
About Arvato Systems
Global IT specialist Arvato Systems supports major companies through digital transformation. More than 2,600 staff in over 25 locations epitomize in-depth technology expertise, industry knowledge and focus on customer requirements. Working as a team, we develop innovative IT solutions, transition our clients into the Cloud, integrate digital processes and take on IT systems operation and support. As a part of the Bertelsmann-owned Arvato network, we have the unique capability to work across the entire value chain. Our business relationships are personal; we work with our clients as partners, so that together we can achieve long-term success. arvato-systems.com