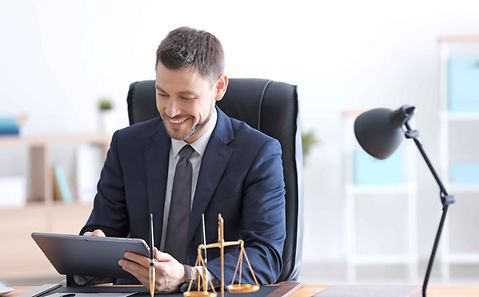 For Your Secure, Structured and Sustainable It Environment:
Microsoft Governance
Reliable Governance for Your Corporate Data With Microsoft 365 and Arvato Systems
Do you know who has what access rights to various data in your organization? Do you know the retention or deletion periods of your content? And can you ensure that all employees adhere to your guidelines? By default, Microsoft 365 doesn't limit how applications can be used. So if you don't set policies for Microsoft 365 usage, all employees can access all content, share sensitive data, freely create or delete teams, and more. This inevitably raises privacy and security-related difficulties. So how do you set sensible policies and guardrails that ensure proper use of your systems while enabling efficient collaboration with high user acceptance? 
At Arvato Systems, we show you how to securely integrate Microsoft 365 into your daily business operations and build a sustainable governance strategy. In addition, we offer expert consulting, implementation, and deployment for your governance solution. The Microsoft 365 platform is a complex system with numerous options - so it is not uncommon for many companies and users to quickly lose sight of the big picture. At Arvato Systems, we understand the multidimensional requirements of our customers and therefore offer you an intelligent solution designed for secure and efficient collaboration: NAVOO®. With NAVOO®, you ensure the security and management of Microsoft 365 for efficient collaboration and corporate communication. For the harmony of Microsoft 365 and your corporate policies. 
NAVOO®
The SaaS platform that enables you to build powerful collaboration, enterprise communication and governance solutions. With the integrated solution, your employees manage their mailboxes, files and content on their own. Securely, competently and, thanks to defined and qualified processes, without any loss of acceptance.
Central Governance Questions
For some Microsoft 365 applications, such as Exchange/Outlook or OneDrive, governance and compliance questions can certainly be answered with a standardized "one-size-fits-all" approach. For example, you can define generally applicable rules for your employees' private mailboxes or file storage based on best practices.
However, this is not applicable to the entire platform. For Microsoft 365's many collaboration tools, such as SharePoint and Microsoft Teams, setting standardized rules is more challenging. Can you easily set policies for the following areas of digital collaboration that apply across your entire organization?
Policies for storage structure, classification, collaboration (versioning, publishing), and sharing of internal and external users for documents and other content.
Guidelines for the classification, assignment of permissions (such as the creation of new teams and the creation of guest users) of storage and collaboration areas such as teams
Definition of consistent master data and corporate vocabulary
Policies for customizing global settings
Execution and access rights for reporting and audits
Don't panic! Hardly any organization can define universally applicable rules for all these areas. The requirements of different departments, divisions and, above all, use cases are too different for that. As an example: Enabling access for all employees and external users in all storage areas would inevitably lead to a loss of sensitive content.
Our recommendation: Let Arvato Systems advise you on the options for defining governance and compliance guidelines for your individual use scenarios, benefit from our best practices and take a look at our SaaS solution NAVOO®.
Therefore, a Good Governance Strategy Is Without Alternative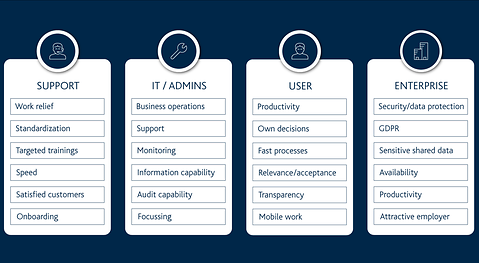 Our "Best Practice" Workshop
Are you planning to introduce Microsoft 365 in your organization and want to rely on a professional and sustainable governance strategy? Or do you want to set guidelines for collaboration with existing systems without limiting the productivity of your employees? In our established standard workshop, which has been highly praised by customers, we show you how to set balanced guardrails - as much as necessary, as little as possible. Based on best practices, we address the following topics:
Definition of sharing policies for content in OneDrive or SharePoint Online. 
Definition of rulesets for Microsoft 365 Groups
Coordination of policies for file synchronization
Development of retention policies for Exchange Online, OneDrive and SharePoint
Establishment of a password self-service reset solution
Definition of Azure Information Protection for content classification
Data Protection / DSGVO
Data Loss Prevention
Microsoft Information Protection
Microsoft 365 and Arvato Systems for Your Structured It Governance
For efficient governance across your entire IT infrastructure, we support you in defining your policies. In doing so, we take into account all applications, users and devices in your organization. Benefit from our extensive Microsoft competence and professional expertise: Together we will find your individually suitable solution - whether individual applications from the Microsoft 365 service package or our exclusive SaaS platform NAVOO®, which is intensively designed for IT governance.
Advantages of Your Governance Solution With Arvato Systems
Outstanding know-how as a long-standing Microsoft partner with numerous Gold competencies
High user acceptance through personalized and self-explanatory instructions of all relevant information
Targeted addressing of all employees based on roles, locations or various individual attributes
Intelligent processes, monitoring as well as the active involvement of responsible persons to adhere to your compliance requirements
Flexible customization of governance strategy to fit your needs 
High level of security, customer focus, and reliability
GOVERNANCE WITH MICROSOFT 365
Would you like an exchange on this topic?
Send us a request, we will get back to you as soon as possible!
Frequently Asked Questions About Data and Communication Governance