Product Serialization in a Billion-Dollar Market: Every Cheese Wheel Is Unique!
The Global Fight Against Food Counterfeiting
Authenticity & Quality: Dairy Products Are Digitally Labeled
11.08.2021
Digital Transformation
Retail & Consumer Goods
Counterfeit Protection
Logistics
Supply Chain Management
Milk, Lactose and Tolerance - Already an Issue 7,500 Years Ago
Humans have only been drinking animal milk for a good 7,500 years. For a long time before that, it was not possible to make milk drinkable for humans. There was a lack of refrigeration, knowledge of hygiene and he also had to struggle with lactose intolerance. Humans were intolerant to milk, the lactose in the milk was responsible. As a result, this raw milk was not suitable for direct consumption. Therefore, many thousands of years ago, the milk was usually only heated and processed into cheese - sugar-free! The lactose persistence has spread only through a gene mutation in Southeastern Europe and the milk was drinkable for humans.
Source: Johannes Gutenberg Universität Mainz
The Monks and the Milkman
At that time and also in the later Middle Ages, when the monks had professionalized milk processing more and more, so to speak, the needs of the population could be met. It was only later that farms with a larger production of milk for trade were established.  Even the profession of milkmen came into being and households had fresh milk delivered to their doorstep - always the same product with consistent quality. Nowadays, you are spoiled for choice in front of the refrigerated shelf. There are milk varieties in all variations, with the most diverse fat contents, shelf lives, flavors and plant-based milk alternatives, e.g. from soy, almond, coconut or oats. Due to new technologies, there are hardly any limits to the production of dairy products.
Source: Molkerei Weihenstephan
Sales Increases With Dairy Products? All Organic, or What?
The dairy market is big, milk producers fight for the best place in the refrigerated shelf, almost every month there is a new product that 'perks up tired men' - and much more perky! The dairy market and its marketing are creative. High sales increases are usually only achieved through new lifestyle products. This includes all varieties of organic dairy products. A product with the organic seal of approval suggests quality already in animal husbandry, feed and production. Despite higher prices, demand for organic products remains high. Everyone wants to take advantage of this!
The Organic Boom and Its Effects
Organic is already a billion-dollar market. A large number of conventional milk suppliers suddenly became organic, helping discounters meet consumer demand. In Germany alone, the industry is already asking, "Where does all this organic milk come from?"
So it stands to reason to take a closer look, to research, to examine, to analyze. It is suspected that many products are 'stretched' or even faked. Everyone wants to participate in this billion-dollar market - manufacturers must protect themselves, ensure the authenticity and quality of their own goods.
Source: Deutschlandfunkkultur.de
Food scandals in Russia - and the way to a better image
Milk is one of the most counterfeited food products: after olive oil, fish, organic food, even before cereals, honey, coffee and tea. Food counterfeiting also increased in Russia. Numerous food scandals with mass product recalls damaged the image. This was one of the reasons that Russia opted for a large-scale anti-counterfeiting program - Chestny ZNAK ('Honest Mark'), a national digital track & trace system.
Russia Makes the 'all-Round Strike'!"
Which beverage is most often counterfeited in Russia?" No, it is not vodka or similar spirits, no! On July 8, 2019, the chairwoman of the upper house of the Russian parliament announced at a meeting that 80 percent of mineral water on the Russian market is said to be counterfeit.
Source: MDR.de
But there will probably be other reasons why Russia has taken up the fight against counterfeiting. Officially, the aim is to optimize customs clearance and protect the Russian market (Eurasian Economic Union - EAEU) against counterfeiting through the comprehensive digitization of products. The implementation is controlled by the central organization Center for Research in Perspective Technologies, or CRPT for short. Through CRPT, manufacturers can acquire the necessary Crypto Codes, which are required for product marking and ultimately for import/customs clearance and anti-counterfeiting purposes. These regulations have already been in place for several months for the following product categories: pharmaceuticals, apparel, footwear, tobacco, furs, tires, perfumes, ... and now dairy products, among others. Other product categories will follow.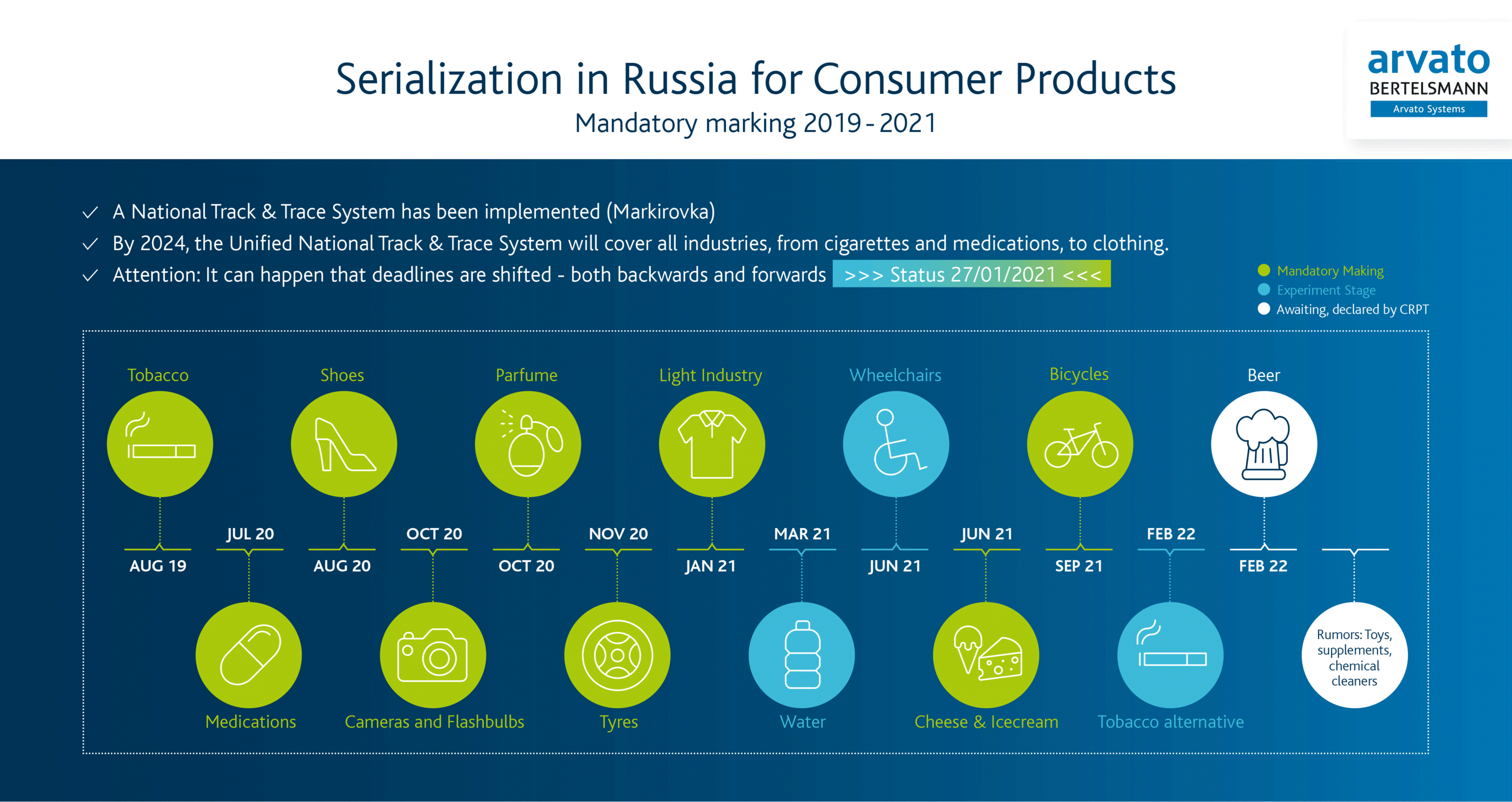 Digitization of Cheese
The Dairy Industry is challenged. For almost every dairy product, such as cheese, yogurt, ice cream, etc., that is to be marketed in Russia, a data matrix code has been required on the dairy product since June 1, 2021. This code includes, among other things, the product number, a serial number with a crypto code, the batch number, and the production and expiration dates. Already when importing into Russia, this information is required on the delivery papers, on the pallet, and also on the packaging.
European manufacturers of dairy products, therefore, have to deal with more complex processes - but this mainly applies to Swiss cheese manufacturers, as EU countries are largely not allowed to export to Russia due to the EU trade embargo. One of the largest cheese producers and biggest cheese exporter for the Russian market has already implemented the necessary requirements with our support. In a highly automated production process, several tons of cheese are marked for Russia every year. The trucks leave the production halls to cross the Russian border to the Russian wholesaler. From there, the products reach supermarkets and retailers.
In order for the cheese to be placed on the refrigerated shelves, data matrix code printing must already begin during production in Switzerland. Each cheese wheel is digitized and based on the serial number and crypto code it becomes unique. All the product and manufacturing data is stored in a data matrix code, which can be read first at customs, then at the wholesaler or finally by the end consumer via scanner or app. Thus we have the round in the square - the data of the cheese in the data matrix code. A first approach to ensuring authenticity is in place!
For the manufacturer, this upgrade means an enormous effort. But it was worth it. By far not all milk producers for the Russian market are yet in a position to implement these new regulatory requirements - this competitive advantage must be exploited. Because there are other milk product groups that will have to be labeled within the next few months.
Conclusion: Can Digitalization Help Us Avoid Counterfeiting?
Yes, very good - but not entirely! The digitization of products, especially in the consumer goods sector, can help to reduce counterfeit products in a market worth billions and thus also protect people's health. Companies that focus Data is the 'new gold'!