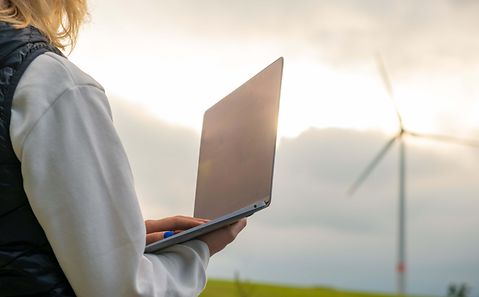 How Energy Suppliers Leverage Efficiency Potential Through Digital Workplaces
Efficiency Booster for the Digital Workplace
Digitization for the Energy Transition
20.09.2022
Microsoft 365
Utilities
Digital Transformation
Digital Workplace
The forecasts for the winter of 2022 do not foresee rosy times: It is not only energy-intensive manufacturing companies that fear production stoppages and mass short-time work. For the people of Germany, too, the hard times do not seem to be over - for them, there is far more at stake than a warm, bright apartment in winter.

One piece of thoroughly positive news is undoubtedly that the energy turnaround has picked up rapidly. Both the state and companies, as well as private households, are rethinking and pushing alternative energies.
Despite this, and precisely because of it, regional energy suppliers, in particular, are facing enormous challenges: Not only exploding world market prices threaten the competitiveness of municipal utilities and regional suppliers. It is imperative that they invest in renewable energies and push ahead with digitization, because this is the only way the energy transition can really work. The increasing decentralization of supply sources through renewable energies alone requires a qualified, comprehensive, and up-to-date database. In addition, the grids must be digitally managed, and customers competently serviced via digital communication channels.

Besides increasing market requirements, energy suppliers have been obliged by law to digitize the energy transition since 2016. In summary, the digital transformation is intended to
make communication between network operators, energy suppliers, and end consumers more efficient and faster,
enable new offers of time- and demand-based tariffs and services for end consumers,
and end consumers will find it easier to optimize their electricity and gas consumption, e.g., through smart meters, and to supply their own energy, e.g., through solar panels.
Another unique feature of the energy industry is the legal regulation of, among other things, investments for IT projects: Even if they can and want to, companies are only allowed to invest a certain amount. Consequently, the desired effects of digitization may not only be possible and at some point, occur.

This makes it all the more important to identify the so-called efficiency blockers in advance of digitization projects and to take proactive measures. In the following, we would like to present selected brakes and stoppers that we have successfully mastered with our customers from the energy industry.
Zero Trust and Digital Resilience
At first glance, some people may associate a power outage with romantic evenings by candlelight or defrosted barbecue food around a campfire, but the reality can turn into a nightmare in a matter of seconds. A cyber attack on the power grids of a regional public utility can trigger a blackout within minutes: Hospitals with intensive care units and operating rooms, as well as road traffic and building technology, are simply knocked out.
This example impressively shows that the energy industry must place special demands on IT security as the pinnacle of critical infrastructure. But is it really necessary to do without digital mobile workplaces for fear of cyber attacks?

Natural gas supplier OGE shows that the company's IT security can be fully guaranteed even with digital workstations in the cloud. The Zero Trust security philosophy used not only protects the IT infrastructure as well as end devices, data and users from cyber attacks. It even adapts to the respective complex environments. As a result, it promotes the digital resilience of the individual utility and thus pays dividends to the digital resilience of the entire energy system.
Microsoft 365 already includes the essential functionalities that secure the digital workplace in Cloud Zero Trust:
Secure identity and access management for internal and external users.
The elimination of insecure passwords through passwordless authentication via, e.g., fingerprint, facial recognition, or PINs. In addition, multi-factor authentication is also included free of charge.
The principle of "access with the fewest rights" provides additional security by giving the user access to precisely the needed applications.
The pilot project with 500 users proved that all security standards can also be met with digital workstations in the cloud: in 2021, no data protection breaches were identified at OGE and thus no report had to be made to the competent authority. This cleared the way for all of OGE's approximately 1500 workstations to be moved digitally to the cloud. More information can be found in the blog post "Digital Workplace at OGE".
Power Apps Close Digital Gaps
The digital workplace enables mobile workplaces not only for employees in administration but also for the many assembly workers out in the field. To ensure that every household or company is supplied with energy of every kind, there are light gray distribution switchboards all along the roadside. To date, digitization has not yet reached the switch cabinets: The associated schematics are still analog in a document book, which often has long travel times from a to b.

OGE has not only digitized the document book: Via an app and corresponding QR codes, the switch cabinets are now also digitally assigned to the document books. Master data, changes, and photos of the wiring can be recorded and transmitted in the app. The app also works offline and transmits the data as soon as the installer is online again. All internal employees involved can immediately process the data digitally. This has accelerated the process from days to a maximum of a few hours.

The GPS in the smartphone has also resulted in a valuable by-product: A digital map of the approximately 25,000 control cabinets in Germany.
Digital Sales Processes Bind Customers - Also for the Energy Transition
Whether Big Four or regional municipal utilities: customers are not only the company's central success factor, but also make a significant contribution to the success of the energy transition. As a result of the liberalization of the energy market, a customer today chooses his energy supplier, with speed, flexibility and, above all, competent advice increasingly being the decisive factors in addition to favorable prices.
Expectations of customer friendliness are naturally geared to online retailing, but many smaller energy suppliers are not equipped for this: In many places, customer relationship management is simply rudimentary digital.
The reason: sales processes are usually only digital in the sense of Excel and mail, and customer histories and reliable data are rarely available centrally for all sales and service staff. Apart from the tedious process of obtaining information, the path to the customer runs predominantly through analog media such as telephone and mail.
swb Lighting has literally removed the efficiency blocker from the path to the customer: by digitizing the sales processes with Microsoft Dynamics 365, they now not only have a 360-degree view of customers and prospects. Many processes have been automated and simplified so that employees can focus primarily on their customers.
Another highlight in customer care: The mobile digital workplace enables the sales team to provide equally competent advice to their customers at any time and from anywhere.
Here you can find the Success Story
With the Human Success Factor in the Digital Fast Lane
The energy industry has a long tradition as a (partially) public employer, which is one of the reasons why municipal utilities and regional private energy suppliers in particular, have a disproportionately large number of employees from the 50+ generation. Although every generation today has a smartphone and stores online, the new daily work routine in a Digital Workplace is a particular challenge for the older generations.
The digital native generation, on the other hand, expects a new form of the working world from potential employers: New Work with mobile workplaces must also be lived by energy suppliers. In addition, the Fridays for Future generation wants to shape the energy transition actively. OGE, for example, is taking advantage of this trend and thus can attract junior staff again.
For the digital transformation to be successful, energy suppliers must take all generations on the digitization journey through a change management program. Software training must be supplemented by individual, targeted digital adoption measures.

The aim of the measures must first and foremost be to remove the fear of change and to take different learning abilities into account. Then, facilitations in daily work can also be better accepted, and advantages such as home office learned to be appreciated.

swb had already successfully embarked on the path to the cloud in the first pandemic year, 2020. In addition to the implementation, we accompanied the company through the change & adoption process. Today, swb absolutely does not want to do without the digital workplace:
Digital workplaces for swb