How We Develop Innovations
Intrapreneurship and showcases
Innovation Development
17.01.2019
Digital Transformation
Innovation
The bad news right at the beginning: "The one" innovation strategy or management practice that leads to success for all innovation goals of an organization does not exist. Rather, a company's ability to innovate depends on its individual "innovation DNA."
Based on two key insights, we would like to provide an insight into our own innovation DNA and how we actively drive digital innovation. But before we get to the key insights (the "how"), let's start with our understanding of "digital innovation" itself (the "why").
The Why - Why Innovations Are Developed
There are a variety of perspectives to explain and sort innovation. One of our favored perspectives is based on the "Ambidextrous Organization". This theory is used to explain the need for two organizational capabilities and associated management practices:
Exploring (e.g., to incubate new business models) and
Exploiting (e.g., to get better at existing business).
The "Organizational Fields of Action" - inspired by "Zone to Win" by Geoffrey Moore - further concretizes this into four organizational fields of action, with the top row corresponding to "exhaust" and the bottom row to "explore."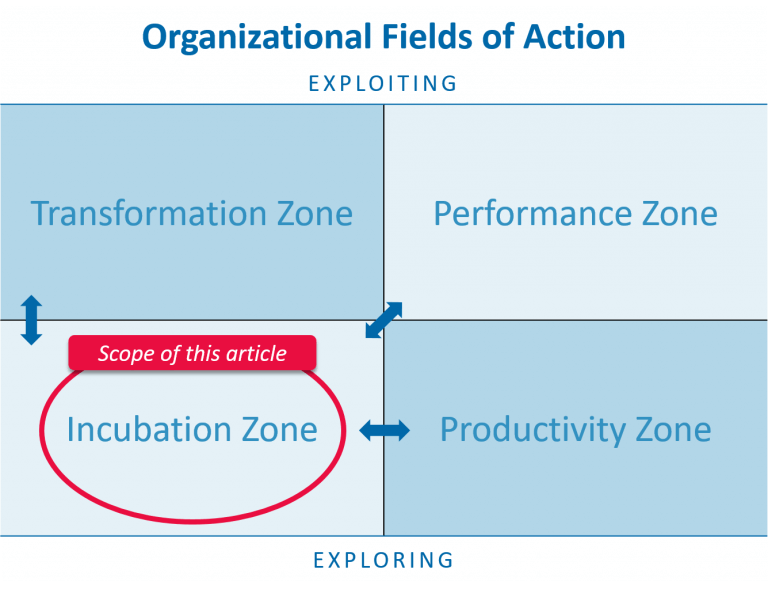 The incubation zone
New digital paths to value creation are taken in the "incubation zone". In order to be able to identify the right means of innovation here, it is essential to know exactly the "what for". The answer to this can be found by looking at the incubation zone in the respective context of the other three zones.
In the context of the performance zone
The performance zone is about innovations for businesses that are already at a maturity level. In our own case, for example, we can think here of the provision of infrastructure services and managed services based on them on the basis of public and private clouds.
In this context, incubating innovations means continuously becoming more efficient and continuously improving the business model. This can be done, for example, by means of automation through Artificial Intelligence or Robotic Process Automation (RPA).
In the context of the transformation zone
The transformation zone is about businesses that will reach the end of their life cycle in the foreseeable future, but whose core competence can be transferred to something new.
 
This could be, for example, the management of SAP applications for B2B customers in traditional data centers. Incubating innovation in this case may mean supporting business units in offering their managed application services on public or private cloud platforms instead.
In the context of the productivity zone
The productivity zone is about new digital businesses and growth options, usually manifesting in scaling product or platform offerings.
 
The incubation of innovations here means systematically linking specialist business ideas with new technological possibilities, testing corresponding approaches step by step and then transferring them to the maturity stage via regulated business cases.
Why the distinction?
Well, depending on the zone under consideration, the "How to Innovate" can be very different.
Therefore, please note that our following key learnings for this article are primarily related to the external value view, i.e. incubation for the productivity zone.
 
The How - How Innovations Are Developed
If you search Google for "how to do innovation management," you'll find a seemingly endless number of best practices and design templates.
We have tried many of these to see what best fits our "innovation DNA." Two key insights have emerged from these experiments that are manifest in our current innovation strategy, which we would like to share with you in this article.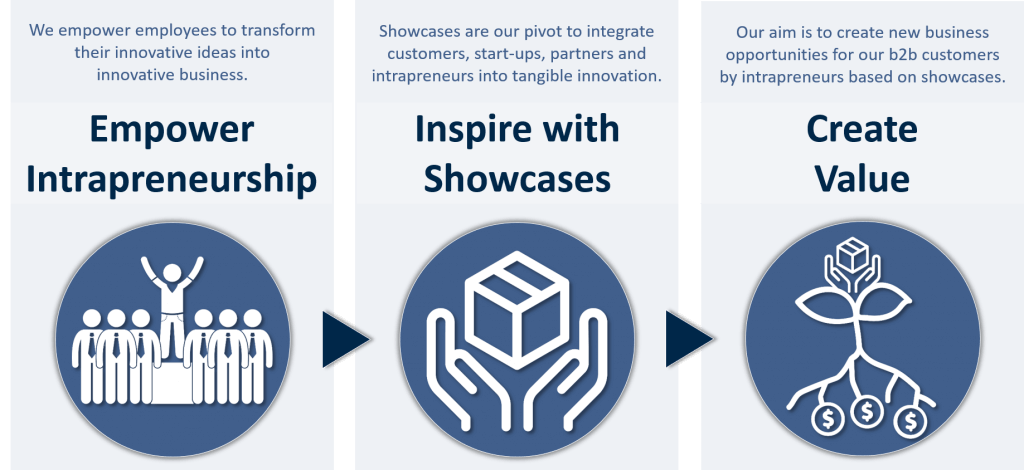 Intrapreneurship
ZThe first question is what should ideally be the focus of the innovation strategy: the good business idea or the employee who wants to implement his or her idea? The right answer (from our point of view) sounds obvious at first: it should be the employee in his role as an internal entrepreneur (intrapreneur).
Why? In organizational reality, there is usually no "magic product development factory" where good ideas are dumped in and subsequently successful digital products emerge.
In our experience, it is always an intrapreneur who fights for his idea and in doing so also takes on tasks that are not otherwise in his role description. Without the commitment and passion of this individual, the idea alone often remains worthless.
Innovation management with a focus on the intrapreneur
At first glance, this assessment is quite understandable. But what does it look like in day-to-day business?
 
As a typical innovation manager, your boss will not ask you how many intrapreneurs you have helped recently, but rather which innovations are in phase XY, how many innovation workshops you have conducted, and how many ideas are in the pipeline.
In this context, a focus on people has enormous implications for the design of innovation management. In this case, you are primarily designing central services that help intrapreneurs succeed. With a focus on business ideas, you would place your focus on developing processes, standardization, selection criteria and quality gates - and thus run the risk of working past the core challenges.
>> Our recommendation: Focus on the intrapreneur!
Showcases
Now let's assume you have found potential intrapreneurs in your company. What should they do now?
They should proceed like startups and inspire top management with pitch decks.
They should first create business cases with a well-founded three-year plan.
They should first outline their ideas as a "business model canvas" and challenge them in the internal innovation community.
If even the smallest investment decisions in your company have to be approved by top management, options 1 and 2 are basically good ideas. However, this probably also means that you have to plan and hold regular "Shark Tank" events. There, the intrapreneurs can present their pitches in front of the top management jury and the top cases receive funding for the first steps at best. However, a lot of time is lost here.
The third option is a good way to involve employees on a broad basis in innovation topics. However, this rarely helps the intrapreneur to validate his idea quickly. In our case, most innovations arise in the context of a specific vertical knowledge area, such as Utilities, Media & Entertainment or Retail. In this case, customers should be consulted rather than the company's own employees.
Gain quick visibility with Minimal Viable Products (MVP)
Showcases are a fourth option. Showcases are digital prototypes or Minimal Viable Products (MVP) in which manageable investments are made to demonstrate in a tangible way how innovative technologies solve industry-specific challenges in a concrete way.
Our intrapreneurs can quickly start realizing their showcases if the following questions are answered successfully:
Is there a strategic fit with our corporate strategy and the focus topics of the innovation strategy?
Are customers (or partners and start-ups) involved from the beginning? In what way?
Is the value proposition clearly defined? Exactly what and whose problem is to be solved?
Showcases are great tools for many purposes:
You want to integrate partners and start-ups in the sense of Open Innovation? Talk about concrete, joint showcases!
Your talents need new challenges? Let them design showcases!
Do your employees want to be trained in new technologies? Let them implement showcases!
Do you want to be perceived as a thought leader in the market? Show them your showcases!
And many more ...
You cannot fail with showcases
The best thing about it: You can't fail with showcases. Even if the underlying business idea turns out to be a mistake: at least you have learned something new, can demonstrate the application of a new technology, and ideally have strengthened a customer or partner relationship.
A showcase is also the ideal conclusion to the incubation zone. In the worst case, you can moderate the topic with a clear conscience. In the best case, you now have the perfect basis for starting professional product development in the productivity zone, since the learnings during the showcase development have enabled you to eliminate most of the planning uncertainties.
By the way - showcase-based innovation strategies have only really become (commercially) meaningful through Cloud Native Software Development: The architecture revolution in application development makes it possible to save between 65 and 90 percent in costs. This means that even small investments can make for big showcases.
Wrap-Up
This article provides a little insight into handling the incubation zone of our innovation strategy. If you are facing similar challenges, don't hesitate to contact us for the details.