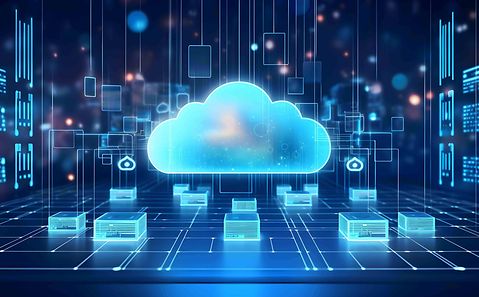 IT Infrastructure: Basics and Significance for Companies
IT Infrastructure - Definition and Importance for Businesses
19.09.2023
Cloud
Digital Transformation
Managed Services
Although there is no standardized or uniform definition of the term "IT infrastructure", it is commonly understood to include all software and hardware components, telecommunications systems, peripherals, servers, and other IT-related systems and their components. For companies, the performance of the infrastructure in IT is continuously more important in the course of digitalization.
What Is an IT Infrastructure? Definition and Explanation
An IT system can exist in a vacuum but usually operates in conjunction with other digital or IT devices and programs. As explained at the outset, the view of what is still part of the infrastructure and what is not may differ between several users and experts. Still, there is nevertheless an overriding consensus: electronic devices, machines, programs, network components, and user software create the actual infrastructure via which all these components can communicate with each other and are used. 

It is also generally true that as the complexity of the application profile increases, so does the number of components. This is particularly evident in comparing companies/technical providers and users and the end user. As a rule, the latter has a far more simply structured IT infrastructure with a smaller number of components.
From the company's point of view, a distinction can also be made between classic IT and modern IT infrastructure. A modern IT infrastructure opens up possibilities that are not possible with reasonable costs in Classic IT.
What Is Part of a Modern IT Infrastructure?
Due to the different ways of looking at things, if several people were to list all the components of their digital infrastructure, they are likely to give other answers. The example of end users is a good illustration of this. 

End users typically draw on an infrastructure that includes the following components:
Hardware such as laptops, desktops, tablets, or smartphones and their individual components, for example, the graphics card or processor.

Likewise, devices are externally coupled to the system, particularly peripheral devices such as the keyboard, mouse, headphones, printer, or monitors. Also, software used, for example, an operating system such as Windows or iOS, as well as all other applications, for example, content management systems (CMS) or media players.

All telephony and network components, both for the Internet and for connecting multiple devices via WLAN, Bluetooth, etc.
A company's IT infrastructure is much more complex, especially in technology companies or related industries. For example, servers and external cooling elements are still part of their infrastructure, and cabling and specialized software must also be considered in the infrastructure there. The more complex user profile consequently also results in specialized components. 

Telecommunications providers are the last group that brings its own consideration and interpretation. In the case of these, part of the IT infrastructure also includes highly specialized systems, which again have no significance for the end user but are essential for the services to be provided by the provider. Furthermore, Furthermore, the legal framework receives special attention in the case of professional users and providers.
A Distinction Between Three Types of Infrastructure
Another side effect of digitization and, in the broadest sense, of the spread of the Internet is that IT infrastructure today no longer necessarily exists only locally. Similarly, several types of infrastructure can be used simultaneously in a company. The following overview helps to make a more precise distinction: 


Local/traditional infrastructure
This includes everything that exists locally in physical form, including OnPremis, also known as on-premises. In a company, for example, this would be the servers on-site in a separate room. The same applies to data centers. A local/traditional infrastructure plays a role primarily for larger companies that are active in the technology sector, for example, and operate their own data centers. 


Cloud infrastructure
The end user will, at most, use a provider's cloud solution. On the other hand, companies sometimes depend on professional and more powerful solutions due to their own cloud computing processes. At the same time, providers have to develop and operate the necessary cloud resources in the first place. 

Therefore, cloud infrastructure includes everything necessary for interaction with a cloud solution, the cloud itself, and its processes. Cloud infrastructures can be developed independently, in which case you are both a user and a provider of the cloud, or you simply use the clouds of large corporations such as Microsoft, Google, or Amazon Web Services. 

When using the cloud of a provider, users can, in turn, fall back on three different models: Infrastructure as a Service (IaaS), Software as a Service (SaaS), and Platform as a Service (PaaS) - here, too, there is overlap in practice between the services claimed. 
 
Hyperconverged
Infrastructure
With this solution, individual systems that were previously still separate from one another are brought together on a uniform interface, allowing them to be used and controlled centrally. This solution is also only used on the professional user side, for example, to link computing power and data rooms and to uncover previously unused efficiency potential.
What Does an Optimal IT Infrastructure Look Like?
First of all, an IT infrastructure must always be tailored to user needs or aligned so that companies can use their digital capacities optimally and in a legally compliant manner. Therefore, the practical implementation of a company's IT infrastructure can differ significantly between several companies. However, due to the consistent progress of digitization, the needs of forward-looking and competitive companies about their IT are constantly converging.
Managing IT infrastructure involves coordinating IT resources, systems, platforms, environments, and people. Here are some of the most common management types for technology infrastructure:
Operating System Management: Monitors environments running on the same operating system and provides content, patch, deployment, and subscription management.

Cloud Management: Enables cloud administrators to control all components running in a cloud, such as data, applications, services, and end users. This includes provisioning, consuming, integrating resources, and managing disaster recovery. Disaster recovery.

Virtualization Management: Serves as an interface between virtual environments and the underlying physical hardware. It simplifies resource management, improves data analysis, and streamlines operations.

IT Operations Management: Also referred to as business process management, it models, analyzes, and optimizes ongoing or predictable business processes.

IT Automation: By creating repeatable instructions and processes, human interactions with IT systems are replaced or reduced. It is also referred to as infrastructure automation.

Container Orchestration: Automates containers' deployment management, scaling, and networking.

Configuration Management: Consistently manages computer systems, servers, and software.

API Management: Distributes, controls, and analyzes APIs that connect applications and data between enterprises and clouds.

Risk Management: Identifies and assesses risks and develops plans to minimize or control them and their potential impact.

Data Management: Captures, stores, and uses data. Organizations gain visibility into what data exists, where it is located, who owns it, who has access to it, and how it is accessed.
In General, the Scope and Quality of the IT Infrastructure Have an Impact at Various Points:
Digitization and IT must create profitability and optimize both existing and new processes in order to increase productivity.
IT must enable unobjectionable communication at external and internal levels among multiple participants
IT itself must be as secure as possible and at the same time be deployed in such a way that it protects other parts of the company that need to be protected.
A modern IT infrastructure should be flexible and thus expandable/scalable at any time, furthermore Furthermore it should be optimized and, if necessary, consolidated in order to realize efficiency gains
The quality of the IT structures also has an impact on customer satisfaction, optimally of course by increasing it.
How Is an IT Infrastructure Built and Managed?
Due to the complexity, which increases further with the increasing use of technologies and digital components, companies can have their own infrastructure developed and provided by corresponding experts. These experts then take care of the components' planning, installation, and networking. Furthermore, the commissioning of such a service provider also includes the creation of up-to-date security standards. 

When setting up the system, all components (see the relevant section) must be purchased and networked in a compatible manner. Furthermore, components such as the operating system, the cloud solution, automation processes, API interfaces used, and virtual data rooms are created or networked holistically with the infrastructure.
Conclusion: IT Infrastructure Is as Individual as Its Users - And Just as Indispensable for Companies as Their Range of Services
Due to technological progress, the spread of the Internet over the last two decades, and innovative solutions, from automation processes, the Internet of Things, and secure data rooms to digitally handled communications, the IT infrastructure now plays a key role. Although no fixed IT infrastructure definition exists, it must meet its user profile and ensure efficiency and performance gains while complying with the legal framework. The same applies to the software infrastructure used.
A solid IT infrastructure is essential for companies, as it forms a reliable basis for providing high-quality services and products.
Learn here how a well-structured IT infrastructure increases efficiency: Arvato Systems offers software, support & platforms for physical, virtual as well as private and public cloud environments.