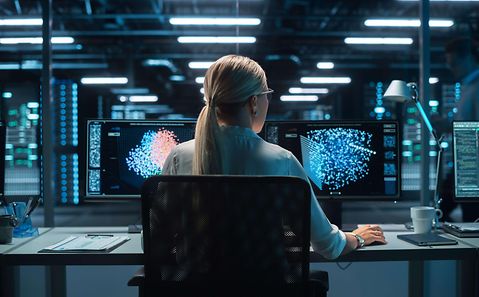 How Machine Connectivity With EDGE Technology Is Revolutionising the Manufacturing Industry
Make machine data visible
Machine Networking for the Digital Transformation
02.11.2023
Manufacturing
Digital Transformation
The optimization of process efficiency and quality is a decisive competitive factor for companies. Nowadays, digitalization enables precisely this optimization process, especially for machine manufacturers. A seamless connection between machine OT and IT infrastructure is therefore of great importance, with edge technology, including virtual PLC, playing a vital role in the aggregation of machine data.
Benefit From the Advantages of Machine Networking
Contrary to the ideal image of Industry 4.0, many machines are still not digitally networked with each other and the existing system, nor are they equipped with the latest communication technologies. These machines have been in production halls for years and decades and need to be connected in the same way as newly installed machines.
 
To fully benefit from the advantages of machine networking, a retrofit is essential. This means that older machines must be equipped with modern hardware (edge device) and software to integrate them into the company's digital infrastructure. This upgrade allows images to be sent as attachments and referenced in the text. In this way, companies can ensure that even their oldest systems continue to generate valuable data and thus help to optimize processes and increase efficiency. Central to this process is the challenge of providing a link between the connection and data flow of "IT" and "OT". Against this background, a solution is needed that masters this challenge and brings hardware and software together. Long-standing companies often have machines from different manufacturers, which can be configured differently on the software side. Technological developments, both in hardware and software, are also progressing at an increasing pace. To ensure efficient data acquisition, smooth operation is required. Accordingly, a platform must be able to interact with any machine and IT system, regardless of machine control, hardware, and communication language.
One such platform is Nerve from TTTech Industrial, our strategic partner in the field of edge computing. On the one hand, Nerve includes an integrated real-time virtual machine with which all known industrial communication protocols can be configured. Even industrial machines with outdated machine control systems can be connected to a modern IT infrastructure. Connecting the machine via the edge device has the advantage for the machine manufacturer that they are not forced to implement a new protocol or an additional interface. On the other hand, the edge device is equipped with a data gateway via the system platform. This enables unhindered and immediate communication between the platform and the machine. The widely used communication protocols are already preconfigured in this gateway. Protocols such as MQTT, OPC UA, and zeroMQ are integrated accordingly, and all relevant basic functions are supported without restriction. This means that users only need to configure their data points and have a data connection from the machine to the platform, which ensures smooth data acquisition.
Virtualization for Retrofitting
When carrying out a retrofit project for an older machine, there are often further opportunities for improvement. One of these potentials lies in replacing the old programmable logic controller (PLC) with a modern software platform such as Nerve. Using such a platform not only expands the machine's communication capabilities but also opens up new possibilities for data acquisition and processing. Such a platform not only offers a smooth connection to the IoT network but also enables a gradual transition from an old PLC code to a current one, thus ensuring the standardization of data sources. This step helps to bring the machine up to date with the latest technology while providing the basis for comprehensive data analysis and optimization of operational processes. Replacing the old PLC with virtualized PLCs using solutions such as Nerve is, therefore, an important step in increasing the efficiency and performance of older systems.
What Does This Mean for Your Company
Effortless connection of the machine
You receive hardware and software with pre-programmed interfaces
Retrofit of the machine
The old PLC can be replaced with a current virtual PLC
Gateway for all data
Your data can be made easily accessible through graphically configurable settings
The authors
Johannes Fuhrmann is Head of Strategic Business Development at Arvato Systems. In this role, he is responsible for the portfolio and product development for the manufacturing industry. His focus is mainly on the topics of digital twin, digital administration shell and the development of shared data ecosystems in the industry. Prior to his career at Arvato Systems, Johannes Fuhrmann held various relevant positions within the manufacturing industry. For example, he worked as a Senior Consultant for Industry 4.0 at Deloitte Consulting and as Head of Digital Operations and Business Development at VELUX. Johannes Fuhrmann completed his studies at the University of Warwick with a Master of Science (MSc.) in Information Systems Management. He also holds a Bachelor of Arts (B.A.) in Technical Business Administration from the Hamburg University of Applied Sciences (HAW Hamburg).
Konstantin Klein has been Business Development Manager at TTTech Industrial Automation AG since 2022. In his role, he is responsible for the operational and strategic development of the Nerve product. The focus is primarily on the topics of EDGE computing, virtual PLC and the integration of technologies for digitization strategies for machine builders.
Mr. Klein has gained a lot of experience in discrete automation at ABB / B&R as Product Manager Industrial IoT Network Solutions. After finishing school and training as an electrician, he graduated from the Leipzig University of Applied Sciences with a Master of Science (M.Sc.) in Electrical Engineering and Information Technology for automation technology.