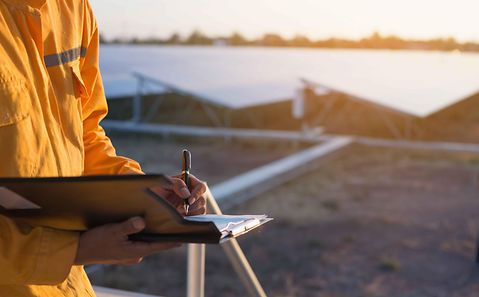 Market Communication in the Energy Sector: Automated and Efficient - The Cloud Makes It Possible
Why highly complex data exchange is best managed with the cloud
MaKo made simple
23.09.2021
Utilities
Digital Transformation
Cloud
Market communication involves considerable effort for all parties involved. Innovative cloud solutions are indispensable for working efficiently and avoiding inconsistencies despite the continuing increase in complexity and data volume.
Unbundling - The Cradle of Market Communication 
Since 2006, the sale of energy in electricity and gas and network operation must be strictly separated from each other to create a level playing field for all market participants. This is not just about the legal independence of the two areas. The unbundling also affects commercial processing, the organizational structure and distribution of management tasks, and customer data. As a result, new communication processes have been established. They are subject to precise legal requirements, which legislators are also constantly adapting. MaKo 2019, for example, was followed by MaKo 2020, among other things, to comply with the new regulations in metering, the Metering Point Operation Act. The upheavals in process flows were enormous and affected all application scenarios in the energy industry that are subject to regulation. But that's not all: the deadline for implementing the requirements of NABEG 2.0, the second edition of the Network Expansion Acceleration Act, expires in September of this year. The so-called Redispatch 2.0.is an essential component for ensuring the security of supply even in the event of bottlenecks. This, in turn, is associated with specific requirements for market communication. 
So if you invest a little time in the architecture and planning of your SAP on Cloud landscape, you can benefit from it later in operation. The following design patterns can help you with this:
Mako 2022 Already in Sight 
The effort required to exchange or share the relevant data continuously and on time is immense. And this is even though market communication in itself does not contribute to value creation. Moreover, the effort will continue to increase because the number of both market participants and transactions is rising continuously. The complexity of the processes is also growing, making them more and more challenging to manage. In addition, the legislator regularly adapts to the regulatory requirements. The next step has already been decided: on April 1, 2022, new rules of the Federal Network Agency will come into force with MaKo 22. Among other things, this will involve including operators of charging stations for electric vehicles or of energy storage systems in market communication. All the companies involved will then have to build up the relevant expertise on time, change processes if necessary, and convert or upgrade their systems. All of this involves costs and ties up personnel. 
Complexity and Efficiency - No Best Friends 
The additional work in message management to handle exceptional cases or correct incorrect data is not to be underestimated. It is by no means uncommon for several employees in a company to have to take care of these so-called clearing processes. One reason for this is the increasing complexity of legislative requirements, which also leave room for interpretation during implementation, leading to data inconsistencies time and again. Not to be forgotten: The vast volume of data, the multitude of information sources, and the complexity of the inherent links often push existing, in-house systems to their limits, creating additional challenges for IT. And processes that, like MaKo, do not add value should run rather silently in the background. And this can only be achieved by automating MaKo processes as far as possible.
With Cloud Technology to Cloud 7 
Numerous players in the energy market - from energy suppliers to metering point and network operators to the newcomers from electromobility - are currently engaged in strategic considerations about how they should fundamentally design their IT architecture or are in an exploratory and discovery process. But are they aware that there are already more efficient solutions for automated market communication outside their traditional IT landscape? What they all have in common is that they are system-independent, cloud-based systems. One of the advantages is that they combine technical and functional market communication to provide end-to-end process support, monitoring, and error analysis using state-of-the-art IT tools. Another plus is that a cloud-based end-to-end solution can be adapted easily and relatively quickly to the new directives issued by the German Federal Network Agency every six months. The central administration saves users the testing and installation effort of an on-premises solution. Last but not least, onboarding is faster and easier for users. Thanks to the scalability of a cloud-based solution, operational costs are also lower.
One for All
The MaKo solution must provide system functionalities for all market roles, such as comprehensive monitoring and dashboards optimized for individual needs. It must also be easy to integrate into the existing IT landscape - regardless of the respective backend - and be flexible enough to be combined with any backend systems and specialist modules from other system manufacturers and be connectable to future platforms.
Where the Journey Leads
Market communication in the energy industry will continue to increase in complexity and scope. The singular cloud is, therefore, by no means the last resort. The development is increasingly moving in the direction of cloud-to-cloud. Here, the data transferred to the prescribed communication processes comes from various cloud solutions or the data exchange.
Blog Post: Market Communication in the Energy Industry
More and more market participants are exchanging more and more data in increasingly complex processes. Therefore, market communication in the energy market is becoming more complicated - but it can also be automated and made more efficient with clever IT solutions. Learn more in the blog post by Andreas Pöhner.
Blog Post: Electronic Market Communication from the Cloud
Some time ago, the requirements of Ruling Chamber 6 of the Federal Network Agency (BNetzA) for electronic market communication in the electricity sector were adapted to the Metering Point Operation Act (MaKo 2020). Now the preparations for MaKo 2022 are on the agenda.