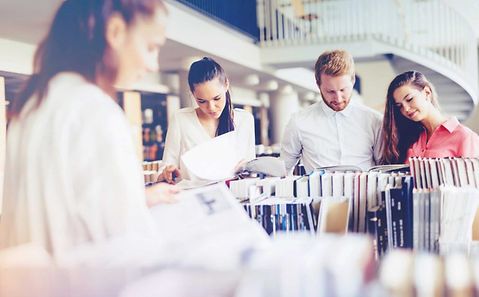 Our Employee Services
Can we get a little more?
Media Store
In the media store, employees can view almost all Bertelsmann media products and get an overview of the company's wide-ranging media offerings.
Magazine Subscriptions
Whether you prefer 'Geo,' 'Stern,' or 'Brigitte,' 'Auto Motor und Sport,' 'Men's Health,' or 'Schöner Wohnen': Bertelsmann employees receive discounted subscriptions on all magazines from publishers Gruner + Jahr and Motor Presse Stuttgart.
Employee Discount
More and more businesses and service providers are offering discounts and percentages for employees of Bertelsmann companies. Stylish glasses, custom jewelry, concert tickets, athletic shoes, clothing, travel vouchers, PCs, and even cars – Bertelsmann employees receive all of these products at special prices. The conditions negotiated by the company works committee may differ slightly from the sales prices you receive in any given case. However, you can be sure that you will not be subject to taxes – due to 'monetary advantages' – or other inconveniences.
Job Ticket
Employees of many Bertelsmann companies based in Gütersloh receive discounted prices on public transportation with the Bertelsmann Job Ticket.
Laundry Service
To save precious free time, Bertelsmann employees can take advantage of the convenient and affordable laundry service from Persil offered at several company locations. Simply hand in your dirty laundry and then pick it up again – washed, dried, and ironed.
Insurance Service
GLOBAL Assekuranz Vermittlungsgesellschaft mbH is a subsidiary of Bertelsmann SE & Co. KGaA and offers special discounts to all Bertelsmann employees.
We offer you the best insurance coverage at great conditions!
Our insurance packages are available for both active employees and retirees. They also apply for family members such as spouses and partners, parents, children, parents and children of spouses, grandchildren, and siblings residing in the same household.