Our Technology Consulting
Connect architectures and technologies for your perfect solution
Combining Architectures and Technologies for Your Perfect Solution
Those who invest in IT modernization lay exactly the right foundation for the future. From fundamental modern IT infrastructure to the realization of digital business models and innovations: Our technology experts provide professional advice on the use of state-of-the-art technologies. In doing so, we take your individual starting position and the technological maturity of your organization into account.  
 
Whether private, public, hybrid or multi-cloud landscapes, application modernization or individual technology solutions using, for example, Amazon Web Services, Google, Microsoft and SAP - with us you perfect your IT and benefit from flexible and cost-transparent concepts. As standardized as possible and as individualized as necessary. We accompany you in a goal-oriented manner from implementation, hosting and operation to the design and optimization of your core and secondary processes - independently and comprehensibly. 
Achieving Business Goals with Technology Consulting from Arvato Systems
We offer tailored expertise and consulting as a multi-cloud service provider with industry know-how and established partnerships with top technology providers. We have the experience to meet your exact requirements. We think holistically and bundle technologies with your needs to achieve overarching business goals:
Building new, digital business models
Promoting unique and digital customer experiences
Strengthening process resilience
Implementing sustainable process improvements
Deploying efficient automation
Integrating secure new-work environments
Ensuring appropriate ESG compliance
Technology Consulting Roadmap: Three Steps to the Next Level of Digital Maturity
We bring your organization to the next level of digital maturity in a structured, three-step approach, considering IT infrastructures, application modernization, and the potential arising from using the latest innovative services to benefit higher-level corporate goals.
Requirements recording
Technical analysis
Technical design
We collect and condense relevant information and data on, for example, current conditions and processes, objectives and target scenarios, any analyses and assessments already carried out, and applicable framework conditions. For this purpose, we use structured survey methodologies and organize joint workshops as required and according to the initial situation.  
Results  
Compilation of relevant framework conditions at the strategic, organizational, financial, technical, and ,legal levels
Prioritization of identified non-functional requirements
Overview of internal and external factors influencing the future process, application, and system architecture
Stakeholder overview
We analyze and assess the initial situation (e.g., the existing system landscape), combine requirements in a structured manner, and evaluate them with a target picture and specified, measurable success factors. To do this, we draw on our Arvato Systems SLAM (System Landscape Assessment Method), among other tools. 
Results
Technical overview of the current environment
Comprehensive GAP analysis
Consulting, interpretation, and recommendations for action on the results of the analysis
We develop the technical design for the solution according to the product and business requirements. We establish a common understanding of the necessary changes at the technical level and perform proofs-of-concept as needed to test new or unknown technologies. We also prepare an initial cost analysis for further action.
Results
Holistic overview of the target solution, including system architectures
Elaboration of migration strategy(s)
Evaluation of identified potential risks and dependencies
Evaluation of alternative concepts and scenarios, if applicable
Initial cost estimate for setup and operation
Overview of future responsibilities, for example, for the regular operation
Arvato Systems SLAM: Our Tool for Analyzing and Evaluating Application Landscapes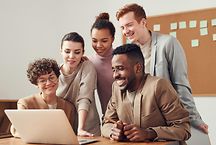 System landscapes, with their processes and applications, have often grown heterogeneously and complexly. With our Arvato Systems SLAM tool, we analyze your system landscape as part of our consulting assignment and evaluate tailored modernization strategies.  
 
To do this, we work with you to evaluate the applications and processes in your landscape about various aspects such as added business value, operations & AMS, architecture, integration, product lifecycle, and security, and generate individual recommendations for action by common migration strategies. On request, we can provide you with various analyses and assessments, such as a cross-application evaluation of your application landscape about security aspects, and advise you comprehensively and realistically on this basis.
Arvato Systems Technology Consulting: What You Can Expect from Us
Eye-level consulting from day one
Appropriate system integration
Holistic view in planning
State-of-the-art development
Professional operation and support