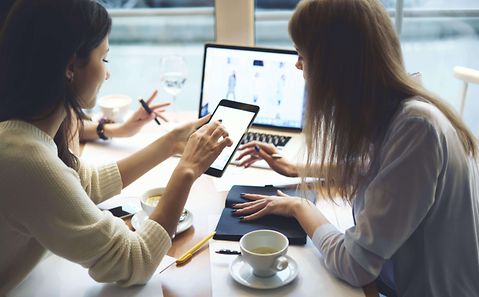 Design and Functionality Combined for All Business Areas
Dr. Kurt Wolff
Design and Functionality Combined for All Business Areas
Especially for companies with touchpoints across numerous brands and countries, it is a significant challenge to bring all online and e-commerce activities together under one roof while avoiding media and system discontinuities. A sustainable and user-friendly database is the cornerstone of any online success at B2B and B2C levels. For Dr. Kurt Wolff, creating a central product information database across all brands, languages, and countries was a top priority.
We think along: Our goal is to generate added value for our clients through our work. We think deeply into our clients' business processes and help them to make them more agile and competitive. In this case, the idea of a B2B2C platform provided the right solution approach for our client. As a result, we were able to develop an integrated multi-brand, a multi-channel platform for Dr. Kurt Wolff.
We have the right tool for every problem: We do not supply "best-of-breed" solutions, as these usually result in higher maintenance costs. We create complete solutions that cover all application areas. For our customer, Dr. Kurt Wolff, our Pimcore technology represented the best tool: It formed the ideal execution in this case as an integrated system for UX, data, and functionality at attractive licensing costs. A special asset generated our deep know-how in integrating into existing system landscapes (SAP etc.) and the complexity mastery in challenging tasks like B2B pricing.
We offer flexibility: our business relationships are personal, and we work with our customers as partners. Together with Dr. Kurt Wolff, we formed a cross-functional development team. In this way, we have paved the way for our customer to build up their competence and, at the same time, be able to act. This is how we build mutual trust.
Seamless integration into the existing IT landscape
Service provider-independent database maintenance
Cross-channel availability through single sign-on
Initial Situation
Before the project began, we found a disorganized separation of brands: Several e-commerce solutions existed side by side, resulting in a disparate structure of customer bases and media management and making precise data management impossible.
Our customer Dr. Kurt Wolff focused on creating a central product information database across all brands, languages, and countries. A basis was built to unite the entire content for the respective products in one pool. This would end the tedious search for data from a wide variety of systems. The goal was to create a future-proof and scalable design.
Vision
Dr. Kurt Wolff wanted to simplify workflows and optimize all brands' interactions across countries by merging several data silos. On this basis, a clean and easy-to-maintain customer journey was created for business and end customers across all product worlds. The focus was also on flexibility: By providing the technical prerequisites, the company wanted to react quickly and efficiently to new digital business models - without lengthy IT conversion processes. The integration of the sales force app was a particular concern.
Solution
In intensive cooperation with the customer and the design agency u+i from Bielefeld, the e-commerce landscape at Dr. Kurt Wolff was placed on a new basis and raised to a more modern level. This is a fully integrated system. The solution was developed based on Pimcore. This extensive open-source data and experience management platform combines all the above functionalities in a familiar environment and avoids media and system breaks. A significant advantage here was that Arvato Systems is a pimcore Gold Partner and has the corresponding expertise. The basis is a master data management system for product and customer data (Product Information Management (PIM) and Customer Data Platform (CDP)). Media data such as images, videos, and PDFs are managed in a Digital Asset Management (DAM). Data management is fully integrated into existing systems such as SAP and field service ordering at Dr. Kurt Wolff via Arvato Systems' own pimcore data communication layer.
All data can be played out directly to various frontends via the integrated content management system. This Pimcore component is ideally suited for designing your own worlds of experience. For example, we worked with designers and the customer to create reusable presentation modules, which he uses for the optimal and responsive display of content in the frontend. For the eCommerce part, the B2B area was challenging. Here, hairdresser customers can order directly in the store and get access to download professional information material - including rights management for images and videos, of course. Each hairdresser's price conditions and the price calculation scheme are stored. This enables us to directly display the customer-specific prices without burdening the connected ERP system with price calculations.
In addition, affiliate functions were implemented - in this way, hairdressers benefit from sales in the B2C store area. Another special feature is the addition of a grooming advisor to determine type-appropriate products based on a customer interview using a powerful decision engine - the future of modern customer advice. In addition, a document archive for invoices and other documents (a so-called "customer cockpit") was implemented, containing online business transactions and all documents from channels such as mail and telephone.
The system is hosted in the AWS cloud. The AWS experts from the AWS Business Group took over the setup and operation of the infrastructure using Elastic Kubernetes Service (EKS) clusters. Here too, as an AWS partner, we were able to incorporate our expertise and thus help the customer achieve a flexible solution. Despite the current Corona situation, we successfully built a multi-shop, multi-brand, and multi-country engine that can play out web presences and e-commerce solutions for all Dr. Kurt Wolff brands worldwide.
About Dr. Kurt Wolff
Now in its fourth generation, Dr. Kurt Wolff GmbH & Co. KG has been successfully developing cosmetic and pharmaceutical products to find solutions for its customers' hair and skin problems since the company was founded in 1905. The product portfolio of the Bielefeld-based family company includes well-known brands such as Alcina, Alpecin, Bioniq® Repair toothpaste, Karex and Plantur. It is also home to dermatological and gynecological medicines, as well as medical and cosmetic products for the Vagisan and Linola brands.