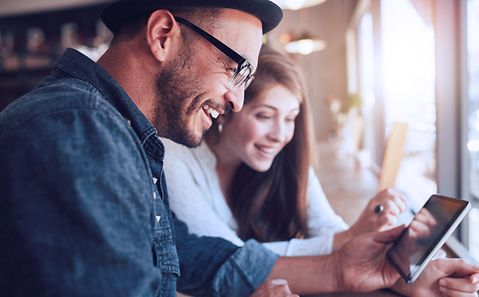 News from Arvato Systems
08. June 2022
Why and How the Arvato Energy Platform® Makes Municipal Utilities and EVU Fit for the Energy Future

Arvato Systems back at E-world after a two-year break
Current information about the AS4 introduction
After a break of more than two years, the Arvato Systems team is looking forward to E-world energy & water 2022 with great anticipation and high expectations. The focus of the trade fair appearance is the Arvato Energy Platform® (AEP), the all-in-one solution for energy market players of all market roles. "In a market that is developing extremely dynamically and is thus becoming increasingly challenging and at the same time offering more opportunities for EVU, the cloud-based AEP supports metering point operators, distribution network operators, energy suppliers, sustainable energy, facility, and environmental managers in a particularly advantageous way," says Dr. Horst Wolter, responsible product manager at Arvato Systems.
Hands free for core processes and value creation
In the new energy market, divisions and sectors are growing ever closer together in every respect - into one big interactive "super" marketplace. In the age of digitalization, management and business processes must be increasingly data-based. The new requirement profile calls for digital tools that must be extremely flexible, highly scalable and as easy as possible to administer and operate. AEP provides a portfolio of various function modules intelligently orchestrated, integrated and usable on demand as Software as a Service (SaaS) in the cloud. Users do not need to worry about updates, maintenance and administration. They get both hands free to concentrate on core business processes and value creation. "We will be happy to explain how this works in detail to interested parties at the trade fair," says Horst Wolter.
Preparation for the AS4 implementation
AS4 is already crystallizing as another hot trade fair topic in the run-up to the event. The fact that market communication will be switched from mail-based dispatch to the cloud-enabled AS4 protocol from October 1, 2023, has many utilities looking to the future with concern. Arvato Systems is working intensively with customers to prepare for the AS4 rollout. There are many indications that the previous e-mail servers will be replaced by a central AS4 distribution station. By the time of the trade fair, the BDEW guidelines should have been published with the process definitions that are still missing, so that discussions can be held on a secure basis and in the necessary technical depth.
Microsoft is co-exhibitor at Arvato Systems
Premiere at E-world: Microsoft participates in the Arvato Systems booth in 2022. The two companies have been working closely together for many years. For example, the Arvato Energy Platform runs in the Microsoft Azure Cloud and benefits from the basic IT framework provided there. "We are therefore very pleased to give customers and other trade visitors the opportunity for personal discussions with the Microsoft experts at our stand," says Marketing Consultant Uwe Wortmann.
About Arvato Systems
Global IT specialist Arvato Systems supports major companies in Digital Transformation. About 3,300 staff in over 25 locations stand for in-depth technology expertise, industry knowledge, and focus on customer requirements. Working as a team, we develop innovative IT solutions, transition our clients into the Cloud, integrate digital processes, and take on IT systems operation and support. As a part of the Bertelsmann-owned Arvato Group network, we have the unique capability to work across the entire value chain. Through our strong strategic partner network with global top players such as AWS, Google, Microsoft, and SAP, we continuously strengthen our know-how and leverage the most advanced technology. We Empower Digital Leaders. arvato-systems.com