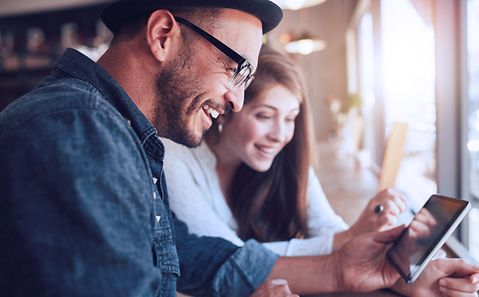 Press Release
03. April 2023
Arvato Systems and SWAP INNOVATIONS Create Greater Transparency in Load Carrier and Container Management

Gütersloh – To offer companies greater transparency about the inventory of load carriers in their logistics processes, the IT service provider Arvato Systems is cooperating with the Baden-Württemberg-based start-up SWAP INNOVATIONS. In the future, customers of the LETSSWAP24 platform will also have access to the platbricks® cloud logistics platform from Arvato Systems. By integrating platbricks® container management, SWAP INNOVATIONS can thus provide a fully digitalized load carrier management.
"Our cooperation enables customers to manage their load carrier and container management simply, quickly, and cost-effectively via one access point. In this way, they can optimize existing requirements and are ideally equipped for the further digitization of their logistics processes," explains Bernd Jaschinski-Schürmann, Head of Digital Supply Chain Management & Platform Business at Arvato Systems. The collaboration and linking of the two services offer optimum customer benefits in all aspects of digital load carrier and container management. "In addition, the complete transparency of inventories and debt relationships and the physical and virtual exchange options with the LETSSWAP24 and platbricks communities, respectively, open up further potential for avoiding empty and compensatory journeys," adds Thomas Zysk, COO at SWAP INNOVATIONS.
With LETSSWAP24, the start-up SWAP INNOVATIONS offers a platform for load carrier exchange. Freight forwarders, transport service providers, and companies from the trade and manufacturing industry can network with each other and search for free load carriers in their vicinity or hand over containers that are no longer needed by others. This way, they can avoid pure balancing or procurement trips, thus high costs for new load carriers and unnecessary CO² emissions.
As a supplement, platbricks® container management from Arvato Systems enables seamless tracking of load carriers by managing and optimizing internal and external container flows via the cloud logistics platform and executing them with smart wearables. Thanks to the modular system of platbricks®, there is also the option of flexibly using additional modules, such as platbricks® Warehouse Management (WMS) or the platbricks® Analytics add-on.
About SWAP INNOVATIONS
SWAP INNOVATIONS GmbH, based in Weingarten, Germany, runs LETSSWAP24, the first "shared economy" platform for inter-company cargo exchange in transport logistics. The goal of the young company is to enable a nationwide supply of load carriers through the cooperation of numerous logistics companies and to make load carrier inventories at the respective locations visible and thus usable for the LETSSWAP24 community via the platform. LETSSWAP24 also defines a digital standard process for exchanging load carriers, from the request to the exchange processing to the digital pallet bill.
About Arvato Systems
Global IT specialist Arvato Systems supports major companies in Digital Transformation. About 3,300 staff in over 25 locations stand for in-depth technology expertise, industry knowledge, and focus on customer requirements. Working as a team, we develop innovative IT solutions, transition our clients into the Cloud, integrate digital processes, and take on IT systems operation and support. As a part of the Bertelsmann-owned Arvato Group network, we have the unique capability to work across the entire value chain. Through our strong strategic partner network with global top players such as AWS, Google, Microsoft, and SAP, we continuously strengthen our know-how and leverage the most advanced technology. We Empower Digital Leaders. arvato-systems.com