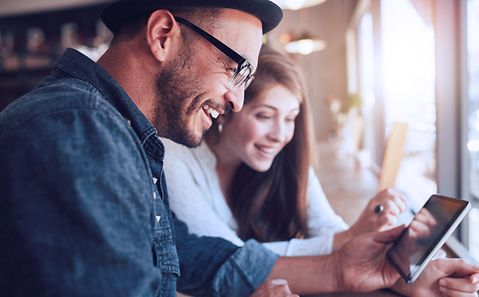 Press Release
30. April 2019
Arvato Systems Honored as Microsoft Ecosystems Leader – Four Times
Outstanding result for Arvato Systems in ISG Provider Lens™
ISG "Provider Lens™ Microsoft Ecosystems Germany 2019"
Arvato Systems recognized as 'Leader' in Managed Services on Azure, SAP on Azure, SharePoint Integration and Office 365 Integration sectors
Gütersloh – Recently published study "ISG Provider Lens™ Microsoft Ecosystems Germany 2019" designates Arvato Systems as 'Leader' multiple times.  Analyst firm ISG, a leading market research and consulting firm in the information technology sector, awarded Arvato Systems 'Leader' status for its Microsoft competencies in four market segments: Managed Services on Azure, SAP on Azure, SharePoint Integration and Office 365 Integration. Arvato Systems thus occupies a top position in the German market.
According to ISG, providers classified as leaders can be seen as strategic standard setters and opinion leaders, with a highly attractive range of products and services and strong, distinctive market and competitive positioning. Additionally, according to ISG, a leader guarantees both innovation and stability.
Managed Services on Azure – a broad solution pool, enhanced with AI
In the Managed Services on Azure segment, ISG certifies Arvato Systems "an extensive pool of solutions which effectively support the switch to (public) cloud and associated Managed Services (...)". According to the market research company, the spectrum ranges "from application and infrastructure transformation to industry-specific managed services for Microsoft Azure. Essential areas are covered and are also enhanced with the inclusion of Azure-specific cloud services such as AI technologies in order to offer clients further added value in conjunction with the implementation of operational services."
SAP on Azure - Impressive: Customers are in the best of hands
Looking at SAP on Azure, ISG focuses on Arvato Systems' vision for the future and innovative strength. Here, the company has designed wide-ranging programs "especially in trending topics such as Cloud, Deep Learning, AI/RPA/Data Science and DevOps". "Industry- relevant expertise and great references", ISG continues, "for the entire transition including design, implementation, roll-out and operation of SAP on Azure instances via SAP HANA, Business Suite or Hybris System including follow-on Managed Services on Azure are impressive. (...) Customers are in good hands here!"
SharePoint Integration – Arvato Systems is Hidden Champion
Arvato Systems also impressed in the field of SharePoint integration. Here the study refers to an extensive service portfolio for SharePoint integration. "In particular, standardized 'out-of-the-box' services," says ISG, "cover a wide range of applications. (...) With its large team of experts, Arvato Systems can implement a wide range of projects." In addition, the ISG analysts highlight the many well-known references that Arvato Systems has to offer and summarize: "Arvato Systems is a 'hidden champion' in the implementation of SharePoint solutions."
Office 365 Integration – Consultancy and Product both impress
In the fourth market segment, ISG's market specialists looked at the field of Office 365 Integration. Arvato Systems' extensive portfolio and standardized process model were impressive elements in this sector, as was its wide-ranging industry expertise: "The high level of technical expertise in the core sectors of retail, media, utilities and healthcare is flanked by industry-specific presales experts who provide dedicated support to customers. For many clients, personal support and a good relationship to their professional needs represent a special asset," says the study. Professional consultancy and packages in the area of Office 365 "are impressive and pave the way for customers into the modern office working world", ISG continues and adds: "The development of own products such as the intranet portal Navoo is a valuable addition to Arvatos Office 365 Services".
For Arvato Systems as a long-standing Microsoft partner, ISG's classification as a leader in four market segments of the Microsoft ecosystem is a special honor. The wide-ranging skills of Arvato Systems as a multi-cloud expert and partner for the digital transformation of companies is again confirmed by the outstanding results. In April and December 2018, the company had also been highlighted as a "Leader" in the areas of "Digital Transformation Services & Solutions" and "Digital Business Transformation".
About Arvato Systems
Global IT specialist Arvato Systems supports major companies through digital transformation. More than 2,700 staff in over 25 locations epitomize in-depth technology expertise, industry knowledge and focus on customer requirements. Working as a team, we develop innovative IT solutions, transition our clients into the Cloud, integrate digital processes and take on IT systems operation and support. As a part of the Bertelsmann-owned Arvato network, we have the unique capability to work across the entire value chain. Our business relationships are personal; we work with our clients as partners, so that together we can achieve long-term success. arvato-systems.com
ISG Provider Lens Awards for Arvato Systems in the Microsoft Ecosystem