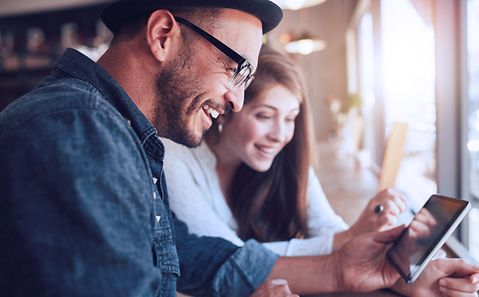 Press Release
14. February 2019
Arvato Systems is Top Employer 2019
Award of the Top Employers Institute
Arvato Systems again among the top ten best employers
Top Employer Award for the sixth time in a row
Gütersloh / Düsseldorf - Once again this year, the IT experts at Arvato Systems have received the coveted "Top Employer Germany" award. This is the sixth time in a row that Arvato Systems has received the trophy for excellent employers. In addition, the company was once again placed in the top ten.
The Top Employers Institute's "Top Employer Award" certifies  companies that meet the highest standards in personnel management. In a comprehensive audit and subsequent independent verification, various categories such as talent strategy, personnel planning, training and development, management development, career and succession planning, as well as corporate culture are examined and evaluated. The evaluation criteria are also adapted each year to the highest standards in human resources work. Arvato Systems was thus able to demonstrate with its repeated certification that the company is one of the pioneers in the areas of personnel management and strategy.
The award ceremony took place on February 12, 2019 at the "Top Employers Certification Dinner" in Düsseldorf. Siegfried Bloch, Head of Human Resources at Arvato Systems, accepted the award there.
"We once again met the demanding criteria of the Top Employers Institute and defended our position among the top ten employers," said Bloch. "This is a great success and above all shows that good working conditions are really important to us, because our employees are the basis for our company's success."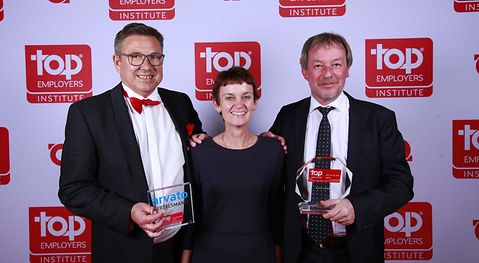 Thomas Kathöfer, Managing Director Arvato Systems GmbH, Andrea Henkenherm, Works Council Arvato Systems, Siegfried Bloch, Personnel Manager Arvato Systems (from left) accepted the award at the festive evening event.
About Top Employers Institute
Headquartered in the Netherlands, the certification institution, previously known as the CRF Institute, has recognized top employers from around the world for excellence in HR management and strategy since 1991. More information www.top-employers.com 
About Arvato Systems
Global IT specialist Arvato Systems supports major companies through digital transformation. More than 2,700 staff in over 25 locations epitomize in-depth technology expertise, industry knowledge and focus on customer requirements. Working as a team, we develop innovative IT solutions, transition our clients into the Cloud, integrate digital processes and take on IT systems operation and support. As a part of the Bertelsmann-owned Arvato network, we have the unique capability to work across the entire value chain. Our business relationships are personal; we work with our clients as partners, so that together we can achieve long-term success.