Press Release
29. August 2017
Career and Kids? No problem!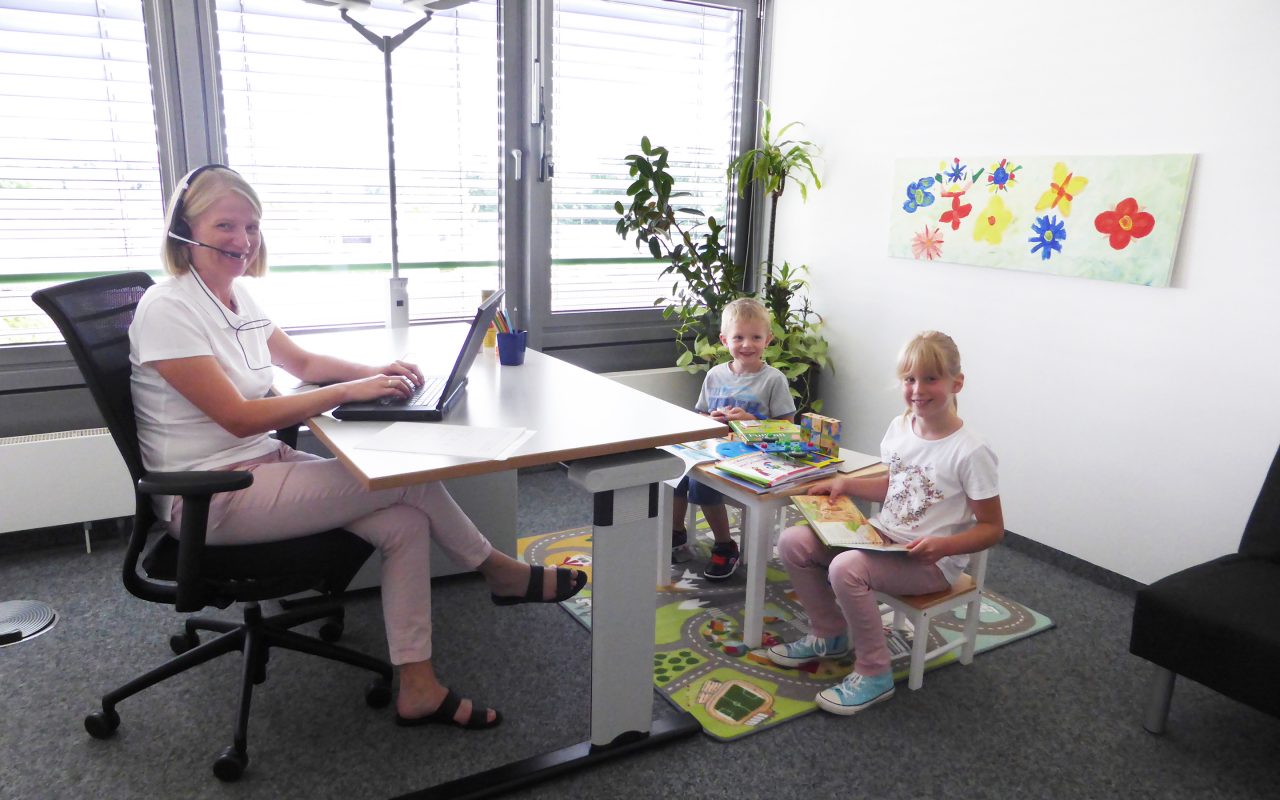 Arvato Systems opens Parent-Child office in Gütersloh
Arvato Systems makes life easier for staff with the 'parent-child office'.
As well as Gütersloh, Arvato Systems sites in Munich, Leipzig, Cologne, Bielefeld and Rostock already offer parents this practical support.
Gütersloh – According to recent reports from the German Office of Statistics, the number of children being born is rising again. One reason for this could be the steps that companies have taken to improve work-family compatibility. To help staff avoid having to choose between their personal and professional lives, Arvato Systems, for example, has implemented the Parent-Child Office project.
The sixth Arvato Systems Parent-Child office opened recently in Gütersloh. These office spaces, providing a workplace as well as plenty of things to keep children occupied yet still within sight of their parents, have been created. Therefore, staff with sudden childcare difficulties can bring their children into the office with them. 
"If lessons are cancelled at the last minute, or the school or nursery has an extra day's vacation, and no other care is available, as a working mother, I face the challenge of having to find care for my children at the last minute. In this kind of situation, the Parent-Child office provides a great alternative," reports Sandra Wiesing, who works in Marketing at Arvato Systems. 

The first Parent-Child office was opened as a pilot project in Bielefeld-Sennestadt office. It quickly became clear that an important need was being met. When the first Parent-Child office had been established for over a year, with overwhelmingly positive feedback, the decision was made to expand the idea to other sites. Since that time, Parent-Child offices in Munich, Leipzig, Rostock and Cologne have followed. The Gütersloh Parent-Child office was opened in June, so now Arvato Systems staff who are also parents can meet the everyday challenges of childcare with a little less worry.
About Arvato Systems
Global IT specialist Arvato Systems supports major companies through digital transformation. More than 3,000 staff in over 25 locations epitomize in-depth technology expertise, industry knowledge and focus on customer requirements. Working as a team, we develop innovative IT solutions, transition our clients into the Cloud, integrate digital processes and take on IT systems operation and support. As a part of the Bertelsmann-owned Arvato network, we have the unique capability to work across the entire value chain. Our business relationships are personal; we work with our clients as partners, so that together we can achieve long-term success. arvato-systems.com