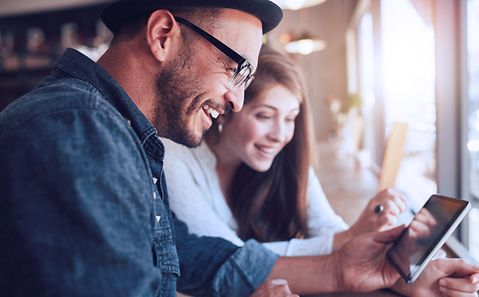 Press Release
26. October 2020
TIMOCOM and Arvato Systems Cooperate in the Field of Digital Supply Chain Solutions

Partnership between Arvato Systems and TIMOCOM
Arvato Systems connects platbricks with the TIMOCOM system 
The combined logistics solutions enable the continuous tracking of goods, from the warehouse and during transport through to delivery to the customer.
Gütersloh, Germany – The globally active IT specialist Arvato Systems integrates the smart logistics system of FreightTech company TIMOCOM with platbricks, the Arvato Smart Logistics Platform. 
With the advent of cloud computing, digitalization in logistics is advancing rapidly and is increasingly displacing the previously established "on-premise IT landscapes" for warehousing and transport.  
Nevertheless, there are still countless digitalization gaps, especially in cross-company processes along the supply chain. When controlling incoming raw materials (inbound) and also when distributing finished goods (outbound), manufacturers in particular lack transparency on where the goods are currently located, when they are due to reach their destination, and whether there are any relevant delays or disruptions. If the manufacturers' customers inquire about the status of a shipment, many manual research steps are required in order to be able to provide this information. Moreover, most shippers fail to consistently digitalize changes in transport service providers and transport billing with the partners involved. 
For this purpose, Arvato Systems has developed platbricks – the Arvato Smart Logistics Platform, a digital modular system that can be used to orchestrate departmental and company-wide logistics processes. It is now integrated with the TIMOCOM smart logistics system. Bernd Jaschinski-Schürmann, Head of Digital Supply Chain Management at Arvato Systems, describes the advantage of combining the two systems as follows: "The integration of platbricks with the TIMOCOM smart logistics system provides our retail and industry clients and logistics service providers with complete transparency and digitalization of transport processing throughout Europe. A suitable shipping company can be selected with just a few clicks and tracked all the way through to the delivery to the customer."  
The TIMOCOM smart logistics system combines applications and services for a secure, fast, and easier transport process. Starting from the initiation phase with one of the leading freight exchanges in Europe through to the commissioning and implementation of the transports, the system is completely digital. Up to 750,000 offers of international freight and cargo space are imported daily into the TIMOCOM smart logistics system. 
APIs create the bridges between the cloud logistics software platbricks from Arvato Systems, the TIMOCOM smart logistics system, and the transport management and tracking systems of its more than 45,000 clients throughout Europe. "TIMOCOM's APIs replace manual data transfer, which reduces error sources and saves time. As a result, customers benefit from optimized work processes and increased transparency in the transport process," says Steven van Cauteren, Head of Key Account & Partner Management at TIMOCOM. "GPS data from 265 connected telematics systems can be accessed in the smart logistics system. This increases real-time visibility in the transport chain." 
And Bernd Jaschinski-Schürmann adds: "Our renowned and globally active partner TIMOCOM now provides the transparency that was missing between the warehouse and the transport processing through to the end customer, making it a good fit for our portfolio. Moreover, it comes preconfigured for potential integration with SAP S4/HANA and SAP TM transport components and ensures seamless integration into the complete supply chain for SAP users. Any type of transport requirement can be assigned to shipping companies via a standardized interface, including incoming orders, outgoing customer orders, or internal stock transfers – all without any development time." 
About TIMOCOM 
TIMOCOM GmbH is an SME for freight technology. As an IT and data specialist, it helps its clients reach their logistics goals with smart, secure, and simple solutions. More than 45,000 verified companies connect through the TIMOCOM smart logistics system, posting up to 750,000 offers of international freight and cargo space daily. www.timocom.com  
Press contact:  
Souren Schömburg 
Team Leader Communications 
(+49-211) 8826-6953 
About Arvato Systems
Global IT specialist Arvato Systems supports major companies in Digital Transformation. About 3,300 staff in over 25 locations stand for in-depth technology expertise, industry knowledge, and focus on customer requirements. Working as a team, we develop innovative IT solutions, transition our clients into the Cloud, integrate digital processes, and take on IT systems operation and support. As a part of the Bertelsmann-owned Arvato Group network, we have the unique capability to work across the entire value chain. Through our strong strategic partner network with global top players such as AWS, Google, Microsoft, and SAP, we continuously strengthen our know-how and leverage the most advanced technology. We Empower Digital Leaders. arvato-systems.com