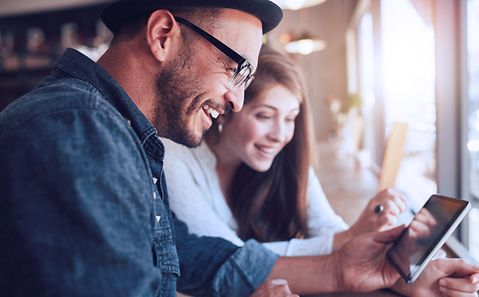 Press Release
03. March 2021
Green Power in Arvato Systems' Gütersloh Data Centers

Contribution to greener IT
Gütersloh - Since January 1, the IT company Arvato Systems has been purchasing only green electricity from the local public utility company, which is generated from hydropower, to operate the data centers at its Gütersloh site. As part of the cooperation, environmental projects in the region are being promoted at the same time. In addition, numerous other measures at the IT service provider's data centers help to further reduce electricity consumption.
Since the beginning of the year, Arvato Systems has been purchasing electricity exclusively from renewable energy sources from its local supplier for its data centers at the Gütersloh site "An der Autobahn". To this end, the company relies on green electricity from Stadtwerke Gütersloh, which is generated from hydropower. With this step, Arvato Systems is making a contribution to the goal decided by Bertelsmann's Executive Board in February 2020 of making the Group climate-neutral by 2030.
For a long time, Arvato Systems has been taking extensive measures to make the company's data centers, in particular, as energy-efficient as possible.The reason for this is that the operation of such data centers is energy-intensive and therefore leaves a corresponding ecological footprint.  That is why the company is now also focusing on solutions that are as environmentally friendly as possible when it comes to purchasing electricity. However, green electricity and the reduction of energy consumption are not new topics for Arvato Systems: Many of the company's offices have been running exclusively on green electricity for a long time. And since 2010, Arvato Systems has been taking extensive measures to continuously increase the energy efficiency of its data centers. These include, for example, modernizing the technical equipment, implementing lighting controls, improving the distribution of cold air and no longer lowering the temperatures in the data centers so much.
With all these measures, Arvato Systems has been able to significantly reduce the energy consumption of its Gütersloh data centers in recent years. Annual electricity consumption - while the IT load has doubled - has fallen by around nine gigawatt hours (GWh). This saving is roughly equivalent to the amount of energy consumed in 1,600 single-family homes by 6,400 people per year, including electric water heating. In order to obtain the electricity required for its operations as sustainably as possible, Arvato Systems ultimately opted for green electricity from Stadtwerke Gütersloh - and deliberately for a tariff that also promotes regional environmental projects. All in all, the company is thus taking another step toward greener IT and supporting Bertelsmann's goal of climate neutrality.
About Arvato Systems
Global IT specialist Arvato Systems supports major companies in Digital Transformation. About 3,300 staff in over 25 locations stand for in-depth technology expertise, industry knowledge, and focus on customer requirements. Working as a team, we develop innovative IT solutions, transition our clients into the Cloud, integrate digital processes, and take on IT systems operation and support. As a part of the Bertelsmann-owned Arvato Group network, we have the unique capability to work across the entire value chain. Through our strong strategic partner network with global top players such as AWS, Google, Microsoft, and SAP, we continuously strengthen our know-how and leverage the most advanced technology. We Empower Digital Leaders. arvato-systems.com