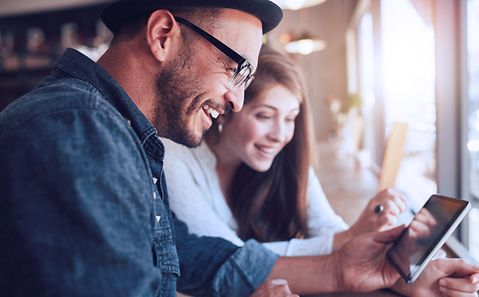 Press Release
10. August 2021
Arvato Systems Positioned as Leader in ISG Quadrant SAP S/4HANA System Transformation – Midmarket

ISG Provider LensTM – SAP HANA Ecosystem Services 2021
Arvato Systems is a convincing leader in the ISG Quadrant SAP S/4HANA System Transformation - Midmarket.
The IT service provider scores with its strategic consulting, its comprehensive range of proven methods and tools, and its powerful standard solutions for logistics processes. 
Gütersloh – Arvato Systems holds a leading position according to the report "ISG Provider LensTM - SAP HANA Ecosystem Services 2021". The renowned technology research and consulting firm ISG (Information Services Group) ranks the IT service provider as a leader in the SAP S/4HANA System Transformation - Midmarket quadrant. Consulting and system integration service providers that implement SAP S/4HANA-supported transformation processes for companies in the midmarket segment in a comprehensive and value-driven manner are considered leaders in this area. In doing so, they apply various methods and offer industry templates in addition to user-specific SAP package solutions to draw on standard processes and thus shorten the transformation cycle. As a leader, Arvato Systems impresses in particular with its strategic consulting approach "Business Transformation Roadmap", its comprehensive range of proven methods and tools, and its powerful standard solutions for efficient logistics processes. 
Professional strategy development and project planning
As a special strength of Arvato Systems, ISG emphasizes competent consulting within the scope of the targeted alignment of the SAP-supported transformation process with the corporate and IT strategy. In the early phases of the transformation, the service provider places a strong focus on the adequate analysis of the specific customer situation. Thanks to its expertise in business process management, Arvato Systems can even provide complimentary business process outsourcing services in-house within the Arvato group.
Field-proven transformation methodology
When implementing SAP S/4HANA projects, Arvato Systems can draw on a comprehensive range of tried-and-tested methods and tools. The experience in implementing such projects is extensive because of corresponding projects with external cross-industry processes and in the company's Bertelsmann Group. In addition to the SAP S/4HANA Conversion Factory approach for the largely standardized technical transition to SAP S/4HANA, various automation tools or AI for data integration are also proven. In this context, the service provision of experts - depending on the requirements - is carried out from a combination of on-site, nearshore from the nearest delivery center, or offshore. The basis is always a comprehensive governance model.
Powerful standard solutions for logistics processes
As a specific extension of S/4HANA, Arvato Systems offers, for example, "platbricks", the cloud-based "Arvato Smart Logistics Platform", with which operational processes in logistics can be intelligently planned, controlled, and digitally (mobile) executed. In this way, the platform closes digitization gaps, for example, in the execution of picking, replenishment, goods receipt, or goods issue processes.
Methodology
The report is based on various qualitative and quantitative information - with quantitative data accounting for a share of 60 to 70 percent. It is composed of survey data collected by ISG directly from vendors, ISG internally, and through secondary research. ISG analysts carried out the supplementary qualitative assessment. The report is available for download free of charge here. 
About Arvato Systems
Global IT specialist Arvato Systems supports major companies in Digital Transformation. About 3,300 staff in over 25 locations stand for in-depth technology expertise, industry knowledge, and focus on customer requirements. Working as a team, we develop innovative IT solutions, transition our clients into the Cloud, integrate digital processes, and take on IT systems operation and support. As a part of the Bertelsmann-owned Arvato Group network, we have the unique capability to work across the entire value chain. Through our strong strategic partner network with global top players such as AWS, Google, Microsoft, and SAP, we continuously strengthen our know-how and leverage the most advanced technology. We Empower Digital Leaders. arvato-systems.com