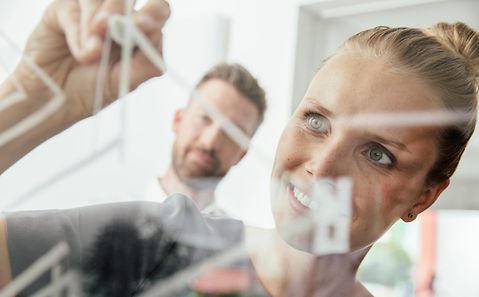 Business Process Management
The BPM solutions from Arvato Systems make your business processes digital, automated and more efficient!
Processes Are Our Passion
With our longstanding industry-specific expertise in all areas of business process management, we offer comprehensive service as a single service provider: from consulting, modeling, analysis, monitoring, reporting, optimization, and automation to the integration of process-supporting management systems - for which our know-how and experience in project and quality management as well as in securing compliance guidelines serve as a basis. The certification of our own quality management system according to ISO9001:2015 underlines our passion for processes!
What Is Business Process Management?
But what exactly does Business Process Management (BPM for short) mean? Business Process Management is one of the most important methods of managing a company. Based on process documentation, analyses and optimization are carried out and continuously monitored - to understand the business processes holistically, keep track of them, and thus ensure the smooth and efficient flow of all processes.
Business Process Management With Arvato Systems
As a result of digitalization, a great deal is demanded from companies: never before have flexibility and scalability been as relevant as today. Maximum efficiency and maximum control of all business processes are all the more important. Those that do not adapt quickly enough to modern developments and grow are doomed to failure.
With the right system, you can bundle all processes in a single software, regardless of whether standardized, automated or new tasks and processes - they can all be combined centrally and across departmental and system boundaries. Hereby you lay the best foundations for competitive digital business processes throughout the company.
We advise and support you in system selection, documentation and analysis, process optimization, and subsequent monitoring of your processes. A team of experts is by your side to ensure that everything runs smoothly: Arvato Systems offers you holistic support in optimizing your business processes. BPM solutions, such as the Transformation Suite BIC Platform developed by us and our strategic partner GBTEC, help you design, automate and reliably evaluate processes more efficiently.
Our Offer
Concerning system integration, you benefit from our professional change management, and with our methods, we increase the efficiency and competitiveness of your company. Informative training in the area of process management deepens the knowledge around the application of the solutions. In addition, our Application Management includes comprehensive support services to ensure smooth, compliant processes.
Longstanding experience and expertise as one of the leading IT service providers and system integrators
Consulting and project management on BPM
Consulting regarding the implementation of BPM
System integration of BPM platforms into the existing IT infrastructure
Professional Change Management
Informative training in the area of process management
Application Management and comprehensive support
4 Steps to Successful Business Process Management
CURRENT status
Definition TARGET processes
Implementation TARGET processes
Monitoring
Step 1: Elicitation of the CURRENT status
We accompany you throughout the entire value chain to achieve the greatest possible process optimization for your business. As a first possible step, our experts document the CURRENT processes. This allows our experts to grasp the business processes within your company to get an idea of the actual requirements, followed by the analysis and process consulting of the TARGET processes.
Step 2: Process consulting and definition of the TARGET processes
If the CURRENT processes have been documented first, they form the basis for the joint analysis of the ACTUAL status and the elaboration of the TARGET processes. Alternatively, it is also possible to start with the TARGET definition compared with the current status. In both cases, the new transparency of the processes reveals any existing potential for improvement to gain more time for the operative and strategic core tasks.
Step 3: Implementation of TARGET processes
Processes, process components, and recurring routine tasks are automated in digitization with the help of a management system. Our comprehensive solutions in Business Process Management can be adapted exactly to the needs within your company and the existing IT landscape, thus offering you maximum added value.
Step 4: Monitoring and continuous improvement
Through the application of performance monitoring and reporting, you can continuously measure your success using predefined key figures. In so doing, we minimize risks so that your company can unfold to its full potential.
Your Benefits From a BPM System
Digitize recurring tasks and processes
Optimize processes in the long-term
Automating and standardizing processes using workflows
Monitoring of key figures
Compliance with governance, risk & compliance guidelines in all processes
Our BPM Services
We will be happy to advise you on the appropriate services to optimize your business, which are available individually or as a complete package.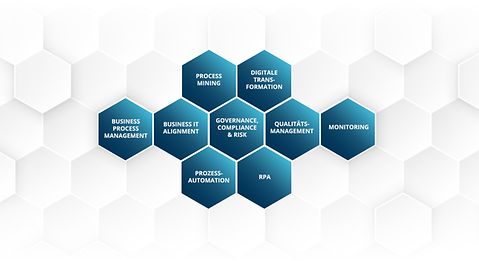 Gain an Insight Into Our Entire Range of Services
Consulting
Project management
Quality management
Monitoring
Process monitoring in real time
Personalized dashboards
Operation
Public Cloud and Private Cloud
Application Management
Application Hosting
Training
Product training
Method training
Individual training
Frequently Asked Questions about Business Process Management