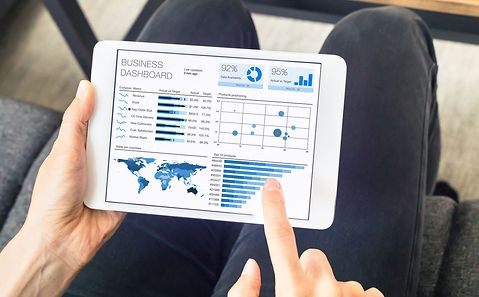 Modern Data Warehouse Management with BigQuery
Analyze data, make forecasts, gain insights in real time
Improve Performance With Modern Data Warehouse Management and Google BigQuery
Smart Analytics in the enterprise means having a comprehensive, fully managed, and serverless analytics platform that enables organizations to turn data into actionable insights - without size, performance, or cost constraints.

A building block of this platform is a Modern Data Warehouse, which is serverless, highly scalable, and delivers real-time analytics as well as predictive capabilities.

Therefore, Modern Data Warehouse Management is of interest to companies that want to improve performance for insights into data and develop their capabilities for the demanding query of massive data workloads.

Bundled competencies in Cloud, Data & AI
Arvato Systems focuses its business on the fields of Cloud, Data, and AI. Our experts also support companies in modernizing their data warehouses with powerful tools and services. Our services include expert architecture design, migration to the cloud, and the creation of data services such as analyses and forecasts. In addition, we offer platform operation with our expertise from our own data centers. With BigQuery, we rely on the modern solutions of our partner Google.

Take your data to the next level - with Modern Data Warehouse Management from Arvato Systems.
Challenges in Gaining Insightful Data Insights? Master Them Together With Us and a Modern Data Warehouse
IT capacity and budget
Business demand and increasing volumes exceed IT capacity and budget.
Various data sources
A company's data is scattered across multiple platforms.
IT Security
IT security is insufficient to protect the business and data.
Nature of data
Lots of unstructured information that cannot be used holistically.
Central data insight
Data is only available in individual shops/individual locations, but companies need it in real-time at headquarters.
Reliable database
Different people in the company are running around with different numbers on the same topic, there is no "single point of truth".
Costs
Enormous costs for the existing data warehouse, the existing data warehouse should be operated more cost-effectively, or set up in a new and modern way.
Forecasts
Up to now, companies have only been able to look into the past, but need analyses and forecasts for the future.
Personalization
No possibility of personalized recommendations for customers through modern data analysis.
Customer Requirements for Modern Data Warehouse Management. Our Experts Implement These Individually for Your Company.
360-degree view of the company by breaking down data silos
Agile mastery and analysis of huge and constantly growing data volumes
Situational awareness of business events and responding to them in real-time
Visibility to enable data-driven decisions across the enterprise
Rapid, immediately actionable insights, forecasts, and predictions
Simple and powerful data security and management with full control, including over costs
An infrastructure that grows with your needs and can scale quickly and cost-effectively
The Solution: Google BigQuery
Adapted to business requirements

All relevant data is pooled in one central location

Responses follow immediately for real-time reaction

Forecasts for looking into the future are enabled
We design, build and operate a fully managed, modern data warehouse in the Google Cloud for customers. With Google BigQuery at the core of the warehouse and other products selected as needed, companies can gain insights faster, access advanced analytics, maintain full control over their data, and improve their responsiveness with real-time data. Our Data Scientists provide complementary forecasts from the data as needed or assist with Artificial Intelligence to pull information from the data that is essential to the business process. In this way, we enable companies to turn data into actionable insights - without limitations in size, performance, and cost.

Improve your business sustainably with holistic data insights in real-time!

We would be happy to create an individual solution for your data warehouse that is flexibly tailored to your business needs and existing infrastructure.
Frequently Asked Questions About BigQuery