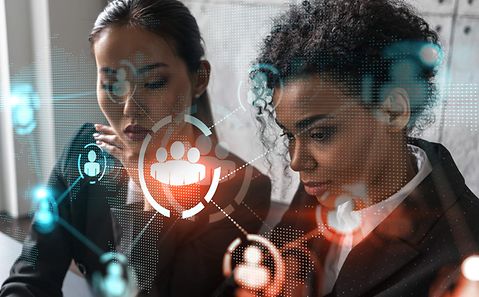 Effective Communication in Global Teams
Optimize team communication
Effective Communication in Distributed, International Teams
21.06.2022
Digital Transformation
Digital Workplace
Microsoft 365
Remote Work
Global teams depend on an intensive exchange of information to achieve their goals. But how do colleagues communicate with each other who don't work together in the office? With our strategies, you can succeed in international team communication.
What Are the Challenges in a Global Team?
Teams that span different countries or even continents are diverse in terms of their personalities, nationalities and cultures. They are spread across worldwide locations, working in the office, in the home office or on the road. Only in rare exceptional cases do they gather at a common workplace - there is no trace of homogeneity. This can lead to outstanding work results, but it also places particularly high demands on team communication. Successful companies nevertheless know how to create networks and support the exchange of information through the smart use of tools.
10 Tips for Effective Communication on an International Level
There are many ways organizations can strengthen team communication to help them stand out from the competition. Here are our ten tips for your successful communication strategy.
1. Create a collaborative place for team communication
A team that works predominantly remotely meets much less often for direct exchange, whether for business or even for a private conversation: communication suffers. It doesn't have to be this way! Smart collaboration tools can connect teams worldwide and ensure fluid exchange regardless of location - they are therefore part of the basic equipment of the digital workplace.
To find the right tool for your organization, you can define the requirements for the application in advance and make a decision based on that. For international teams, for example, it is essential that the application supports all functions regardless of location and, if necessary, is provided in multiple languages.
2. Communication with high relevance is crucial
The intranet offers an optimal opportunity to disseminate information across the board and in an appealing way. However, caution is required here: Not all information is equally relevant for all employees. While the latest news from the management board should be visible to all employees, many news items are only of interest to individual departments, locations, or other groups. Categorizing according to relevance is extremely important to ensure that your corporate communications are effective and that employees are not overwhelmed by a flood of news.
Our tip: You can use factors such as location, language, or the role of the respective employee to define the target group for individual information, messages or documents. In addition, NAVOO Intranet, for example, offers all users the possibility to personalize and subscribe to content according to individual preferences.
3. No employee feels comfortable being pigeonholed
International teams are made up of people from various cultural backgrounds. This can be a real success factor for companies. A study by McKinsey also comes to this central conclusion. But diversity is not a matter of course: the right way of dealing with each other is crucial because stereotypical ways of thinking and acting can pose a danger to good cooperation.
 
To prevent pigeonholing, you can use different methods to strengthen the sense of community and mutual respect. For respectful communication, it is essential to let each other speak. For more understanding among each other, the easiest way can be to ask all employees and let them tell you about themselves. You can then share the content via the intranet, for example. This helps prevent misunderstandings and conflicts.
4. Deploy messengers as integral parts of the Digital Workplace
A messaging solution is essential for a modern digital workplace. It is one of several cornerstones that lead your project to success. The market offers an unmanageable number of solutions for this purpose. However, many of them lack one important feature: they are not optimally integrated into the rest of the work environment. And that reduces the effectiveness and often also the acceptance of team communication.
When selecting an application, pay attention to the functions the tool offers and match these with your wishes and requirements. For communication in the digital workplace, we at Arvato Systems rely on Microsoft 365 with NAVOO. Smart messaging solutions are already an integral part of the offering here, encouraging employees to try out the applications and integrate them into their everyday work. 
5. Communication across time zones requires flexibility
Communication becomes a real challenge when a team spans different continents and time zones. Because when teams communicate across time zones, the message reaches some employees in the middle of the night. Make your employees aware of this and demonstrate flexible solutions.
For example, a small message addendum stating that no response is required outside of regular working hours is enough. Your employees should explicitly relieve the contacted person so that he or she does not get into time pressure due to his or her place of residence. In this way, they avoid conflicts and long-term dissatisfaction in international teamwork.
6. First build trust, then move on to the substantive issues
In German corporate culture, it is customary to get straight to the point. It is not impolite to address the subject of the collaboration without beating about the bush. In team communication, however, factual orientation is inappropriate in every situation. Depending on the cultural background of the team members, it may initially make sense to put factual topics on the back burner. Relationship-oriented communication is in the foreground at the beginning of the collaboration.
7. Indirect criticism leads more reliably to success
Criticism is a sensitive point in team communication. It is part of working life as part of the feedback to the team members. After all, employees rely on feedback when their work results do not meet expectations. Unlike email communication, messaging solutions such as Microsoft Teams invite opinions to be shared, sometimes very spontaneously. In many cultures, however, it is considered impolite to voice reproaches directly. This is especially true if you do not share the criticism privately.
Our tip: Be attuned to your employees. Sometimes it can be advisable to approach criticism by hinting at it. If direct criticism is appropriate, you can also avoid misunderstandings by communicating your concerns clearly and understandably.
8. All employees should be able to communicate in their preferred language
Overcoming the language barrier is a constant challenge, especially in global companies. However, the problem is not new. Appropriate software offers solutions for effective team communication in this critical area. The key is ensuring that all employees can communicate in their preferred language.
Ideally, you communicate at every level so that all employees can easily access information. Multi-language solutions for your intranet can be helpful for this. NAVOO Intranet offers you the possibility to provide your internal corporate communication in any language, effectively eliminating language barriers.
9. Humor is not universal and has the potential for misunderstanding
Humor is an essential tool for livening up team communication in everyday work. But hardly anything depends on our culture, age, and social background as what amuses us. That's why misunderstandings can quickly arise, especially in international teams. Not every team member can handle sarcasm, for example.
One way to avoid conflicts is to use emojis. After all, a laughing smiley is universally applicable. Using emojis in a targeted manner reduces the risk of misinterpretation and lightens communication within the team.
10. The most important thing about team communication is that it takes place
Especially when exchanging information with people who speak different languages, factors such as redundancy should not be underestimated. It is better to ask several times to ensure that everyone has understood the goal of the project and their task in it.
For this, it is important to maintain intensive communication within the team. It can be beneficial to recheck the team's understanding of the role and task distribution. To reach everyone with the right level of information, don't limit yourself to a single communication channel. Sometimes, it makes sense to share content across multiple channels, tailor the level of detail to the audience, and share important info multiple times.
Conclusion
Your colleagues will stay connected if you rely on the right tools. It's important that your intranet brings people together across all locations and removes hurdles to communication by technical means.
NAVOO
Together with Microsoft 365, our smart SaaS platform NAVOO sets a new standard for effective team communication:
✓ Relevant information quickly and targeted to employees
✓ Secure access to corporate information regardless of location or device
✓ Latest content always at a glance
Learn more about NAVOO Intranet