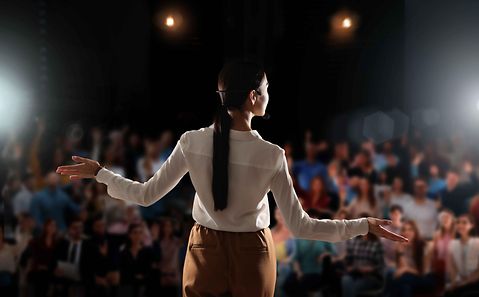 Inspire with Hybrid Events
Why hybrid events are the future of corporate communications
Hybrid Events - Future of Corporate Communications
The pandemic has presented the event world with a major challenge. But a new opportunity is emerging from the crisis. Hybrid events, in particular are becoming a trend in corporate communications.
1. What Are Hybrid Events?
Hybrid events are events where face-to-face and online attendees are present and interact at the same time. This allows companies to reach a larger audience while reaping the benefits of face-to-face interaction. Attendees at a hybrid event can fall into two categories: those who are present on site and those who participate online. Online attendees can watch live via a streaming service or recorded video. It's essential for companies to target both audiences, as they have different needs. Those who attend on-site are looking for a personalized experience, while those who participate in online are typically looking for flexibility. Hybrid events can include various communication formats, such as press conferences, webinars, presentations, product launches, etc.
2. Why Should Companies Organize Hybrid Events?
Hybrid events combine the best virtual and physical worlds to reach a broad audience. By offering various options, you appeal to a broader group of potential attendees compared to purely virtual or purely physical events. You leave it up to your customers to decide how best to participate in your event. One attendee may have grown accustomed to the benefits of online events they can attend from their home, while another prefers the face-to-face networking of an on-site event. When planning a hybrid event, you'll find the perfect solution for both groups.
What do you think of when you hear the term "business event"? Of an expert lecture that you attend as an audience member? What you might not think of: live streams in 4K quality, interactive product presentations, virtual showrooms, separate meeting rooms, industry-specific training, valuable materials such as assembly, operating and maintenance instructions, and dedicated employees who act as close contacts and enthusiastic brand ambassadors in the digital environment.
Exhibitors and sponsors can also decide how they want to present themselves: on site, purelyon-sitelly or in two variants. So sponsors can opt for a live or virtual event - or combine the two. This saves time and enables sponsors to address their target group in a more targeted manner. What's more, all attendees have the option of catching up on missed presentations: Guests can listen to their favorite presentation an unlimited number of times and do so in parallel with the rest of the program without any stress!
Professional event platforms for hybrid and virtual events also offer reporting and analytics tools to identify leads and track what was most popular with viewers. This knowledge can be used to inform future events and marketing campaigns. Evaluations can also be used to measure event effectiveness and attendee satisfaction. 
Hybrid, face-to-face events are a great way to reduce costs for room rental, catering, and travel. In addition, hybrid events have the advantage that fewer participants need to travel - resulting in a lower CO₂ footprint.
3. How Can Companies Combine Their Events with Digital Elements?
Combining digital elements with events is an essential aspect of today's communication. By incorporating digital media into your event planning, you can reach and interact with your audience in various ways. Additionally, digital tools can help facilitate information sharing and foster collaboration among attendees.
There are several ways companies can incorporate more digital elements into their events. Some examples are:
Incorporating social media: social media can keep the audience up to date with the latest developments. Additionally, they can also be used to encourage feedback and dialogue with the audience. 
Live broadcasts: By using live broadcasts, companies can open up their events to people who can't be there. Additionally, it allows attendees to see and hear each other, creating a stronger connection with other attendees. 
4. Conclusion - Why It Is Worth Thinking About Organizing Hybrid Events
Hybrid events offer several unbeatable advantages, including greater reach, greater attractiveness for sponsors, and more planning security. However, planning such events is significantly more complex, as two different groups of participants have to be taken into account. For this reason, it is only worth investing in a hybrid event once a certain number of participants has been reached. In order to minimize the disadvantages of hybrid events and take advantage of the many benefits, we recommend using special software that supports your hybrid concept. Alive is precisely the right solution for your hybrid events. 
In conclusion, hybrid events  are a reliable and sensible investment for companies that want to be close to their target audience. With Alive,  you can successfully host your events and impress your customers. Our experience with hybrid events has shown that, thanks to our tool, you will be able to respond even better to the wishes and needs of the participants. Sign up here for a free live demo to experience our event software Alive in action.