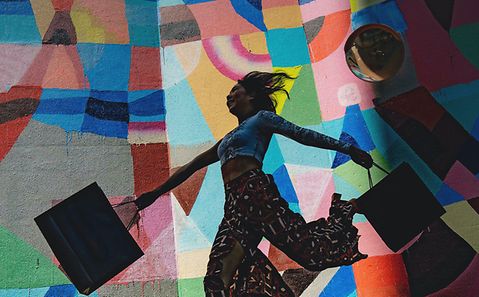 Stores and Onlineshops in Harmony
Successful Omnichannel Services for Retailers
Three Tips for Omnichannel Experiences in Brick-And-Mortar Retail
10.10.2023
Customer Experience
E-Commerce
Retail & Consumer Goods
Omnichannel
According to a study by BTE Bundesverband des Deutschen Textileinzelhandels e.V. and EHI Retail Institute, all sales channels in the German textile retail sector - online and stationary - will each account for 50 percent of total sales by 2030. How can retailers keep pace with this change in the most profitable way?
First, it is clear that omnichannel has become an integral part of the retail industry. But where is the omnichannel journey going? As an IT specialist for the retail and consumer goods industry, we deal with new trends and adjustments on a daily basis: An omnichannel strategy is not set once and runs smoothly forever. On the contrary, retailers who have developed and understood the omnichannel approach must constantly adapt their strategy to new trends.
Is yesterday's omnichannel obsolete today?
Let's look back a few years: According to a survey by GfK Consumer Panels & Services, in 2019 it was particularly important to consumers when shopping for clothing, shoes and accessories that all goods were always available in all sizes and versions. This is not a problem for fashion retailers who have established in-store processes such as click & collect, pick-in-store or ship-from-store as a fixed component of a typical omnichannel strategy. They help companies dovetail their store business with online retailing, make merchandise more accessible to customers, and even use their store business as a shipping warehouse. But in addition to improved shopping opportunities, they also foster other positive effects that feed into the entire retail value chain, such as
Better in-store advice and guidance from store associates

Elimination of overstocking in stores

An improved environmental footprint in the supply chain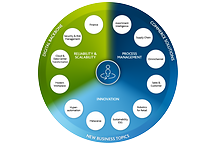 BU: The Arvato Systems service portfolio also shows that omnichannel is one of the most important instances along the value chain in the retail and consumer goods industry.
The first of these is particularly important to enable an optimal end-to-end omnichannel experience, because the technical implementation of omnichannel services does not guarantee a seamless shopping experience. For example, if a customer uses Click & Reserve to reserve a blue T-shirt online at the nearest store, you may want to consider the following questions: 
Is

there a guarantee that the store will have the shirt in the desired color?

Can

your store associates process the order by pickup time?

Is it clearly visible in your store where the customer can find or pick up the reserved merchandise?

Can the store associate address any additional questions or needs the customer may have?
If any one of these factors is not in place, the customer experience can be negatively impacted, which can have serious consequences for your customers' brand loyalty. The availability of goods in all colors and shapes through omnichannel services is not enough - it must be complemented by personalized customer service for this model to work. This is also made clear in a fundamental study by IFH KÖLN  from the year 2022: Around 3 years after the above-mentioned study, autonomy is coming to the fore as a basic customer need - triggered by none other than the smartphone. 61% of consumers surveyed said they use their smartphone to research information before making a purchase in a retail store. A full 72% of consumers surveyed also said they search for specific products in brick-and-mortar stores. 
This confirms: Omnichannel is more "in" than ever. But at the same time, omnichannel needs to be more "flexible" than ever. How can retailers use this to their advantage?
Tip 1: Attract Customers to Your Stores With Loyalty Programs
Make your customers feel like they are getting good advice while they are still looking for information. Use real-time data to keep your customers informed about the availability of their favorite blue T-shirt in the store. Inventory data must dovetail with orders, customer data, and ongoing promotions for a good loyalty program. As the Google Omnichannel Future Study 2023 ranking points out: Online displays of in-store item availability, online discount coupons that can also be redeemed in-store, and apps that provide information about promotions and discounts are perceived as particularly helpful by customers. A flexible suite for seamless retail processes can support your loyalty strategy, for example by providing a price and promotion calculation engine. It can calculate a personalized discount for your customer to pick up the T-shirt in the store, depending on the sourcing rule. Supplemented by a Headless Commerce-based shopping cart, wishlist, and checkout, this personalized price can be delivered in real-time to your customer's shopping cart front-end. Despite online research, the likelihood of your customer ordering his blue T-shirt via click-and-collect or click-and-reserve is immensely higher, and your store is back in the game.
Would you like to learn more about the different possibilities of loyalty programs? Take a look here: 
All about customer loyalty
Tip 2: Brick-And-Mortar Must Be Omnichannel, Too
There are many ways to offer customers a great shopping experience in the store. According to a study by the EHI Retail Institute, investments in store planning and equipment in the German textile, shoe and sports retail sector will increase from 444 euros per square meter of sales area in 2016 to 653 euros per square meter of sales area in 2022. To make the investment worthwhile, you need to integrate it into your omnichannel strategy: Prepare your brick-and-mortar store for the flexible needs of your customers. Focus on transparency and make your company's omnichannel strategy clear at the point of sale: When can items reserved online be picked up in your stores? Where will the merchandise be made available for pickup? Will there be an opportunity for personalized on-site advice? But make sure your customers don't notice the challenges you and your company are facing with these questions. Extend your omnichannel service offering with Endless Aisle, for example, if your customer wants to try on a T-shirt in-store and have it shipped to their home in a size that is not in stock. A template engine for CI-compliant emails and documents can help you communicate transparently. It can be flexibly connected to your systems and used at any point in the order workflow.
Tip 3: Nimble and profitable towards greater customer centricity
Be as flexible as your customers' shopping behavior by generating meaningful reports from your omnichannel services. AI and machine learning can also be helpful tools for generating data-driven recommendations for action, such as intelligent in-store pricing. So take a targeted approach to your omnichannel needs and build the right interfaces into your omnichannel architecture for greater efficiency and customer satisfaction. The omnichannel services listed above can be flexibly connected to existing IT architectures or innovative AI tools thanks to our API-time approach
Cart Service:

Real-time shopping cart, wish list, and checkout functionality 

InStore Module:

Enables your employees to handle in-store processes

Pricing & Promotions Engine:

For cross-channel pricing, including promotions

Notifications & Documents Engine: for automatic CI-compliant enrichment of data in necessary documents
CONCLUSION
Omnichannel can become even more efficient as long as it meets customer needs. So don't be afraid of new services or IT solutions, but look at your customer experience as a holistic process that needs to be supported by your omnichannel strategy. It is often small interfaces that can make your omnichannel strategy more successful. Consider them as the basis for always being able to strategically and flexibly adapt other goals, such as customer loyalty programs or store inventories, to customer behavior.