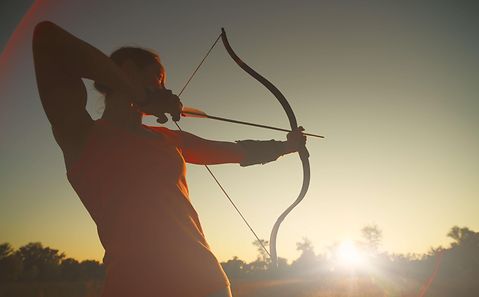 Microsoft Viva Goals: Top Solution for Goal Planning
Setting strategic priorities
Focus On Goals and Retain Employees With Viva Goals
26.07.2022
Cloud
Digital Workplace
Microsoft 365
Happy employees are more productive, according to an Oxford study. This is especially true if they find their work meaningful. Viva Goals combines meaningfulness and business goals with efficiency and optimized processes. This is how you sustainably improve the employee experience.
Aligning Company Goals + Employee Goals = More Success
According to Microsoft's latest Work Trend Index, more than 40% of employees are thinking about quitting their jobs. At the same time, well skilled workers are scarce. Companies should make their employees satisfied and happy to retain them.
How can they do that? Above all, it's crucial that they can realize their potential and that they find their jobs meaningful. After all, for more than three-quarters of all employees, their job must have a meaning that is relevant to them. Employees want to identify with their company's goals and grow as a result. At the same time, these should be comprehensible and measurable to achieve milestones in a structured manner.
Almost 70% of the more than 30,000 people surveyed from over 30 countries (including Germany) would like their company to pay them based on their working hours and influence on achieving goals. These numbers show: Employees have an intrinsic interest in developing themselves and the company. They feel more closely connected to the company and personally empowered when they can make a difference by contributing to its success.
What can companies learn from this? Suppose companies succeed in aligning their strategic planning for process optimization and efficiency enhancement with the goals of their employees and in inspiring them. In that case, success is no longer just the company's success. It is a shared success that connects and motivates. In other words, you benefit when employees understand your company's goals and see them as challenges of their own that they want to master.
The processes required to achieve this are ongoing and consistent. Employee feedback and criticism are essential in setting company goals - just like dynamic adaptation to constantly changing conditions.
Viva Goals Provides a Common Direction of Vision With Objectives and Key Results (OKR)
To help companies better plan their alignment and integrate the insights gained from the study into their work management, Microsoft has created Viva, a customized employee experience platform. It improves employee communication and well-being by integrating relevant knowledge into the company's daily workflows.
Viva Goals is an important part of this platform, allowing companies to define goals and continuously manage, improve and - if necessary - also adjust them transparently.
 
Microsoft itself describes Viva Goals as an efficient solution for goal setting and management, in which Objectives and Key Results (OKR) play a central role. OKR is a management system for efficient employee management, which involves defining goals and making the results of work measurable and visible. The focus is on qualitative, long-term and ambitious goals (objectives). To achieve these, quantitative measurements and key events or milestones (Key Results) are necessary. For each objective, managers and employees define up to four milestones (key results) that are important for the objectives.
This approach is transparent, constantly optimizing itself and linking the tasks of employees with the direction and vision of the company. Viva Goals integrates OKRs at all relevant points in the operation, for example directly in Microsoft Teams and other applications from Microsoft 365.
Benefits of Microsoft Viva Goals for Employees and Companies
The solution offers many advantages for employees and teams, from which companies also benefit comprehensively:
Benefits for employees
Employees find fun and meaning in their work because their goals align with the company's.
They receive fair compensation based on goals and milestones they set themselves.
Transparent and achievable goals make everyday work easier.
Employees receive necessary decisions faster, which are also transparently comprehensible to them.
Successful employers offer secure jobs and thus consistent future planning.
Teamwork improves, work groups move closer together, and there is no competition between teams because everyone is working towards common goals.
Benefits for companies
Companies know the goals and needs of their employees and can incorporate them into their own goals.
Company goals integrate into everyday work.
They can set priorities better.
Efficiency in the company increases.
Teams can concentrate on their work and achieve goals more easily.
Employees are more satisfied and motivated and less likely to leave the company.
OKRs help in the transformation to an agile company.
Rigid and long-cycle business strategies are difficult to adapt to rapidly changing conditions.  Using Viva Goals in the agile enterprise makes a dynamic adjustment of goals possible at any time.
They increase competitiveness.
They significantly increase the speed of decision-making and adaptation in the company.
OKRs with Viva Goals reduce the waste of resources, as transparency and measurability uncover and eliminate unnecessary processes.
Functions and Their Integration Into the Company
With Viva Goals, it is possible to use OKRs at all levels in the company and reap the benefits. This allows employees and management to focus together on the company's goals and quickly measure results thanks to improved work management. In meetings and planning sessions, as well as progress reports, employees and management can then tweak the relevant screws and set priorities to achieve the goals they have set themselves.
By quantitatively measuring progress, employees always have the goal and its achievement in view. In this way, they derive added value from their work. With Viva Goals, your corporate goals become part of everyday work:
Viva Goals can provide regular updates to all stakeholders through notifications and automatic reminders, and can
distribute them throughout the company with quick links.
Viva Goals integrates closely with Microsoft Teams, Azure DevOps and Microsoft Power BI. In the future, Microsoft plans to integrate Viva Goals into other Microsoft 365 applications and thus simplify work management in other areas of the company. The goal is clear: OKRs should be available exactly where they make everyday work easier.
Requirements for Microsoft Viva Goals
For deployment, you should already be using solutions from Microsoft 365, as you integrate Viva Goals with applications from Microsoft 365. You need a license for Viva Suite and Microsoft 365 or Office 365 E1/A1/G1/E3/A3/G3/E5/A5/G5, Microsoft 365 Business Basic, Microsoft 365 Business Standard, Microsoft 365 Business Premium, Exchange Online Plan 1 or Plan 2.
Arvato Systems supports you with the integration
At Arvato Systems, we will show you how Viva Goals works in practice and what benefits your company and your employees will reap. In addition, our experts will help you plan and implement the integration. Of course, we also advise companies on Microsoft Viva Suite and provide support for ongoing optimization and training.
Achieving Goals Together and Retaining Employees With Viva Goals
Viva Goals from Microsoft is an easy way to integrate Objectives and Key Results across the organization and unify employee and company goals. By integrating with Microsoft Teams and other solutions from Microsoft 365, staff immediately benefit from improved work management and transparent goal setting within the company. This way, Viva Goals simplifies everyday work, increases efficiency, engages employees, and motivates everyone to pull together.