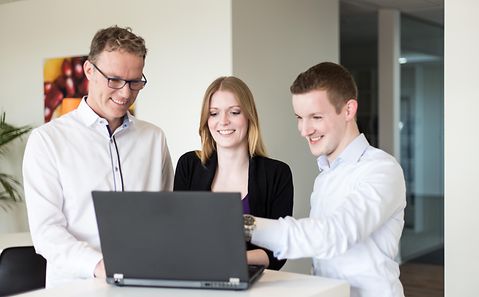 The Online Shopping Optimizers
Get to know our colleagues
"I started at Arvato Systems two and a half years ago because the job was the perfect fit for me. In addition, the company offers me lots of opportunities for professional development and plenty of freedom to design my own work," says Chris, Manager Hybris Development in the Commerce department at Arvato Systems.
The department supports clients from the fields of retail, consumer goods, and pharmaceuticals by providing cutting-edge IT solutions focused on a range of areas such as Enterprise Management, eCommerce, SCM and logistics, track and trace, and finance. Chris serves as the liaison to the clients, helping them to structure their requests and requirements. "With our expertise in markets and sales channels, we help companies manage the challenges of the digital transformation and offer their customers a smooth shopping experience."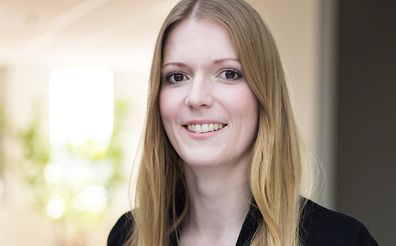 You can learn from the many experienced employees here. And the most important thing is that they are happy to help or to show me new things – you can gain a lot of knowledge very quickly.
When it comes to facing new challenges, the 50-year-old can always rely on his employees. "I need the support of my team to solve the problems that clients bring to me. And to get that support, I have to make sure that all of the developers in my team are working in areas that best suit their abilities, that they have enough time to complete their tasks, and above all, that they are able to enjoy their work."
His colleague Silvia has been with Arvato for over ten years. Prior to starting as an SAP Consultant with Arvato Systems in 2010, she worked in IT in the logistics branch of Arvato SCM. For 31-year-old Silvia, the most important thing is maintaining a sense of team spirit. "You can learn from the many experienced employees here. And the most important thing is that they are happy to help or to show me new things – you can gain a lot of knowledge very quickly."
She also enjoys sharing her knowledge, and in addition to working as an SAP Consultant and Developer, she is also an instructor at Arvato Systems. She is particularly partial to the fact that she is not required to specialize in only one area. "That means I can build up a broad, wide-ranging base of knowledge!" And as a weekend commuter, she appreciates the flexibility provided by Arvato Systems' trust-based work scheduling and home office opportunities.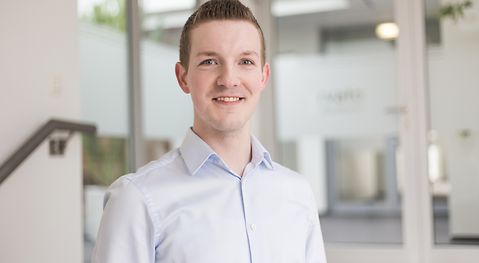 She does a lot of traveling, both for pleasure and for business, taking trips, for example, to France or the United States. It makes her all the more excited to see her colleagues in Bielefeld again at the end of the week. They often make a point of meeting up on Fridays for a piece of cake. "Sometimes you've got to bake cake for 50 to 60 people," Silvia laughs.
Her colleague Christian, who has been working as an SAP Consultant for three years, stresses the importance of the working environment: "The atmosphere at Arvato Systems is really something special – we have nice, helpful colleagues who are willing give you advice or lend a hand in any situation." He enjoys working on international projects and having the freedom to make his own decisions, but the best part about the job is his team. "We are like a big family. We have an extremely strong sense of team spirit and do excellent work together."
Does that sound like the perfect team to you? We are looking for employees who are customer-oriented and open to new experiences, who have technical training, and who like to work both independently and together with a team. We need smart colleagues to help us continue to develop and realize new, innovative e-commerce solutions for our clients! Get to know our team: the designers of the digital future,, the drivers of the energy revolution, the data defenders.