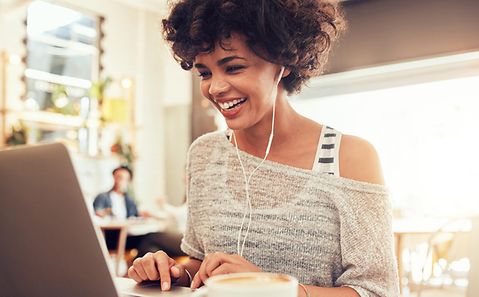 Customer Experience Management for Strong Customer Loyalty
User-centered consulting along the customer journey
Convincing at All Digital Touchpoints
Today's customers are well informed. With their smartphone, they carry the concentrated knowledge of the world in their pocket. They can find out about companies' products and services regardless of time and place. The number of possible contact points is constantly increasing - from websites and portals to online stores, apps and chatbots. In view of this ongoing development, it is becoming increasingly complicated to reach consumers digitally and address them precisely. It is even more difficult to inspire them and retain their loyalty in the long term.
Inspiring brand experiences along the customer journey
o turn customers into loyal brand ambassadors, companies must create unique yet consistent brand experiences across all channels and touchpoints. This challenge makes professional customer experience management essential. The many years of expertise and individual consulting of a specialized service provider are indispensable here.
Dynamic, Interactive, and Mobile Customer Journeys
Enterprise IT for marketing and eCommerce 
Custom concepts and UX design
Professional Customer Experience Management for the Highest Level of Functionality, Usability, and Design
User-centered
Customer experience management focuses on the needs of users. When digital solutions such as responsive websites, portals, mobile apps, and online shops are integrated, easily accessible, and intuitive to use, they achieve a high level of acceptance among users.
Target group-specific
Integrated digital solutions will be successful if you accurately reflect the wishes and requirements of the intended target group. This is why defined buyer personas and measures such as A/B testing are important components of professional customer experience management.
Content-based
A state-of-the-art customer experience management platform allows any written and multimedia content from different systems to be centrally bundled, efficiently managed, further processed in line with demand, and published across channels.
Personalized
The GDPR-compliant collection and analysis of client data form the basis of a 360-degree client view, which is the prerequisite for outputting personalized content tailored to the client's specific needs. When content optimally meets user needs, it is possible to inspire existing and potential clients continuously.
Technology-independent
Professional consulting consists of various components: the strategic selection of the required enterprise technologies, smooth implementation, and the continuous support of CMS and shop systems, CRM and marketing automation tools, and PIM solutions.
Process-based
Customer experience consulting includes checking and understanding the client's data set, data structures, business processes, and system landscape. It is also necessary to analyze whether and to what extent these aspects support the overall digital strategy.
Customer Experience Management – by Professionals for Professionals
Comprehensive digital customer experience consulting
Experience in global project management
Integrated digital solutions